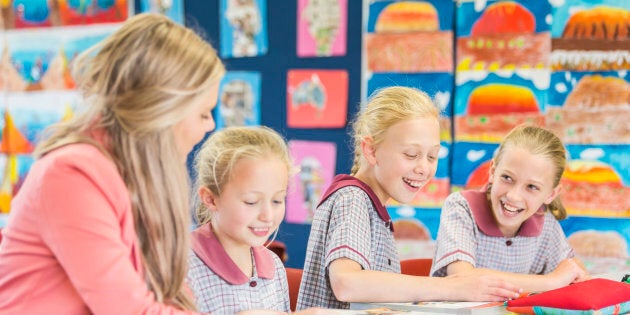 The beginning of the school year has arrived. Students are turning up early, bag spots and lockers are being sorted and families are happily waving goodbye after six weeks of slightly torturous hell holidays.
On the teacher front, we are madly getting set for the year ahead. Printing, laminating, brainstorming, researching, planning, cutting, thinking, pinning, sorting, mental ruminating, checklist-ing and a little bit more laminating (there's always more laminating to do).
It's safe to say, the start of the school year is quite a big deal for teachers. This year I've been incredibly lucky to have two graduates in my team -- one fresh out of university and the other moving into their third year. Both are committed, enthusiastic and genuinely excited about their work.
But, there's been something unexpected that has come up while watching them (and various other staff in our primary school) as they prepare for the year ahead -- the pressure to have a picture-perfect classroom.
Even before they wander down the challenging, funny, exciting, creative and tough road that is teaching, they're unknowingly getting caught in an incredibly dangerous landscape: Pinterest and Facebook Teaching Groups.
Here's an insight into what's been attacking my eyeballs, ears and head for the past six weeks:
"Yes! Class welcome poster and door all done and dusted!"
"My reading corner is all set up with amazing cushions! #homemade #DIY"
"I've seen some great values walls out there -- any ideas on how to build and fund a wall?!"
"How do you fix a laminator that has swallowed a sheet?!"
"Does anyone know where to find a waterslide or retractable hammock that could be used in my reading corner?" (Okay, two of those I didn't actually see).
Don't get me wrong, I'm all for a classroom that is full of colour, silliness, excitement and inquisitiveness, and these digital groups can be amazing for ideas. But, they're also amazing at invading your headspace with guilt and pressure -- and teachers definitely don't need to put more pressure on themselves, especially when they are just beginning or establishing their career in education.
But if the beginning of the school year isn't about having the most pristine/awe-inspiring/creative room from day one, what is it about? Those brilliant individuals who will fill it up each and every day.
Sometimes we get so caught up in making our rooms look like we are great teachers that we miss opportunities to actually be great teachers.
Yes, kids need a space that allows them to question and wonder. Yes, kids need organisation, space and inspiration. Yes, kids need colour and brightness. But what they really need is a teacher who actually cares about them and wants to get to know them.
You could have the greatest room with the greatest reading corner (with a hammock and a waterslide) but if you don't know how to connect with your kids you're really missing the point. (Any space can become a perfect reading corner -- just give kids a book they may interested in and the freedom to choose where they would like to comfortably read).
Sometimes we get so caught up in making our rooms look like we are great teachers that we miss opportunities to actually be great teachers.
Teachers shouldn't stress that their classroom isn't Pinterest perfect. And neither should parents. Instead, they should put that energy into getting to know the kids in the room, finding out about them and discovering their stories.
When we know our kids, our workload and stress can be reduced. It means less time spent thinking about how to engage kids, as well as reduced behaviour management issues and time spent writing reports. The result? Less stressed and happy teachers.
Invest the majority of your energy into finding out how you can connect kids' experiences and understandings with the concepts and areas that will be taught. Personalise their experience in the classroom. That's what great teachers do.
ALSO ON HUFFPOST AUSTRALIA