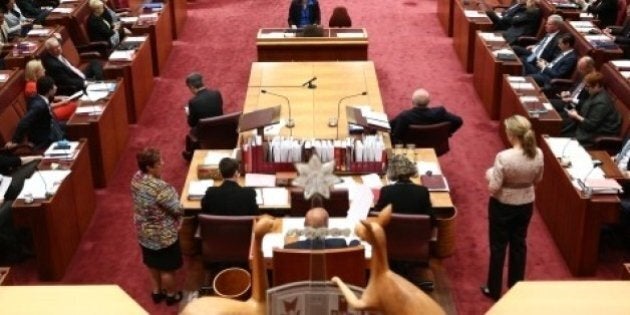 Tuesday was a funny old day in the Senate.
The Greens voted against allowing a vote on their own same sex marriage bill, even though it probably would have passed. It would still have had to pass the House of Representatives to become law, but success in the Senate would have been an enormous step forward, exerting tremendous pressure on Coalition MPs to cross the floor. It was also the best chance we had to avoid a costly and acrimonious plebiscite.
The Greens will allow it to be debated on Thursday during private senator's time, but votes almost never occur during these sessions -- there is usually just an hour available and curtailing debate on issues of conscience is just not done. It is not even close to equivalent.
Doing his best to feign outrage, Greens Leader Richard Di Natale said his party always supports marriage equality -- but just not today. He then voted to gag Senator Penny Wong from giving a speech in reply, having made sure she won't be getting married any time soon.
The Coalition also voted against dealing with its own bill to reintroduce the Australian Building and Construction Commission (ABCC). This is longstanding government policy, reinforced by the $66 million Royal Commission, and something the Liberal Party has been dreaming about ever since the ABCC was abolished by the Gillard government.
But say what you like about the crossbench -- and everybody does -- at least three of us had the courage to back our convictions with action.
I was the one who moved that the Senate consider the Greens' same sex marriage bill before it adjourns at the end of the week. Senator Ricky Muir moved that the Senate deal with the ABCC bill. And Senator Glenn Lazarus moved that the Senate deal with a bill regarding Coal Seam Gas, an issue on which he and the Greens agree.
In each case, the Coalition, Greens and Nick Xenophon combined to gag debate and defeat the motions.
What this demonstrated is that they each believe in very little apart from grabbing more seats. The day was a test for them, and they all failed.
It showed the Greens are willing to throw out marriage equality if it means stitching up a deal to win a few more seats. It showed the Liberals are prepared to throw away the chance to curb union thuggery in the building industry if it means pushing Labor out of some inner city seats. It showed Green concerns about Coal Seam Gas are more apparent than real.
If obtaining power is all that politicians strive for, then power is all they will ever achieve. Once they are gone from parliament, nobody will ever remember them.
It was a strange day in the Senate. But then, these are strange times.
David Leyonhjelm is a Senator for the Liberal Democrats. He is on Twitter @DavidLeyonhjelm and his website is www.davidleyonhjelm.com.au