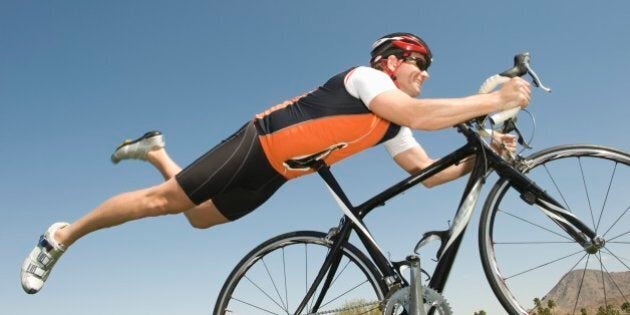 My husband is a cyclist. When I say 'cyclist', I'm not talking Cadel Evans, elite sportsman, professional level cyclist. But he may as well be. I'm talking the cycle to work, cycle on the weekends, post stuff on Facebook about cycling, be part of a cycling group, talk about cycling non-stop kind of cyclist. He is quite clearly obsessed. That's the only way to describe it. It has gone beyond a pastime or even a passion.
It started about seven years ago, when he decided he would ride to the city for work to get in his daily exercise. He rediscovered his love of riding, since, as a child and teenager, his bike was his mode of transport. He rediscovered his love for Melbourne, the Yarra, the city and suburban bike tracks. He discovered a whole new group of like-minded people who regularly ride along the bay, taking in the beauty of our coastline and the joy of making new friends. He is a changed person and I am really happy that he has found something that keeps him both mentally and physically healthy.
Spare a thought for me, however, as although my husband will say he loves the simplicity of cycling, it's one of the least simple things in our lives. Our backyard is home to no fewer than three of his bikes. If we could afford it, he would buy another one tomorrow. He has more cycling clothes than regular clothes and work clothes put together. And cycling shoes -- oh so many cycling shoes.
How many pairs of bib shorts does one man need? If you don't know what bib shorts are, look it up. They are a cross between bike shorts with padded bottoms, and something that Borat might wear. When he comes home from work in his sweaty cycling gear looking like "a condom stuffed full of marshmallows" (his words, not mine), our washing pile doubles.
Not many have escaped his proselytising about cycling. He tries to convert anyone who'll listen. Cycling is healthy, cycling is better for the environment, cycling is cheaper (and sometimes faster) than driving. Cyclists are better than regular people, apparently.
Worst of all for me, though, is that fact that he is out there, with nothing to protect him from the tonnes of metal driving next to him except for a thin layer of Lycra and a polystyrene helmet. In the beginning, I had become a nervous wreck at the thought of him getting hurt. I was convinced that anytime he was a few minutes late, that a kindly policeman would soon be coming to my door with a sympathetic look on his face. In fact, after one small accident, I begged my husband to please not ride to work. He didn't, for a while. But he was deeply unhappy and it wasn't long before he hopped back on his Treadly for his daily ride.
He has been abused and threatened on the road by anti-cyclists. One driver told him that he was going hunt him down and run him over. Is it any wonder I worry? I'm a bit better now, I try not to think about it so much. It's what he loves.
I know that my husband would love it if I cycled too. I definitely saw the appeal when I visited Copenhagen a few years ago. The bike lanes were so wide, helmets were not compulsory, everyone was respectful of cyclists and the Danes just look so cool, riding along in their beautiful city. It's just part of their culture. Interestingly, I saw very little Lycra.
For now though, until I move to Denmark, I'll stick to my tonne of metal.