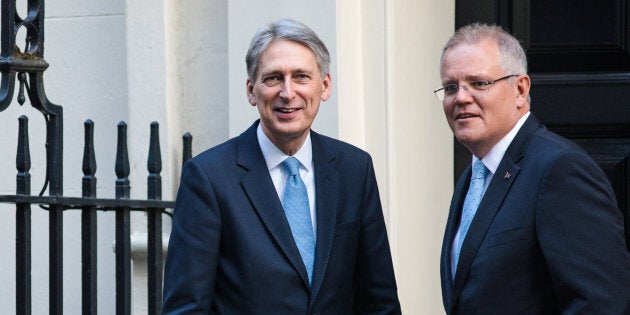 After three and a half years of policy chaos, mistakes and inaction, Scott Morrison is heading to London to seek guidance on how the Turnbull government might tackle Australia's housing affordability and related homelessness crises.
The first thing he will learn is that, in the UK, there is no combination of negative gearing and capital gains tax concessions that distort the housing market by providing perverse and unfair incentives for investment in existing property.
Residential property investors in the UK can deduct their finance costs from their property income to arrive at their taxable income on the property. What should not come as a surprise to the Treasurer is that property investors in the UK can't deduct the finance costs of their investment property from their wage and salary income.
Australia is unique in this regard.
He will also learn that, in 2015, the Cameron (no relation) Tory government reduced the value of the allowable finance cost tax deduction from 45 pence in the pound to 20 pence in the pound, starting in April this year. The changes will save the UK budget £1.3 billion by 2021.
The Treasurer will also learn that the then-Chancellor of the Exchequer, George Osbourne, said of these changes in his budget speech:
"First, we will create a more level playing field between those buying a home to let and those who are buying a home to live in.

"Buy-to-let landlords have a huge advantage in the market as they can offset their mortgage interest payments against their income, whereas homebuyers cannot.

"And the better-off the landlord, the more tax relief they get.

"All this has contributed to the rapid growth in buy-to-let properties, which now account for over 15 percent of new mortgages, something the Bank of England warned us last week could pose a risk to our financial stability."
Something else the Treasurer will discover is that international experience demonstrates there is no single, correct way to deliver affordable rental housing. The delivery of increases in the stock of affordable rental housing requires national leadership from national government.
He will discover that the delivery of properly targeted financial incentives from national governments with the involvement of state and local governments are the most widespread means used to encourage large-scale institutional investment in affordable rental housing.
Measures must be put in place to build the capacity of the community housing sector, to build the capacity for banks and superannuation funds to make long-term investments in affordable rental housing to clear the shortage of affordable rental dwellings available to low-income earners, which in 2012 was put at 539,000.
In many countries around the world, secure, affordable housing is considered a human right...
Effective housing policy needs sound research and evidence at its foundation. The abolition of the National Housing Supply Council as one of the first acts of the Abbott government was an ideologically driven mistake.
The abolition of the National Rental Affordability Scheme (NRAS) by the Abbott government was wrong and reduced our ability to increase the stock of affordable rental housing for working class Australians. In 2008, NRAS represented the first major shift towards supply side solutions to the provision of housing assistance in Australia. Despite its eminently fixable teething problems, it has delivered 38,000 new affordable rental dwellings for low-income earners in locations close to education and employment opportunities and access to public transport and health services.
In many developed countries, governments provide inclusionary zoning regulations to ensure affordable rental housing is included in new developments. The growing number of Australians renting their home have fewer rights to secure occupancy and fewer protections against arbitrary eviction than comparable countries.
In many countries around the world, secure, affordable housing is considered a human right and governments put essential social infrastructure first, and rent-seeking and speculative private gain second.
There are so many things the Treasurer will be able to learn from his trip, but given that we are able to know all these things without leaving Australia, one wonders why the Treasurer feels the need to go to London at all.