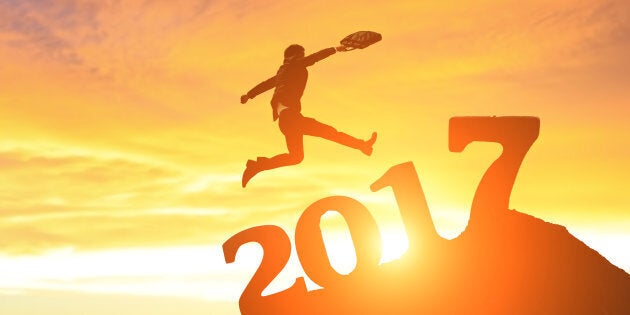 Oh 2016, you of unending cruelty...
It was a year that is probably going to live in memory as one that has been marked by loss, sadness and the testing of our hope.
The list of celebrities we farewelled this year is filled with artists who brought us characters we loved and laughed with, musicians whose tunes gave us hope and happiness and authors such as Harper Lee, who not only mastered prose but captured the cruelty of racism.
2016 has even had a crack at Carrie Fisher!
As we bade farewell to Alan Rickman, David Bowie, Prince, Florence Henderson, Muhammad Ali, George MIchael and Gene Wilder, we also welcomed a new era.
November shattered the hearts and hopes of people everywhere when Donald Trump became the man who will become the next President of the United States. Pop culture aside, the US election was a comment on gender, international relations, populism and, possibly, the growing disillusionment of people with those we elect to represent us.
2016 also continued to bring tragedy to our lives with humanitarian crises both close to home and abroad, with images of children in Aleppo covered in blood and dust or our own battles with asylum seeker treatment in Australia. We witnessed great tragedy in Europe, with terror attacks in Belgium, France and Berlin.
Asking around, 2016 seems to get a pretty big old thumbs down from most people. The fact that this toilet of a year is nearly wrapped up is a little bit exciting to be honest. People have gone meme-crazy to point out their general disgust with the way this year unfolded. If the world was a disgruntled shopper, we would definitely be asking to speak to the manager right now. And you can bet we'd be leaving a complaint on 2016's Facebook page. Publicly.
For me personally, I am pleased to be waving goodbye to this year. Aside from the fact that my inner (and outer) feminist missed seeing Hillary take the top job and 'Die Hard' is one of my top Christmas movies (largely due to Hans Gruber), 2016 put me to the test as an individual.
I'm not one for making new years resolutions, but I am one for picking up the pieces and forging ahead into a future where I can improve upon a current situation or make a new situation so amazing, the old one will be jealous. So in preparation for the new year, I'm going to make some non-resolution resolutions. A conscious stream of the lessons I've learnt from 2016 and how I'm going to use them to make 2017 a much better year.
While everyone has been busy dumping on 2016, we've been reminded that this year didn't see the destruction and heartbreak of years like 1919 or 1939. Basically, stop complaining and realise how good you have it. The thing is, I find this kind of thinking unhelpful. Sure there are times when we should be told to stop complaining and be grateful but I find that kind of forced guilt is so unhelpful. So maybe our 18-year-olds weren't conscripted but times were a little unkind and to ignore hurt that is genuine to you or society is unhelpful. Stop comparing both the good and bad and focus that inward to yourself and your community or your country and workout what's working and what's not. Then can we fix it.
Strength comes in many forms
With adversity comes the development of strength and resilience. In the face of crises, it's hard to realise the strength we have as individuals or a nation. Partly because we all see being strong as that form of bravado that looks the enemy in the eye and challenging them to a duel. But it's not. Strength is that quiet resolve that says you can take it step by step until you get back to where you need to be. It's the coming together of like minds to make a positive difference. It's vulnerability to yourself or to others and asking for help. Whatever it looks like, take your strength and use it to make a difference.
Know what works and do that
Loss can make us re-evaluate what is really important to us. It may be that watching conservatives take the White House showed us that we value gender equality or are pro-choice. Watching human atrocities unfold shows us how we value all human lives. Losing people in our lives (famous or not) made us value the gifts of those around us. From the losses we saw or experienced in 2016, evaluate what really matters and perhaps who really matters to us. In 2017, I will be doing the things that make me happy, health, fulfilled and proud with the people who matter the most.
If you didn't feel a little bit ticked off by something this year, kudos to you. I definitely did though. As 2016 made fun of my beliefs and of those of millions around the world, it only strengthened my resolve to work on those things that really matter. Some of these are the little things, but some are the big issues, locally and globally. Gender equality and public health will feature heavily in my 2017 off the back of their missteps this year. What will feature in yours?
Leave everything better than we found it, that should be 2017. It's an oldie but a goodie, but true now more than ever. If we think that 2016 has been an endless iconoclast of what the world and we as individuals see as important or cherished, then we should make sure that 2017 learns from the mistakes of 2016.
And finally 2017, good luck. We're all counting on you.