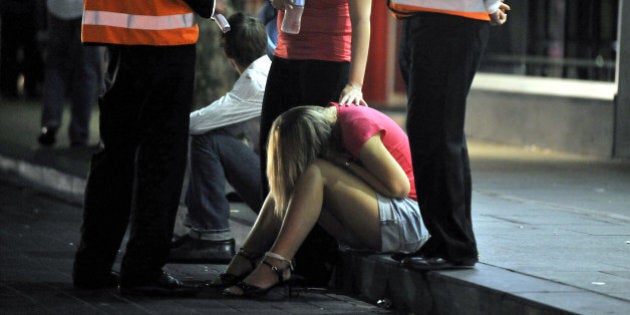 The Sydney lockout laws have caused a significant amount of controversy since they were introduced in an effort to reduce alcohol-related violence in night life districts like Kings Cross.
The laws have their supporters and detractors. There are plusses and there are drawbacks. NSW Premier Mike Baird copped a serve when he announced that lockout laws have reduced violence. What hasn't got enough airtime is the reason they exist -- because Aussies have a serious problem with alcohol.
Aussies are viewed as larrikins around the world. We like a beer, a barbie and a yarn. Except that we don't. We like lots of beers or other rocket fuel-like drinks. And, of late, rather than a yarn, we seem to be developing a nasty habit of getting into fights.
This is especially noticeable in areas like Kings Cross, where, on weekends, people flood in looking for a good time. The flooding of a relatively small area with people whose inhibitions are decreased and tempers are flared often leads -- unsurprisingly -- to trouble.
The Australasian College of Emergency Physicians released data from just a few weeks ago showing that, on Australia Day, one in seven emergency department presentations were alcohol-related. As a young doctor who once working in ED on Australia Day, I remember the extra staff we needed to cover all the people who would answer the question "what brought you here today?" with a scarily similar answer: "Well, I had a bit much to drink when I... fell over, went for a drive, jumped off the roof into a pool, got into a fight, and so on...".
Drinking and hospitals go together like peas in a pod. I have been on the front line of violence in emergency departments, operating theatres or organ transplants for years now. I have listened to a taped recording of the parents of a young tourist who had to give telephone consent for organ donation after he was assaulted in a party district. I've looked after people who have been stabbed, hit or driven their car into a wall. I've called families in the middle of the night to tell them that their loved one is in intensive care. I've looked after people who were so drunk we had to put a breathing tube in to help them keep their airway open.
There is absolutely no doubt that alcohol use is strongly linked to injury. That doesn't just include getting into a punch up. Drink driving, losing your perception of what might be dangerous and winding up in hospital or worse, are all consequences of our love affair with the bottle. And since we can't seem to police ourselves, is it any wonder that the government has taken the alcohol away from us in order to reduce assaults?
I am by no means saying that lockout laws are perfect. However, in all the debate surrounding the lockout laws in Sydney, the fact that we can't hold our drink seems to take a back seat to our alleged God-given right to drink and have fun. It may be a nanny state, it may even feel like Big Brother is taking our fun away. The world probably isn't laughing at us for being sent home at 3 am, but you can guarantee that they will talk when we again make the news for being pissed idiots.
The fact remains that, until we can work out how to have fun without dependence on alcohol, and yet another young person winds up in the news for dying on a night out with mates, it looks like the lockout laws will stay.
Regardless of how you feel about them, the lockout laws reflect a much more sinister problem. This nation needs to work out how to address the growing issues with alcohol-related injury and violence. Until such time, you can guarantee that our toys will continue to be taken away.