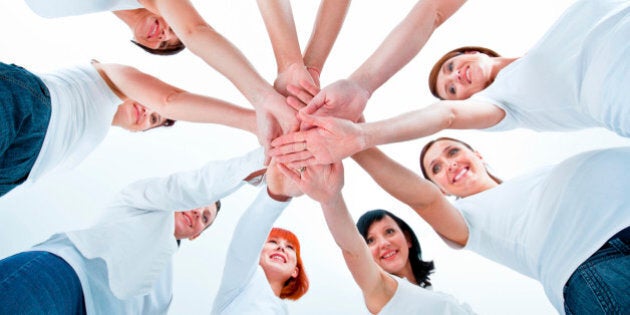 Who remembers free-dress days? It was usually a gold coin donation so you could wear your own, uniform-free outfit one Friday at school. Under the guise of charity, girls would try and out-fashion each other, wearing their best outfit.
It was just one of the many times girls were taught to compete with each other. From there, it escalates to competing for men, the last dress on sale in your size and the envy of other woman.
In the workforce, a world that should reject such pursuits, women are sometimes guilty of "pulling up the ladder behind them" -- a less than endearing trait. Women often have to fight and sacrifice for positions, promotions and recognition. And to further distinguish themselves, they fail to mentor, teach or help other women.
Whatever your politics, Margaret Thatcher was a female prime minister in the UK at a time when women in the workforce were somewhat of a novelty. She has been widely acknowledged as a woman who did not extend her hand to women below her. True or not, we all know a woman in our workplace who, rather than supporting us, lets her own ambition get in the way of collaboration.
In 2015, a Twitter hashtag called #ILookLikeASurgeon was started by Dr Heather Logghe MD, off the back of a similar campaign #ILookLikeAnEngineer. The campaign aimed to break stereotypes of what a particular professional was 'supposed' to look like, and show surgeons as women, mothers, fathers and people with hobbies and personalities. A wonderful side effect of this campaign was uniting like-minded people around the globe.
From #ILookLikeASurgeon, I have found friends and champions and mentors. We have created a team of women who have each other's backs and offer support, guidance and encouragement to achieve our professional goals. We are kind of like a footy team; we play our own roles and our own game, but ultimately, we're about getting the goals on the scoreboard for everyone. Being competitive is healthy, it brings out our best. Being deceptive or obstructive is, quite frankly, uncool.
The world we live in was designed by men, for men. It suits their biology, their personalities and their goals. Women are still learning how to excel in this world, and are often subject to setbacks and challenges that would not be faced by the blokes. That is not to say that men cannot be champions. My mentors have always been men and they have supported and advised me and I am always grateful.
But if we want to start playing with the big boys, women need to do themselves a favour and lend a hand to the woman coming up behind. This can be as simple as advice, encouragement or even putting forward a qualified and suitable woman for a position. It can be calling out sexism in the workplace or buying a female colleague a coffee to discuss their work.
But there is a small exception to lending a hand.
Taylor Swift is often quoted as saying "there is a special place in hell for women who don't help other women". But I don't think that is entirely true. Support should be given when it is needed and deserved. Nobody gets behind everyone on everything they believe in, just because they share a gender. Besides, if not supporting Taylor Swift means I will find my way to the special part of hell, that's cool. Katy Perry, Amy Poehler and Tina Fey will apparently be there and they seem like lovely, funny ladies.
This is not about blind support because we are women. This is about levelling a playing field that does not always play to the strengths -- or allow for the weaknesses -- of women in the workforce. Being on the same team means that when you see a woman who identifies with you, you offer something to help her navigate obstacles and achieve her full potential.
It's about time we women stopped acting like we are still fighting over the same high-school boy or for best dressed at the formal. We should start teaching young girls and women everywhere that when one of our teammates scores, we all do.