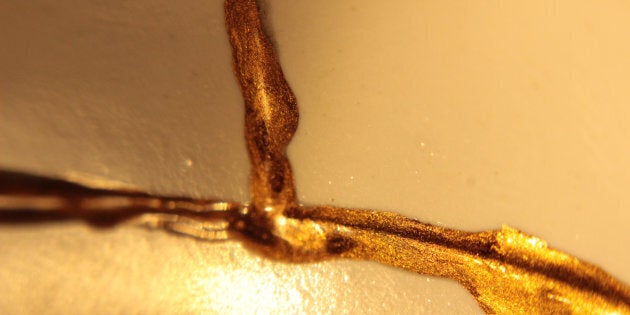 Since we've now clicked over into November, the year end is close. Christmas fare is in all of the shops, the days are longer, the weather is warmer. 2017 is just around the corner with its promise of new beginnings and fresh starts. I, for one, am hopeful that 2016 leaves as quickly as possible and 2017 brings all of these hopes and promises to fruition.
As the year draws to an end, I always reflect on what happened in the past 12 months and since 2016 has been more than a little trying, that reflection has been tough.
They say what doesn't kill you makes you stronger. I would like to make an amendment to that statement. What doesn't kill you may make you stronger, but not before you have been broken down and beaten. The stronger part comes later (hopefully) but the scars definitely remain.
I've seen a lot of ups and downs in my life, both personally and professionally. It's such an interesting thing to watch, the way different people deal with hardships in their lives. Emotion, stoicism, defiance and denial all part of the human spectrum of emotions I see on a day-to-day basis. I am always in awe of those who are so brave and strong in the face of a kick in the guts and I always hoped that I would be that brave if something awful happened to me.
Well I have actually had the opportunity to try that out. And while I'm giving 2016 a bad review, in actual fact, the last four years for me have been very tumultuous and I've needed to dig deep to make it through a day, a week, a month and now a year. The downturn has culminated in this year when my strength and my sense of self has really been put to the test when my personal life descended in to free fall and my professional life has also been difficult.
As I said, this has been going on for a while. I moved across the country for work to a place where I didn't fit in and didn't know anybody. I completed my specialist training which is the hardest and most expensive exam anyone would ever take. My family has had their share of ups and downs. This year, my relationship fell apart before my eyes and I was working for myself with no safety net.
I had always thought of myself as resilient and strong, with a strong sense of purpose and self. However, when something happens that would be considered huge in your world view, those beliefs and assumptions about yourself come under great scrutiny. I have been left this year wondering how strong and resilient I actually am. My surgical colleagues assure me that since I have made it through medical school and surgical specialty training that I'm made of cast iron. I'm not so sure -- it's still under examination to be honest.
But going back to that notion of the hardships in our life making us stronger, I don't necessarily know that they do. It all depends on how you look at it. I think my tough times have not necessarily made me stronger but they have made me very different. They have forced me to evaluate what is really important in my life and how important it is to look after myself. It's made me reassess and understand what I want my career to look like and how other aspects of my career, such as getting health messages and fundraising for causes close to my heart, are just as important to me.
I have looked at all the people in my life and I know for sure who I couldn't live without and how they all make me a better person. I've looked at the way I think, the way I behave and how all of that can be improved or refined so that I can say that I have learnt from my tough times and it's made me better.
I am strong, just not all the time and not now. But that's okay. I have learnt that I am flawed and I may never be the same again but that is okay. The Japanese talk of the art of kintsugi, which is when broken ceramics are repaired with gold, silver or platinum so that the final repair is uniquely beautiful. It embraces the flawed or imperfect and in these tough times, that is exactly what I want to do. I don't necessarily think that what doesn't kill you makes you stronger. That to me is unnecessary pressure. But perhaps it should read 'what changes you is still beautiful'.
Hard times are a part of life in whatever form they take. There is no right or wrong way of feeling about them and there is no formula or set pathway back to being whole again. If there is one thing I am learning is that flaws are beautiful and rather than healing back to be stronger than our former selves, we should heal with beautiful golden cracks like kintsugi bowls where they are not blemishes but beautiful reminders of how the hard times can make you miserable but they also make you.