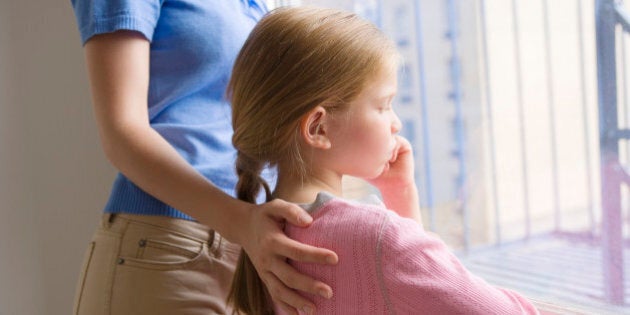 When a young mind encounters a mental health issue, early intervention is the key to a positive outcome.
While the rise in adult mental health issues is well-documented, a lesser-known statistic is that 14 percent of children and adolescents (aged 4 - 24) are likely to experience a mental health problem, the most common being depression, anxiety, substance abuse or dependency and eating disorders. Sadly, of this group only about 25 percent receive assistance.
As a mental health clinician working with children, youth and their families, I know that a positive impact can be made on a young person's life if professional assistance is sought early on. Through evidence-based practices as well as the identification and targeting of risk factors and individual circumstances (protective factors of intelligence, socio-economic status, support networks, help seeking behaviours etc...), mental health professionals can make a difference which can help these kids turn their lives around and lessen the impact that mental health issues will have on their adult lives.
Take the example of a concerned parent who sought help from a local community health centre because their four-year-old was lacking in social skills and they were worried about the child commencing school. This parent did the right thing. Their child was placed in a group where they learnt to play and socialise, and their parents were given some handy hints on how to facilitate the learning of such skills.
This led to a much easier transition to school and may have avoided what could otherwise have been a continuing downward spiral of antisocial behaviour, which may have effected their learning for who knows how long, perhaps even permanently. I know many parents avoid getting help because of a stigma attached to reaching out for assistance, but these parents weighed their own anxieties and fear of the unknown with the overall welfare of their child and came up with the right answer.
What about a family who worry that their child is not on par developmentally with other kids the same age, or concerned with either their child's cognitive, language, emotional, behavioural, social and/or physical development. In Australia we are so fortunate. That family can receive a comprehensive developmental assessment with multimodal practitioners who work together (paediatrician, psychologist, speech therapist, occupational therapists, audiologist) to determine whether there is or isn't a deficit.
Once this is determined the appropriate intervention can be offered if required. At the very least the family will have gained a lot of helpful information they can use in their daily lives to help facilitate their child's development. For example, parenting strategies that are helpful in managing difficult behaviours, speech therapy that facilitates a child's ability to learn and communicate with others and develop friendships, or the improvement of fine and gross motor skills which can also influence learning and socialising. In many instances they will have kicked off a series of events that will turn the parents and their child's lives around for the better.
There was a 17-year-old girl concerned her HSC studies were being impacted as she was spending an inordinate amount of time washing her hands, rewriting sentences (as they just weren't quite right) and avoided eating as foods were thought to be contaminated. This led to family arguments, a teenager feeling depressed and even contemplating suicide.
Then there was the 16-year-old male who was in trouble with his parents and school as he was always irritable and his grades had dropped. They were concerned with his recreational drug use and had noticed some scratches on his arm. The parents were particularly concerned as there was a family history of alcohol dependence and mental illness.
In both of the above cases, once these two individuals and their families were educated that what they were experiencing was Obsessive Compulsive Disorder and Depression respectively, and given skills to manage their unhelpful thoughts and maladaptive behaviours that were maintaining their moods, they made a complete turn-around. Both teenagers were able to complete their schooling.
The girl went on to study law at university and reported being able to manage her anxiety and obsessive tendencies so that they didn't get in the way of what she wanted to be doing. She said she no longer thought of suicide and that, with hindsight, she first felt anxious and down many years earlier and she wished she had broken her silence (she was worried others would see her as different) and asked her parents to get her help back then.
The boy was able to make healthier choices to address his feelings rather than numbing his emotional pain with the use of substances and self-harm. Through working with the family they were able to turn their relationships around and he was able to continue living in the family home.
Through my experience it is abundantly clear that the earlier someone gets help the better. A child's brain undergoes rapid cognitive growth and development, which includes impulse control and emotional regulation, and is highly malleable to positive experiences and learning. Attitudes towards health behaviours, such as risk-taking behaviours, may be influenced in the maturing adolescent brain (brain development continues for a young person right up until their mid-twenties).
Therefore, the sooner help is sought the better. This stops all parties worrying and wondering "if" there is a problem and provides timely intervention so as not to impair the person's educational and social experience.
A report from The Royal Australian and New Zealand College of Psychiatrists says there is robust evidence that "the prevention and intervention of mental illness in childhood and adolescence is critically important, both to improve children and young people's mental health and to help prevent the onset of mental illness in adult life."
If you're a parent wondering if your child needs help, or if you're an adolescent or young person wondering if there's something not quite right, don't hesitate in getting help. Just do it. The only harm that can be done is not doing so.
Young Minds Matter is a new series meant to lead the conversation with children about mental and emotional health, so youngsters feel loved, valued and understood. Launched with Her Royal Highness, The Duchess of Cambridge, as guest editor, we will discuss problems, causes and most importantly solutions to the stigma surrounding the UK's mental health crisis among children. To blog on the site as part of Young Minds Matter email ukblogteam@huffingtonpost.com