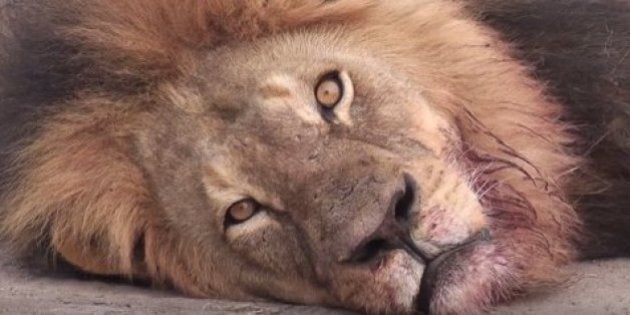 It's a visceral issue at the forefront of environmentalism: does trophy hunting help, or hurt, wildlife conservation?
When U.S.-based recreational big-game hunter Walter Palmer shot and killed Zimbabwe's famed Cecil the lion in July, the backlash was relentless. Not only had Palmer killed an animal vital to an Oxford University study, he'd failed in his attempt to hunt the lion, forcing it to suffer for two days before he was found and shot with a rifle.
Shortly after his gain of notoriety -- and threats of extradition from Zimbabwe -- Palmer closed his Minnesota dental practice and went into hiding.
And as news of Cecil's death continues to rock the international community, Africa's trophy hunting industry has again come under great scrutiny.
Many foreign hunters travelling to Africa are American, according to the National Hunters Association. Most of them are male. Some, like Palmer, are ticking off the bucket list to pursue and kill an apex predator. Others are arms enthusiasts or tourists.
In a poll conducted by the Mpala Research Center of 150 hunters, most said they would prefer if the proceeds from their hunt were used to build up local communities. Some admitted they were indifferent to where their money ended up; hunting was hunting.
Very rarely do sports hunters identify as conservationists, but after-the-fact, and under pressure from activists, hunters often point to wildlife management and local poverty as arguments for their controversial case. However brutal the bloodied body of a slain elephant may look in the pictures, their philosophy is that they've helped manage elephant populations and maybe fed the hungry.
For activists it's not nearly so black and white. In the wake of another wildlife slaying, we question our dominion and our right to issue permits for the heads of fellow animals. We call for hunting bans and generate donations for environmental groups working on breeding programs to non-fatally repopulate high-risk species. We ask for the practice of killing a wild animal to be considered indefinitely illegal and we celebrate when large airlines ban the transport of dead trophy animals out of Africa (Delta, United, American Airlines).
For an activist, it's difficult to draw a parallel between breeding programs and trophy hunting as strategies for conservation.
As yet, no reports have linked Palmer's payment for Cecil to any kind of conservation trust. Despite cries that the hunts are regulated, Cecil was from a protected reserve, lured, and wore a GPS collar. Oxford's WildCRU had successfully tracked him for years; unlike the tens of other lions they chipped whom hunters swiftly killed.
But what remains is the Orwellian idea of killing animals to save them. After hunting animals to the brink of extinction, can we really hunt them back?
According to a 2005 paper by Nigel Leader-Williams in the Journal of International Wildlife Law and Policy, that answer was a non-exclusive yes. Leader-Williams, a veterinary scientist and Cambridge PhD alumni, described how the popularity of recreational game hunting could motivate landowners to introduce struggling species to their properties and to regenerate otherwise degraded land.
In theory, this solves two major environmental crises in habitat loss and population decline. In South Africa, where Cecil was killed, Leader-Williams reported the increase of white rhinoceros (Ceratotherium simum) from a few hundred to more than 11000, even while a limited number were permitted as game for hunters. Zimbabwe's elephants (Loxodonta africana) surged under the control of regulated hunting in 2011.
In science, we know that nothing is predictable. Leader-Williams' study was surely demonstrative of a controlled environment, but not symptomatic of the on-going conflict between humans and wildlife, the rise in the trade of animal parts and the indifference in corporate responsibility.
Unspecified in the argument that hunting helps conservation are the variances in corruption from country to country and organisation to organisation, and more pointedly, the less published final percentage of funds ultimately donated to conservation groups.
Dereck Joubert of National Geographic's Big Cats Initiative said little revenue from hunts end up supporting conservation -- 3 to 5 percent of funds are returned to charitable groups -- and noted that lion numbers have continued to decline in areas popular with big-game hunters.
"The largest decline in lions has happened in an era when hunting was the dominant 'management' form.," Joubert said.
One study found that as little as 1.8 percent of overall tourism revenue in Africa is distributed back into conservation. Not to mention, popular game animals -- like lion, giraffe, leopard and elephant -- are all still frighteningly endangered.
If we're interested in preserving animals, we might be better to consider wildlife tourism. According to the World Travel and Tourism Council, the forecast for travel and tourism contributions to GDP (gross domestic product) was at 8.4 percent and 8.6 percent for 2014 and 2015 in South Africa -- an impact of 31 times that of hunting revenue.
"Hunting concessions bring in around 10 hunters a year but with a massive impact on wildlife," Joubert said.
"Selinda Camp [Joubert's eco-lodge] brings in 8,000 travelers on national airlines, many of whom adopt school projects or invest in saving a rhino for Rhinos without Borders, among other things."
CORRECTION: An earlier version of this post incorrectly stated that Walter Palmer faced the threat of extradition from South Africa when it was in fact Zimbabwe. The piece has been updated to reflect that change.