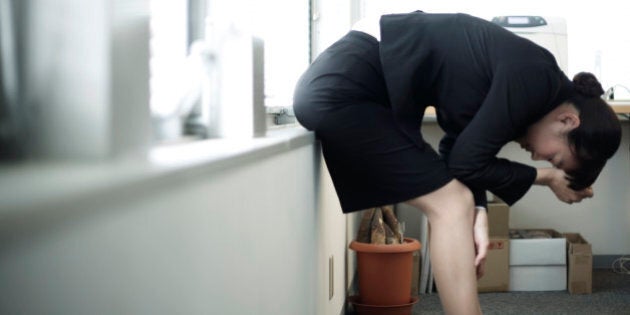 With last week's announcement from government of a $30 million campaign to stop domestic violence before it starts by targeting disrespectful behaviour, we see a growing recognition that tackling domestic violence requires widespread cultural change.
One of the key levers in driving cultural change will be the role our workplaces play in reducing the stigma around domestic and family violence, raising awareness of the impact domestic and family violence has on the workplace and supporting employees who are experiencing violence.
The role that workplaces can play in ending domestic and family violence was highlighted throughout last month's UN Commission on the Status of Women. It was also the subject of the recent Male Champions of Change report Playing our Part: Workplace Responses to Domestic and Family Violence, which featured a call to action by CEOs of Australia's leading companies such as Telstra, CBA, ASX and KPMG.
The impact of domestic and family violence on the workplace
For women experiencing violence, keeping their job is crucial. Economic factors are the most significant predictor of whether a woman remains, escapes or returns to an abusive relationship. Maintaining employment can provide someone experiencing violence with economic independence and a support network.
What does an effective workplace response look like?
While much of the recent media coverage has focused on the inclusion of domestic violence leave clauses in workplace agreements, it is important that this is part of a broader workplace response.
Essential components to a workplace response include:
1. An organisational commitment to gender equality
We know gender inequality is both a cause and consequence of domestic and family violence. Workplace responses to domestic violence need to be underpinned by a robust implementation of diversity and inclusion strategies in an environment where gender-balanced leadership is a known business imperative.
2. Strategies to keep people safe
Having systems in place that protect the privacy and contact information of employees where needed is essential, as well as the ability to change phone numbers, email addresses and internet profiles quickly and easily. Enabling flexible work practices, such as adjustments to time and location to work, is important, as is providing support from security personnel. Lastly, workplaces should also ensure that those who disclose their experience of domestic violence are not discriminated against or victimised, and establish processes to restrict access to such information on HR files.
3. Access to information and services
For many people experiencing violence, they don't feel safe accessing information on personal devices about services and referrals that may help them. Providing information about referral pathways (such as 1800 RESPECT) on employee intranet portals is helpful, as is providing access to a free and confidential counselling service with the relevant expertise that employees can access during work hours.
Providing additional paid leave to employees experiencing violence in order for them to find emergency accommodation, move children into new schools, file police reports and attend court increases the likelihood that they can seek help while retaining their employment. This is crucial in terms of them maintaining their economic independence and links to the community. Ten days of special leave appears to be a developing norm. Employees need to know the leave is available, feel comfortable accessing it, and be assured of confidentiality.
5. Not just policy and entitlements but genuine cultural change
A workplace response to domestic and family violence shouldn't simply be about adding a policy to the intranet portal. Rather, the focus should be on driving widespread cultural change in organisations, through:
• leaders role-modelling respectful relationships and inclusive behaviours;
• encouraging employees to call out inappropriate behaviour;
• communicating about diversity issues regularly through multiple channels;
• information about workplace support available at important employee touch points (e.g. induction, training days, team meetings);
• equipping people with the skills they need to have challenging conversations with their colleagues and implement policies relating to domestic violence; and
• making it clear to perpetrators and potential perpetrators that violence against women is unacceptable and ensuring appropriate referrals for them are also available.
6. Contributing to efforts to end domestic violence in the broader community
Organisations can join forces with their customers, suppliers and communities to create a culture where domestic and family violence is unacceptable. Examples of this include Telstra's commitment to donating mobile phones and sim cards to domestic violence shelters, Network Ten's provision of free air time to the White Ribbon Foundation and ANZ's free financial literacy workshops accessed by women experiencing violence.
Domestic and family violence in Australia is a prevalent, entrenched issue that requires a broad, whole-of-community response. The role of the workplace in reducing the prevalence and impact of domestic violence should not be underestimated.