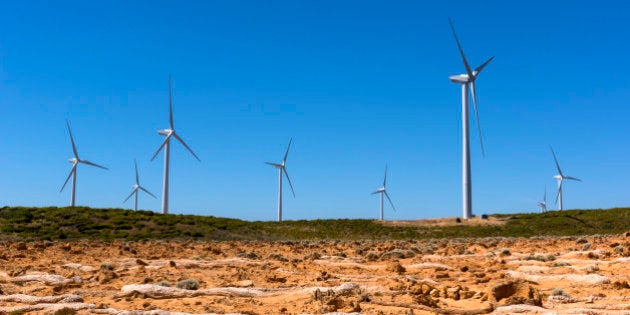 If you're afraid of heights, you might not want to read this next bit.
This summer, I strapped on a harness and took a lift, then a ladder, 80m up into the sky. I perched, cautiously, on top of a wind turbine, where I was high enough to see the Grampians, 70km away.
My location: the Macarthur wind farm in south-west Victoria, the largest wind farm in the southern hemisphere.
Macarthur wind farm produces enough power for 220,000 homes each year and saves 1.5 million tonnes of greenhouse gas emissions that would otherwise be produced by fossil fuels.
Looking out across the forest of wind turbines, I was inspired by the thought that a new, clean-energy future is well within our reach, and there I was, looking out over the beginnings of it.
But as I descended the turbine, I felt myself coming back to earth with a thud, because despite the success of renewable energy, the reality is that current Government policy in Victoria isn't going to make this transition happen any time soon.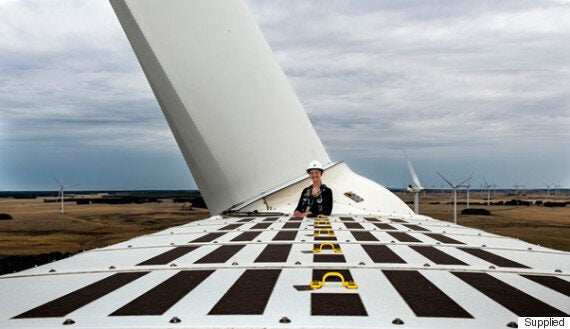 Until we have a serious plan to eliminate coal from our electricity system, there's little hope for large-scale renewables taking off in Victoria, and I'm going to explain why.
Since the Andrews government was elected in 2014, we've heard a lot of fine talk about renewable energy. The community loves renewables, and so it's no wonder the Victorian State Government is capitalising on this enthusiasm by giving some support for communities wanting to go 100 percent renewable, and reducing the windfarm exclusion zone from 2km to 1km. Also, despite having no policy on a Victorian Renewable Energy Target (VRET) before the election, after campaigning from the Greens and environment groups, the Government has decided to introduce a renewables target.
The announcement of the Renewable Energy Target is expected very soon, and I'm excited. But I'm also apprehensive, because I know that without retiring some coal from our energy mix, a VRET will do very little.
The fact is, right now we have more power in the electricity grid than we need. This is for many reasons, including because people have put solar panels on their roofs, appliances have become more efficient, and some energy-hungry industries have closed in Victoria. In 2014, the Australian Energy Market Operator (AEMO) identified around 8000MW of excess capacity in the National Energy Market, including up to 2200MW of brown coal generation in Victoria that is no longer needed.
Because our grid is oversupplied with energy, this pushes wholesale electricity prices down.
While wholesale electricity prices remain low, it is hard to secure investment in clean energy because the return on investment is low. New renewable energy is locked out because they can't compete with well-established, cheap incumbents such as coal.
Brown coal is so cheap because the Government gives away coal for virtually nothing, there's no transport costs as the mines are right next to the power plants, and we don't have a carbon price, so polluting the air is free.
To make matters worse, even if we had a moderate carbon price, black coal and gas plants would likely close before dirtier brown coal plants such as Hazelwood, because even with a carbon price, brown coal is still cheaper than black coal and gas.This is a market failure with serious consequences for Victoria, and it means we need direct Government intervention to close brown coal power stations.
The dire truth is: the market will not close Hazelwood on its own. It's simply too cheap to operate. Introducing incentives for renewable energy is good, but they may do little to actually help renewables enter the market if it's still oversupplied with cheap coal.
Do we want to wait until climate change is even more progressed, before we do anything? Or do we want to intervene before then?
I'm not saying it will be easy to close Hazelwood. The Government will need to commit money to ensure the community has new jobs, and that the mine is rehabilitated safely, which isn't cheap. But if we do nothing now, we'll watch climate change get worse and worse until the plants close eventually, and we'll leave the Latrobe Valley with no plan for new industries.
So while strong renewable energy policies are a good idea, they must be backed up by a comprehensive plan to phase out coal-fired power.
I'm waiting with bated breath, in the hope that the Government's promised Renewable Energy Action Plan makes me want to climb to the top of a wind turbine and stand among those blades spinning on the winds of deep change. But it must be real change that genuinely addresses the challenge we face. Victorians deserve nothing less.