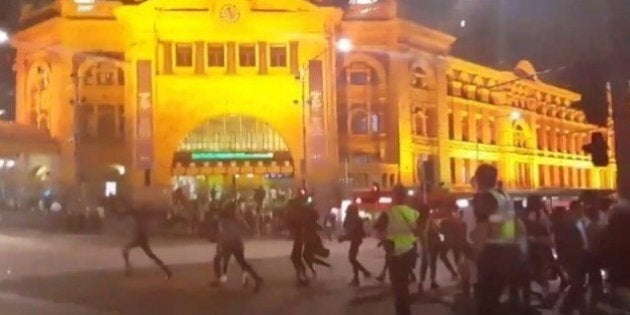 The violence itself was a serious incident -- frightening and dangerous for those caught up in it, and it needs to be responded to like all incidents of crime and violence. But in their knee-jerk responses to this event, some politicians and the media have let us down, and could create more harm than good.
There is no question there was unacceptable and criminal behaviour on Saturday. However, in reporting and responding to it in this way, are we further alienating a group already at the fringes of our society, and in doing so, making things worse?
Is it fair to whip up fear about "gangs" when this group of young men have no hierarchy, no structure, no colors, no clubhouse, no common criminal enterprise beyond opportunistic and chaotic offending? It is hardly on the level of the Comancheros or the Calabrian Mafia. It looks more like young men, lost and lashing out.
In responding to these crimes, if we want to do more than win votes through fear, if we want to actually try and prevent violence rather than just mop it up, we need to look deeper and respond sensitively and intelligently.
Hardship is not an excuse for violent crime -- but if we ignore the underlying issues that can lead to crime and instead treat all those involved as 'evil', we do little to prevent it happening again in future.
Growing up, young people search for meaning and inclusion -- their place in our society. The sad fact is, if you're from an African background, too often this search leads to closed doors. A lack of jobs. An implied, and sometimes outright, racism. The impossibility of finding affordable housing. Governments that spend more money on new prison beds than on social inclusion programs or services. If you're from a background where your family experienced war, torture or trauma, then these barriers are compounded.
I have met with young people who graduate from high school, go to university, then apply for job after job with no response, until they change their name from 'Deng' or 'Abdi' to 'Brian' on their resume. Only then does the phone start ringing.
Community leaders and social workers have been saying for years that without stable jobs for young people, disconnection and social breakdown are inevitable.
This week I attended several Harmony Day celebrations at local police stations, where the police invited community members from all different backgrounds to share in Somali and South Sudanese food, hear stories and build relationships with police officers. African community leaders told me about the employment, education and sports programs that desperately need funding, programs targeted specifically at young people at risk of dropping out of school, or falling into crime. Most of the time, leaders in the African community are running these programs with money from their own pockets. I saw hope in their eyes, but also frustration at having to ask for the hundredth time for something their community is crying out for.
These are the kinds of initiatives we should be promoting during this week, Harmony Week, but they are rarely, if ever, reported in the press, and the funding they need is often ignored. Yet some pretend the 'Apex Gang' emerged fully formed one day, a manifestation of pure evil.
The media has a responsibility here: to report accurately the fact that young men caused the violence on Saturday, but to stop with the scaremongering and the race-baiting which sells papers but is toxic to the only thing which will stop this happening again: harmony and inclusion.
Politicians also have a responsibility: to condemn the violence, but to do so in a way that doesn't demonise and alienate all young people of colour. A responsibility not to frame this as a just a law-and-order issue to be "smashed", in an attempt to win votes through fear, but to respond with intelligence and fund real solutions for social inclusion beyond just more cops on the beat or more prison beds.
During this week, Harmony Week, of all weeks, surely we can start to do better.