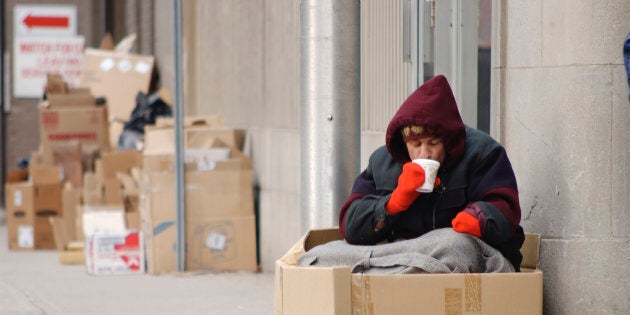 This winter, if you walk through Melbourne's CBD at any time of day or night there's one thing you simply cannot miss: the number of people sleeping rough on our streets.
It's a confronting sight in the world's supposedly "most-liveable city."
It wasn't always this way. Rough sleeping in Melbourne has increased 74 percent over the past two years, leaving over 200 people sleeping rough on city streets each night.
Dealing with this problem is obviously complex. We clearly need early intervention to address the causes of homelessness, which often stem from failures in the child protection and juvenile justice systems. We need properly funded mental health and family violence services. And most of all, we need long-term affordable housing so people have somewhere in our city they can actually afford to live.
Yet these solutions always seem to fall in the too-hard basket for State and Federal Governments.
Frustrated by the lack of Government action, several groups have become so concerned by the issue that they've taken matters into their own hands.
Just last year Orange Sky Laundry won the Young Australian of the Year Award for their mobile laundry service for rough sleepers, and they are now starting a shower service. More churches and charities have started opening their doors to feed and house people, and the Salvation Army has started a night cafe to keep people out of the cold.
These groups are rightly praised by Government and the media. But another group who are taking bold action against homelessness -- protesters occupying empty Government-owned houses in Collingwood and Parkville -- are not celebrated by the Government, but are deliberately demonised. In fact, the Government is trying to evict them this week.
The Victorian State Government bought over 100 inner-city properties when the East West toll road was proposed. As soon as the toll road was cancelled, I immediately called on the Government to make these properties available for public housing. After all, the Government already owned them and there are over 32,000 people and families languishing on the public housing waiting list. It seemed like a no-brainer, but I received no response.
Soon afterwards, the Homeless Persons Union began living in some of these properties, both as a way to house some of their homeless members (including pregnant women, families with children, and people fleeing family violence) and also as a way to highlight the important issue of the lack of permanent affordable housing in our city.
A recent study by Anglicare Victoria found that less than 1 percent of rental properties in greater Melbourne were affordable for a person on the Newstart Allowance. Given these damning figures, the response from the Victorian Labor Government to the people occupying the East West houses should have been one of reflection. They should have taken stock, thought about putting these properties on the public housing register, and engaged in a meaningful conversation with these protesters to hear about their lived experience of homelessness.
Instead, embarrassed by their lack of action, the Government quickly announced that 20 properties would be made available to temporary, "crisis" accommodation.
When I, and the protesters, pointed out that more temporary accommodation, while welcome, would do little to put a dent in our public housing waiting list, their response was one of condemnation and vilification of the protesters.
The Government has spread two main untruths about the occupiers' actions.
Firstly, the Minister blames occupiers for preventing the Salvation Army from using these properties for people who have experienced domestic violence. However, of the more than 100 properties the Government acquired, the Government will only make 20 available for affordable housing. Of these, 17 are already up and running. The rest of the 100 will be sold, developed, or put on the private rental market to make profit for the Government. Many are already listed on private real estate agent websites.
Secondly, Martin Foley repeatedly claims that homeless people in these properties are being assisted to find alternative housing. He wants you to think they're ungrateful and refusing Government help.
The truth is, the "assistance" the homeless protesters received from the Government was a one-page printed sheet of phone numbers to call for housing support. The Homeless Persons Union of Victoria filmed themselves calling these numbers. The first service was closed as it was just after 5 pm. The second service had a disconnected number. The third wasn't even a housing service provider. Not even one service on the list had beds available for those seeking assistance.
This further illustrates that our housing system is in crisis, which is the very problem the occupiers are trying to highlight. In the past three months, the Labor Government only managed to reduce the public housing waiting list by 32 (out of over 32,000). At this rate, it would take more than 250 years to get to the bottom of the list. Flabbergasting.
Rather than demonising the protesters and trying to play them off against survivors of family violence, the Minister should be listening to their concerns.
Martin Foley doesn't want you to take these protesters seriously because that would mean he has to answer their questions. Why is a Labor Government allowing the state's worst public housing crisis in history to unfold? When will sufficient resources be allocated to providing public housing in Victoria? How much longer will vulnerable groups in our community literally be left out in the cold?
Any victims of domestic violence or homelessness who eventually access these properties will have the homelessness occupiers to thank for their advocacy. Without their occupation the Labor Government would never have considered turning these homes into any form of affordable accommodation at all.
It's time the Government stopped criticising those who speak out against homelessness, and instead did something about the problem.
Ellen Sandell is the Victorian Greens spokesperson for housing and homelessness.