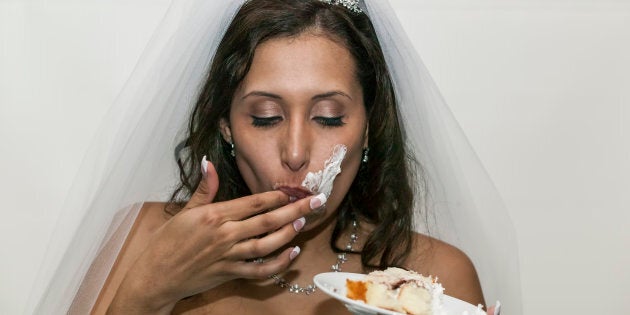 When it came to organising my wedding day, there was only one tradition I was sure I wanted: the inclusion of a wedding cake. Forget an awkward first dance, cringe-worthy removal of the garter or a tossing of the bouquet (heck no was I giving that beautiful thing away!). A classic, white, two-tier cake decorated with florals was all I needed.
But when my husband and I came back from our honeymoon, we were informed that most of our celebration cake had been left untouched. Despite leaving our guests with paper bags and boxes to fill with as much cake as they wanted, my mother ended up having to donate the bountiful leftovers to a local homeless shelter.
A similar thing happened a few weeks later when I made a birthday cake for a friend's party. She initially didn't want a cake, but I convinced her that one was needed on every birthday occasion and proceeded to make a small one. Let's just say, I shouldn't have bothered. In fact, I'm pretty sure she and I were the only people there who actually had a piece.
It seems like these days, people just don't appreciate cake anymore. I get it -- there are countless other delicious desserts out there: puddings, tarts, eclairs, ice creams, custards, donuts, cookies and slices that can and do satisfy your sweet tooth. But to me, cake is something special.
So, here are three reasons why you should embrace cake:
1. Cake is there for the good times, and the bad.
We're all well aware that cake is a classic presence at weddings and birthday parties, but did you know that it has also been around for the less-festive times? During the Great Depression, a simple cake recipe using affordable ingredients brought sweetness to people living in the economic crisis. As Julie Thomson wrote: "no matter what is happening in the world around us, people need cake." So there you have it: cake was there for humanity long before cronuts even existed.
2. Cake is the easiest, most-fun dessert to make.
I could spend time carefully trying to pipe out even amounts of churro batter or doughnut mix. I could worry about whether or not my parfaits and trifles have even layers of creaminess and fruits. I could one-by-one ice and decorate a tray of fiddly cupcakes. Or, I could just make a cake.
Cakes are by far the easiest and most-fun thing to bake and decorate: you choose your favourite flavours, mix all the ingredients into one bowl, pour all that batter into one tin, smother the top with icing, decorate it as much or as little as you'd like (which is the super-fun part), and bravo, you're done.
3. Cake is the most memorable baked good.
I am lucky to have a number of memorable cake-related experiences in my life.
When I was younger, I told my best friend I wanted a Kit Kat chocolate bar for my birthday. She met this request by surprising me with an awesome homemade Kit Kat cake. That same talented friend has gone on to make extremely impressive cakes for my twenty-first birthday and my kitchen tea.
I also have a mother who can throw together random ingredients, with no recipe in sight, and end up creating the most moist, chocolatey goodness on earth. She has also accidentally shown me that, occasionally, a piece of leftover cake is totally acceptable for breakfast.
I'm sure we can all reflect on an old birthday and remember an epic cake being present. Cake is something I associate with some of my favourite people, so amidst the meringues, pastries, profiteroles, and frozen yogurts, it will always have its very own place in my heart.