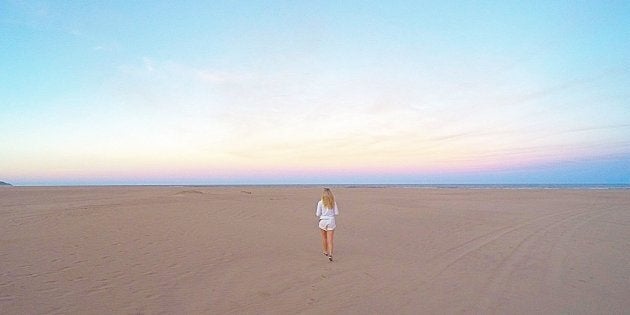 I've never been one of those people who caught the travel bug so severely the only cure was a backpack and a one-way ticket to South America.
While my schoolmates were hiking Machu Picchu, I was climbing the professional ladder. Don't get me wrong, I've fallen in love with New York and consumed an exorbitant amount of Coronas on Isla Mujeres, but I've never had the overwhelming desire to throw the everyday life towel into the trash and rack off for a year to 'find myself'.
That was until South Africa. Ironically, work led me there.
My schedule was reduced to eating, drinking and reading in between game drives. My alarm was set to catch the sunrise and a glimpse of The Big Five (fun fact: they aren't the five fastest animals on foot, but the most dangerous). The toughest decision was what wine to consume, usually ending with a glass (or bottle) of pinotage.
And maybe it was the lack of decision making, or the fact the stars are so damn bright there, or the sweeping landscapes making any massive problem you left at home feel minute, but I got that feeling.
I didn't want to come home.
Cue fist pump, mariachi band and more pinotage. I was a normal 20-something. Hurrah.
Spending the next few days donning the Cheshire cat's grin over said realisation, I debated the possibilities.
Maybe I just won't get on the return flight. Maybe I'll stay a little longer. Book a flight to Capetown and freelance from the beach. Or maybe I'll work in a bar in Durban for the year; days surfing, nights working.
But a week later I was boarding my flight for Sydney. Maybe it was my bank balance pushing me onto the plane, or the fact I love my job, or my friends, or my family. Or the fact the life I've made for myself at home -- created by all of the above -- is one I've worked hard for. But I sat down in my seat on QF64 and did up my seatbelt.
Even when the in-flight entertainment malfunctioned before we took off, I didn't scream at the flight attendant to let me off and let me be in my simple South African life.
As the weeks went by, and my old reality took the front seat again, I realised maybe we're not all meant to run away. But we're all meant to run away briefly, whether that be for two weeks or two years.
Because exploring a new country, a new culture, gives you something so delightfully wonderful -- perspective. And perspective prompts you to bring about change in your regular life for the better. You begin to reassess things... reassess society and your place in it.
As Adam Grant wrote in The Originals, there is such a thing as vuja de.
Déjà vu comes about when we encounter something new, but feel as if we've experienced it before. Vuja de is the reverse.
"We face something familiar, but we see it with a fresh perspective that enables us to gain new insights into old problems," Grant wrote.
"The starting point is curiosity: pondering why the default exists in the first place. We're driven to question the defaults when we experience vuja de. The hallmark of originality is rejecting the default and exploring whether a better option exists."
For me, a better option was simple. Really, that's exactly what it was. A simpler life, created by focussing on the current moment and blocking out some of the noise.
On our second to last day in South Africa we drove about an hour out of Durban, which is in the KwaZulu-Natal province, into the valley of 1000 Hills, because, yes, it really feels like there are 1000 hills there.
In the valley we visited iSithumba village, a local Zulu village which has been there for centuries. Zulu people are the largest ethnic group in South Africa. While the rest of the world has evolved with iphones and emails, the Zulu culture at iSithumba village hasn't changed much and I almost envy them for that.
One of the biggest rules in the Zulu culture is if you pass a friend on your way to another meeting, you must stop. You must talk to them and genuinely see how they are. You mustn't rush off. Because what if, after you brushed them off in a rush, they passed away and your last encounter was an ingenuine one. You would never forgive yourself.
So they are very present there. That's the moment that always counts; the one right now.
It's been a few months since I returned from South Africa, and there's been many moments where I'm far from living in the now. It's a constant battle, effort and journey. But I'm getting there.
I also promised myself I would not text and walk. Just do one thing at once, well, and appreciate it.
Now I look at the people on the bus or the ferry, the ones staring down at their phones emailing, texting, facebooking, snapchatting, instagramming and missing out on looking out the window to appreciate the city they live in for five minutes.
But what they also miss is another small window of opportunity for some peace, some stillness, before the mayhem of their day starts.
Most days I stare out the window looking like a wierdo, feeling just a little bit smug.
Maybe we don't all need an escape via a one way ticket, but five minutes every day. And every now and then a holiday; one to bring about a bit of vuja de to reset the defaults in our own lives which have always been right in front of us.