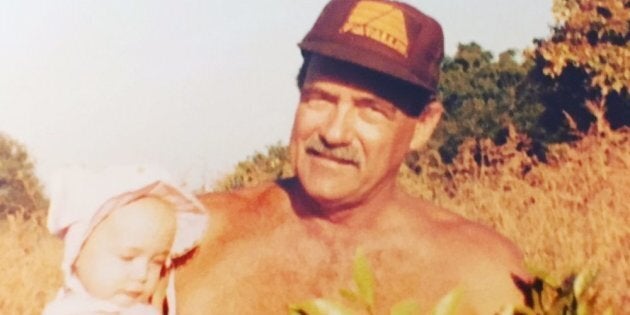 I was 18, fresh out of school and having the time of my life travelling through Europe one hangover at a time when I got the early morning call. My dad had died.
Totally unexpected. Body slam. Winded.
The happy and healthy Dad I'd spoken to from a begrimed street side phone box not even 12 hours before. My best friend and bear hug.
Here are five things I've learned in the decade since that distraught flight home.
1. Grief is an obscure beast
Grief follows its own shambolic timeline. Looking back, the immediate aftermath wasn't necessarily the worst. Shock initially insulated me from the avalanche of emotions that would eventually come.
It was the years that followed, each milestone, each father's day, a smell unearthing of a memory without warning, an undeleted voice message.
When you lose a parent young, it's unlikely many (if any) of your friends have experienced the same. The banality with which their world kept turning was impossible to reconcile with the cyclone which was my own. While they're fawning over nightclubs and nail polish, teenage love and travel, you're left staring down a precipice of infuriation and exasperation. Your problems are not real problems. You don't know life.
But that fades away and you learn to be grateful for your own story. Being awkwardly catapulted into adulthood instils an appreciation for life you may not otherwise have had.
2. Glimpses of gratitude and despair
Despair. "Dad Home" is still saved in my phone. How will it ever feel okay to delete that. Despair every time I see a father walk his daughter down the aisle.
But grateful. Thankful that I got 18 years of life lessons and night-time cuddles when many don't. There is always, always someone worse off.
Grateful that he left the world before I did. I had watched Dad cope with the death of one of my brothers years earlier. If I had gone before Dad, I would have left him treading slush in the same cesspit of heartache he already knew too well, and that's just not fair.
3. Love and loss are two sides of the same coin
With each birthday candle is a wish for 10 more minutes on the veranda with Dad. To hear his voice, ask his advice, make him laugh. To tell him I graduated university, bought my first house, that his baby girl became a lawyer. That I could've done with a few more years of him vetting potential boyfriends. That I think about him every day.
But I would go through the pain again. Tenfold. Having had something worth hurting so much for is better than a life without grief.
4. The tears
Grief knows not of social norms. Neither do the tears. At first, they will come, unexpectedly, wherever.
Memories will tiptoe into your head, unannounced. Pizza nights on the way home from netball. The rhythmic wax and wane of a beer belly snoozing in front of the television. The smell of cut grass on a Saturday afternoon. Road trips. Meat pies.
But the tears go. You rise above the tears to live the life you know he would have wished for you.
5. You will see the sun again
In spite of it all, you will belly laugh again, and really mean it. You will get dunked by waves, fall in love, read a good book, drink a beer, admire a sunset, and you will smile. It might have taken the better part of a decade, but I've caught my breath.
I love harder, hug tighter.
Because. Blink. Life. Blink. You'll miss it.