Egyptian writers, artists and activists are reeling over the lengthy prison sentence handed down to a well-respected writer last week in a Cairo court. Ahmed Naji was sentenced to two years behind bars on public indecency charges relating to his novel Istikhdam al-Hayat (Using Life).
Though journalists have been routinely arrested and imprisoned in Egypt in recent years, the writers of fiction have faced less persecution. Naji's sentence sent a chill through the country's arts and literature community, who feared where the hammer might fall next.
Prosecutors had filed charges against Naji after a private citizen complained that reading a magazine excerpt from Using Life, with its descriptions of sex and drug use, had caused this individual to suffer heart palpitations and a drop in blood pressure. The writer was actually acquitted of the charges at trial in early January, but prosecutors appealed.
On Saturday, the appellate court found Naji guilty. His supporters had hoped for a definitive acquittal and feared at worst a fine. But in an unexpected move, the court gave him two years in prison.
"Everyone present in the courtroom looked at each other in disbelief, and we remained in a state of shock as we watched the forces surround him and take him away," Ayman Zorkany, a friend of Naji's and the illustrator of the book, told The WorldPost.
"A verdict against an author for a work of fiction should not be taken lightly."
The case stems back to August 2014, when an excerpt from Using Life was published in Akhbar al-Adab, a state-owned literary magazine. Based on the complaint from the offended citizen, prosecutors referred the case to trial in November 2015. Akhbar al-Adab's editor was also charged and, in the most recent ruling, ordered to pay around $1,300.
The Using Life excerpt follows a day in the life of the fictional Bassam Bahgat, an Egyptian man in his early 20s. He smokes hashish, drinks and discusses sex with his friends one night before meeting his lover the next morning. Arablit, a blog dedicated to Arabic literature, published a translation on Jan. 25 after Naji was initially acquitted:
We stayed up until the morning smoking hash and competing to finish a whole bottle of vodka. I remember seeing the music dissolve into monkeys that clung to the ceiling. There was a blonde German tapping her leg to the beat. Erections popping around the room. A young Palestinian-American, with poor Arabic, talking a lot about racism. Smoke, cigarettes, hashish. And more smoke.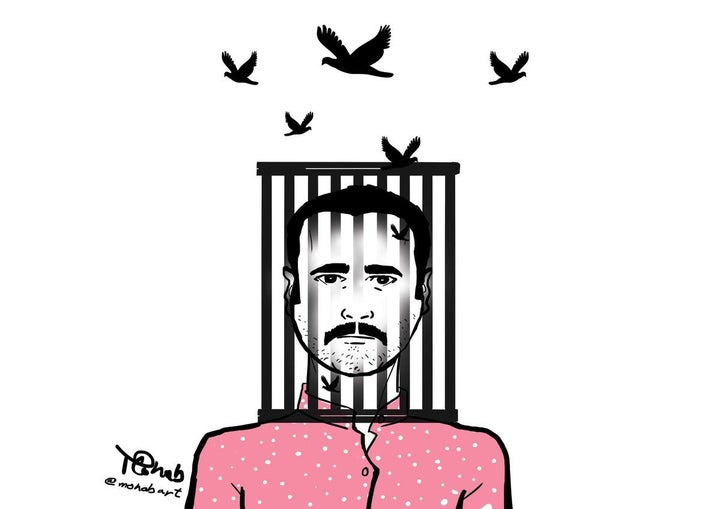 Since Naji was sentenced, many in Egypt's cultural community and independent media have condemned the government for trying to stifle free expression.
"A verdict against an author for a work of fiction should not be taken lightly and must be seen in the context of the police state's continued attempts to intimidate," Egyptian news sites Mada Masr, Qoll, Za2ed18 and Zahma wrote in a joint statement posted online Sunday.
"Society's views are developed through a clash of ideas, through the existence of freedom of expression and thought and belief," prominent Egyptian activist Wael Ghonim posted on his Facebook page. "The state's role in modern societies is to protect these freedoms and rights, not to play guardian over people's thoughts."
More than a dozen rights organizations, including Great Britain's Article 19 and the Cairo Institute for Human Rights Studies, have come to Naji's defense. They argue that his case highlights the deterioration of human rights and free speech in Egypt. The Tahrir Institute for Middle East Policy, a Washington, D.C.-based nonprofit organization, released a statement this week calling the verdict unconstitutional.
See a video of an exhibition and book signing for Using Life, held at a Cairo gallery in December 2014.
But human rights groups and international law experts have routinely criticized the government of President Abdel Fattah el-Sisi for abuses in the nation's legal system. Still in late 2015, Egyptian authorities shut down two major independent cultural institutions, the Merit Publishing House and the Townhouse Gallery and its Rawabet Theatre. Earlier this year, poet, journalist and former parliamentarian Fatima Naoot was sentenced to three years in prison on charges of contempt of Islam after criticizing religious animal sacrifice in a Facebook post.
Naji's fate has made an uneasy time even more so.
"The literary scene is very nervous," Zorkany said. "From the older generations and writers who have worked with the state, to younger independent writers and even commercial writers."
Nick Robins-Early contributed reporting to this article.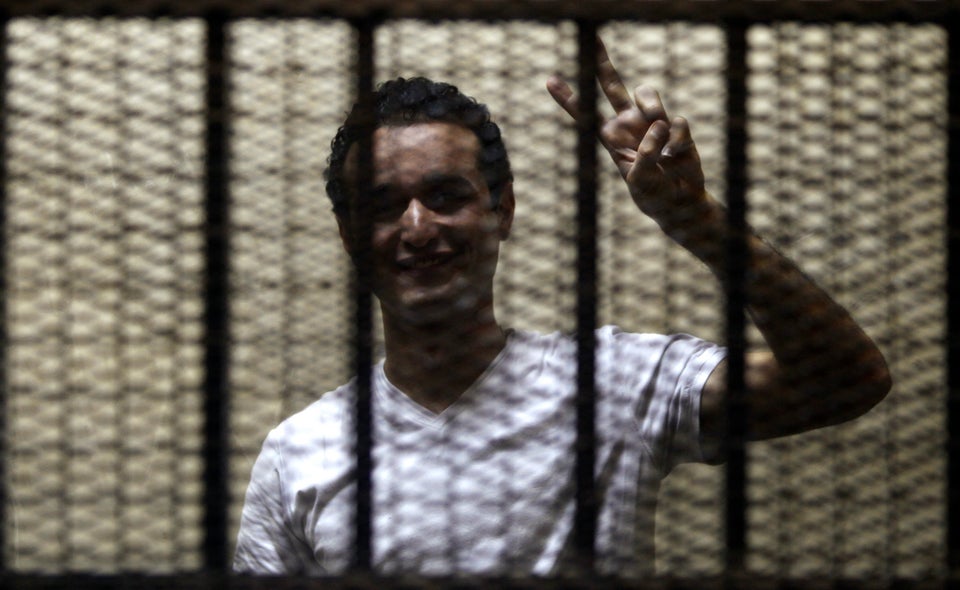 Activists Detained In Egypt