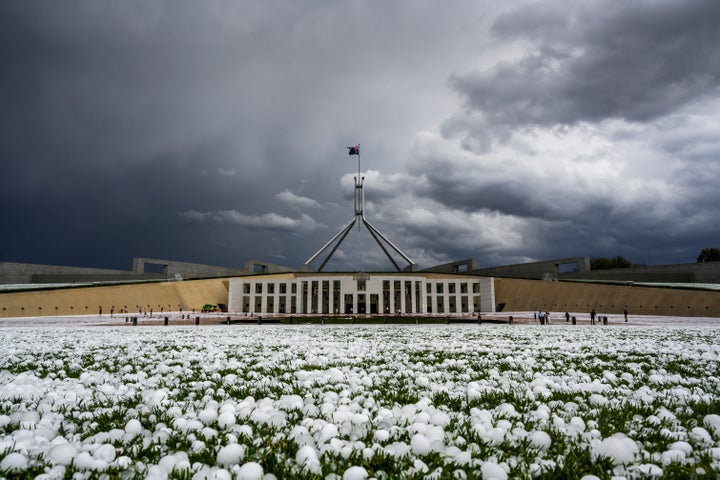 Hail stones as large as golf balls hit Canberra on Monday, with authorities warning it wasn't the end of the severe storms that were heading south east from the Australian capital into New South Wales.
The Bureau of Meteorology informed residents at 5pm AEST that "damaging winds, possibly giant hailstones and heavy rainfall" were expected for parts of Sydney, Gosford/Wyong, Wollondilly/Wingecarribee and Greater Wollongong.
On Monday afternoon it was confirmed the storm had a gust of 17km/h at Canberra airport, and locals were warned to move cars undercover and not drive on flooded roads.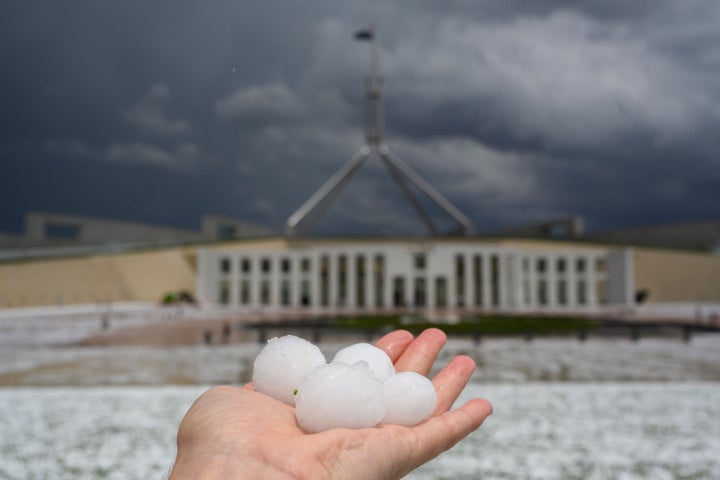 Australian Parliament House tweeted a photo of the 5cm hailstones that surrounded the building as a result of the severe weather conditions.
It comes after golf ball-sized hailstones similarly hit various parts of Victoria on Sunday, with social media users showing what they collected from their backyards.
One social media user on Twitter, @Peteshakes, said his daughter was out collecting buckets of the hail in a "lifejacket just in case".
Another social media user who gave his name as Adam said that the storm damaged his solar panels on his house.
Shoppers at a Woolworths in Melbourne suburb Templestowe were forced to evacuate on Sunday after the supermarket's roof collapsed when hailstones fell through.
Meanwhile overwhelming amounts of dust swept across Central West of NSW on Sunday, with social media users sharing images of brown clouds across a dark sky in Dubbo, Parkes and surrounding areas.
"I'm just over it," said Tanya Fulton, manager of the council swimming pool at Tottenham, a town of 300 people about 500 kms west of Sydney, which was closed on Saturday because of dust in the water.
"I couldn't even see the bottom of the big pool, and the toddlers' pool was all mud," Fulton added by telephone to Reuters.
Severe storms are forecast to continue in many fire-stricken regions of New South Wales and Queensland, including areas that have not seen heavy falls for years, weather officials in New South Wales said, slightly easing a three-year drought.