After having been labelled "needy" by his male co-stars and a "stage five clinger" by viewers of the reality dating show, Jamie Doran is set to once again go to great lengths this week to win The Bachelorette Angie Kent's heart.
Jamie's 'clingy' approach to dating may be more common than many realise, and in his case, could "sabotage the relationship" with the former Googlebox star.
Psychotherapist and relationship counsellor Melissa Ferrari told HuffPost Australia that the 39-year-old firefighter displays "traits of anxiety in his attachment to Angie" that fit into the category of 'stage five clinger'.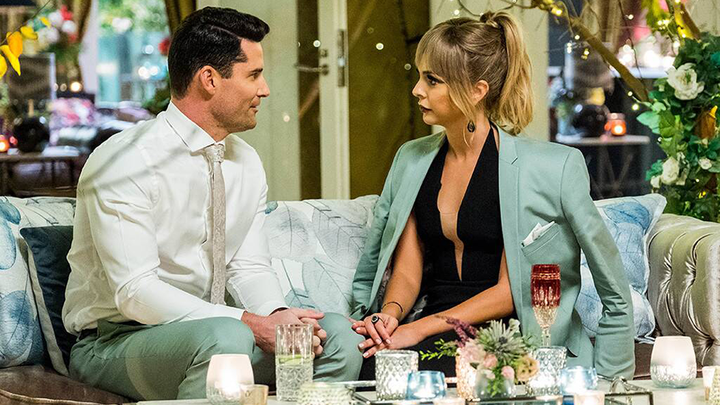 What is a 'stage five clinger'?
Ferrarri said the term 'stage five clinger' is "used to describe someone who is perceived as being overly needy or demanding of a partner's time".
"From a clinical viewpoint we would describe this behaviour as anxious attachment or ambivalent attachment," she said.
"When we refer to people as 'clingy' we need to be a little careful as often the person will have some underlying or unconscious hurts or injuries from their past, which could be caused through the loss of a parent or somebody very close to them.
"Those who display this type of behaviour really need a little more compassion and understanding."
Angie and Jamie's heated conversation
Last week Angie confronted Jamie asking why some of the other contestants warned her parents that he was the suitor to steer clear of.
"They feel that I'm too needy for you, like a stage-five clinger," he told her.
Then saying it was "like a compliment", he added, "I'm almost, like, too much of a good guy".
"People with anxious attachment styles can believe that they are a perfect partner because they love to be close both physically and emotionally. To them this is a sign of a good, strong and healthy relationship," Ferrari said in reference to Jamie's explanation of his behaviour.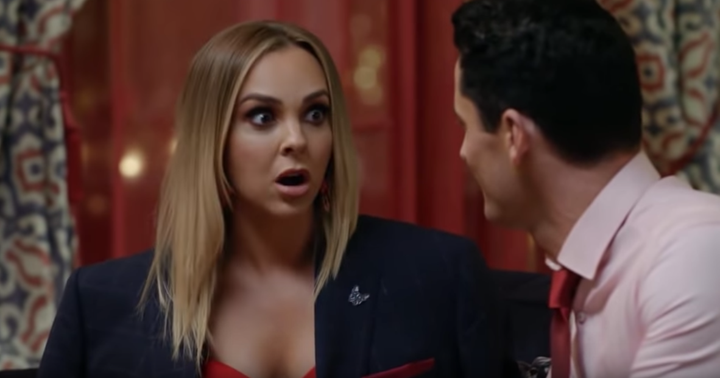 "The problem with this is that even as a couple we need to be 'individual'. We need to be able to self-soothe when our partner is not always available, and we need to have desires, dreams, friends and activities outside the relationship."
Noting "Jamie does show traits of anxiety in his attachment to Angie", Ferrari said, "Jamie's behaviour ultimately is likely to sabotage the relationship, with Angie showing signs that she has 'gone off' Jamie.
"This is due to the overwhelm of his behaviour, which if it continues will likely lead to Jamie leaving the mansion."
If Angie was keen to continue their relationship, another conversation addressing Jamie's behaviour would be a practical approach.
"What would be best for Jamie would be for Angie to be honest with him and if she is intent on pursuing the relationship further, showing a little more curiosity about Jamie and what sparks this behaviour," she said.
Why people become 'clingy' in relationships
"When a person becomes needy in a relationship it is often because they feel threatened or unsafe that this relationship is secure and has a 'tomorrow'," said Ferrari.
The Sydney-based relationship counsellor noted the issue is "fairly common" in her practice, and evolves when there is a lack of trust.
"The relationship lacks the key element of both having each other's back, continuity, safety and the general feeling that they are a strong couple where nothing can threaten their existence," she said.
Attachment in a relationship can be endearing, but it's harmful when there is not enough space.
"It starts to become too much when one partner begins to feel suffocated as boundaries are overstepped," she said.
In a world outside the Bachelor mansion, this could also occur through excessive phone calls and social media alerts, and "usually comes in the shape of the anxious partner not having much, if any, of a life outside the partnership".
How to address 'clinginess' in a relationship
Underlying causes such as trauma and past experiences could explain some of this behaviour, and therefore Ferrari suggests therapy.
"Having someone with you to help guide you through dealing with what can be serious issues and provide you with tools to help you soothe these anxieties or feelings of abandonment is very important," she said.
Therapy is also beneficial to the partner who is feeling overwhelmed by their 'needy' partner, because again, understanding the cause is a step in the right direction.
"Trying to understand the cause behind anxiety and being aware that this a point of vulnerability is the best place to begin and if you want to work through the issue," she said.
"If it's a relationship that you are not keen to pursue and you don't think it's someone you want to commit to long-term, then the best thing to do is be honest and end the relationship."