A three minute-long, 8.3-magnitude earthquake struck northern Chile on Wednesday night, killing at least ten people and forcing up to one million people to evacuate from their homes. The quake's aftershocks reverberated across South America, and sparked fears of tsunamis and earthquakes in Hawaii, California, Japan, New Zealand, Russia and the Philippines.
Among the victims were a 35-year-old woman killed by a falling roof and a 20-year-old woman killed by falling rocks, Chilean President Michelle Bachelet said Wednesday.
Additionally, 1,800 people in Illapel, Chile -- 29 miles from the earthquake's epicenter -- were left without drinking water, and hundreds of thousands in the Coquimbo region had no power, according to officials and electricity providers.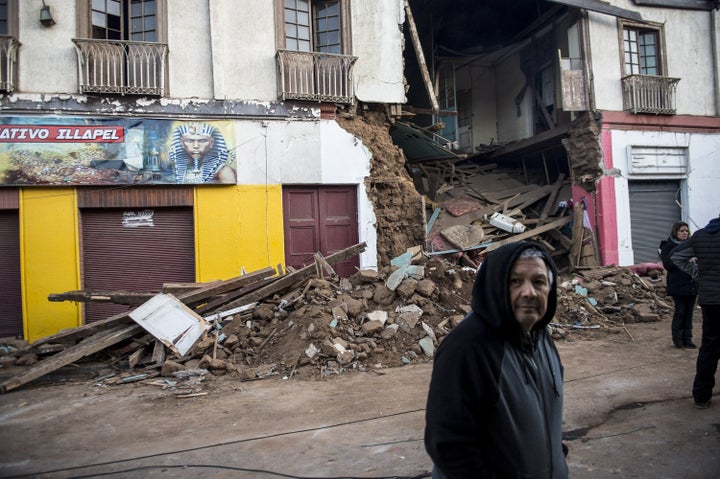 The catastrophe was also the world's strongest earthquake in 2015 so far, Chilean Undersecretary of the Interior Mahmud Aleuy told a news conference Wednesday.
A drone video below shows the earthquake's impact on Los Vilos, a coastal commune in eastern Chile, on Thursday:
Countries along the Pacific rim braced for the earthquake's reverberations. Residents in Japan, New Zealand and Russia were been warned of potential tsunamis. Authorities in the United States issued tsunami advisories to residents in Hawaii and Southern California, the Weather Channel reported Thursday.
Take a look at the photos taken in the western Chilean cities of Illapel, Concon and Valparaiso to see the earthquake's devastating impacts: