In the middle ages, tapestries depicted sprawling battles between gods and monsters, human beings and mythical beasts, precarious moments on the divide between the mortal world and eternal hell. Fast forward some sixteen hundred years to Christina Forrer's variation on the theme, in which epic battles are replaced with carnivalesque caricatures engaged in exaggerated power clashes.
Forrer's protagonists, who seem to be wearing makeup on their masks, are immortalized in moments that, in some way, toy with dominance and submission. Sometimes the power abuse comes at the hand of another person, or perhaps an idea, or a system, or even a misplaced projection of emotion. Her characters strangle one another, decapitate, breathe fire and pose for the viewer, in a grotesque display that's part classical mythology, part reality television meltdown.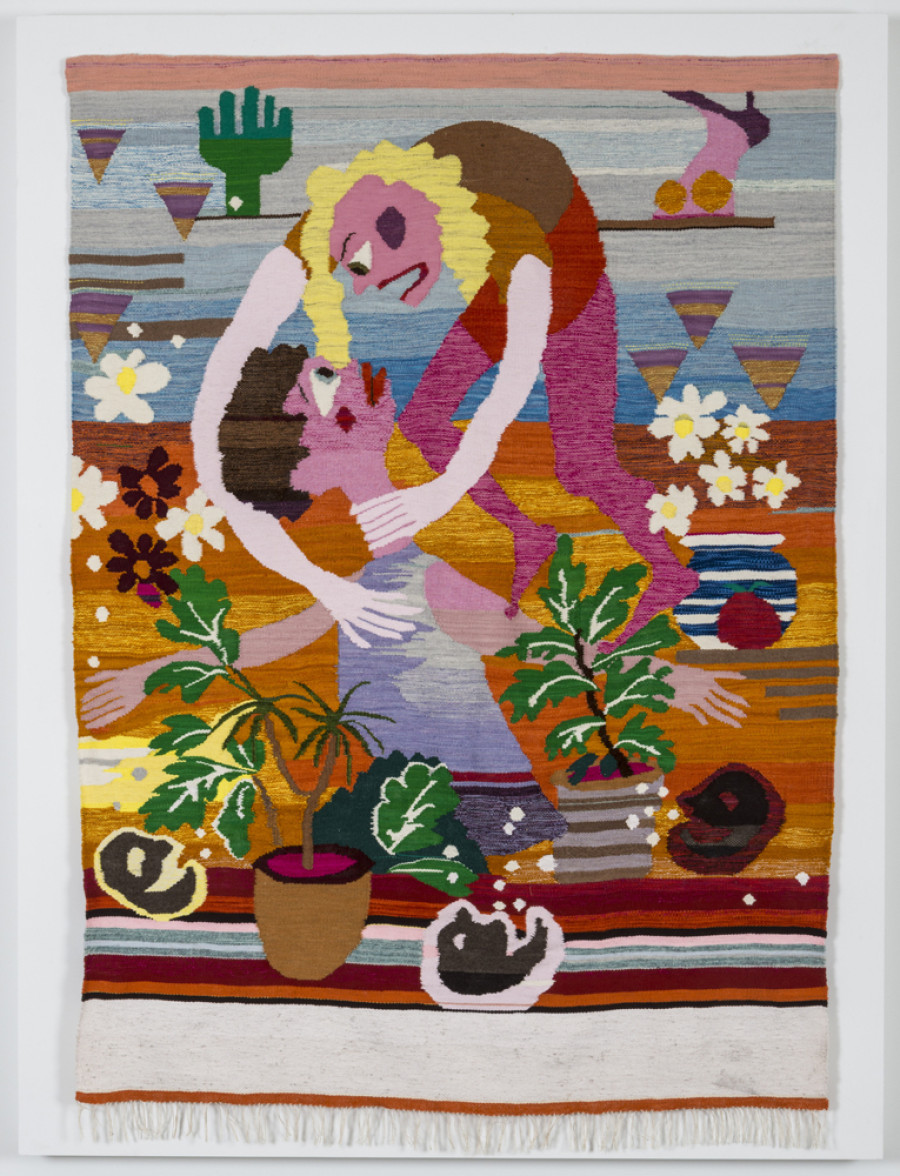 "Two People Fighting"
Each of Forrer's tapestries begins with a drawing, and from there, she creates a template. The Zurich-born, Los Angeles-based artist selects her colors as she goes, yielding a beautifully incoherent mishmash with all the accidental beauty of a crowded circus tent. "I let the colors decide themselves," the artist told to The Huffington Post, estimating that a single tapestry takes approximately 200 hours of work. At first glance, the works recall James Ensor's taste for the macabre, Niagara's gothic femininity and Nina Chanel Abney's flattened all-at-once-ness. But Forrer cites Ernst Kirchner, who also worked in tapestries, as her primary inspiration.
The bulky cast of characters takes shape from a wide range of incongruous sources, from an Aretha Franklin album cover to a medieval ritual. In a piece titled "Procession," a man holds his dead lover's head in his hands as surrounding townspeople begin stirring up a racket with her kitchen utensils, banging them as loud as possible to get rid of the bad spirits so the soon-to-be-widower can move on. Another work, titled "Polka Dots," features only a gargantuan torso, all dolled up in a blue polka-dotted dress, the oversized proportions recalling Robert Crumb's amazon women. While some tableaux have specific origin stories, others are more opaque.
"I feel better if I don't know everything," Forrer responds when pressed on specifics.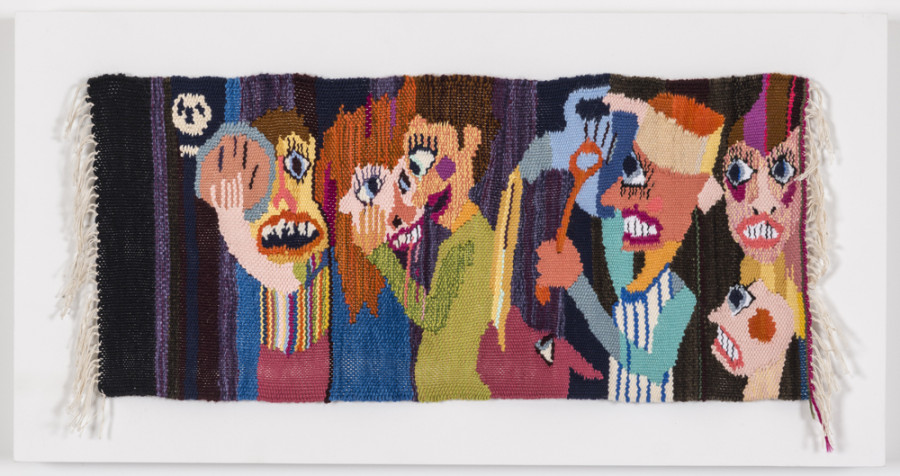 "Procession"
This instinctual artistic approach sometimes borders on mystical. "My grandparents had a house in the Italian part of Switzerland," Forrer explained. "I hadn't been since I was four years old. The first tapestry I made, my grandparents said it looked exactly like something, a piece they had hanging in that house."
The works themselves often seem influenced by fairy tales or folklore, containing both the whimsy and sinister undertones of the Brother's Grimm. Although Forrer doesn't have a huge interest in either fairy tales or folklore, she acknowledges her upbringing may account for her work's sense of mystique. "It's in the forests there. It's just there. I'm starting to realize that more and more."
From far away, the two-dimensional images look like the hybrid of a colorful children's storybook and a grotesque outsider comic book. Yet as you get closer, the chunks of wool, cotton and linen manifest themselves in every glitch and the tapestry blossoms into a kind of glorious bruise. Dangling there on the walls, the tapestries permit you to catch a glimpse of their undersides, where knots and threads of uncut yarn hang wildly. Gazing upon the vibrant scraps feels like sneaking a peek at a human's insides.
If Forrer ever makes a mistake along the way, she points out, she prefers to leave it in there.
Witches, pigs, skeletons, horses, clowns, tank tops and bling are just some of the oddities spun from Forrer's loom. Her tapestries conjure an alternate world where expressions are exaggerated, colors are intensified and power plays on just the same. Forrer's exhibition runs until December 13, 2014 at Grice Bench gallery in Los Angeles. See a preview of the work below.