Say goodbye to boring cardboard cups and plain thermoses with this Craft Of The Day. This reusable cozy from Practically Functional is a prettier departure than the flimsy cardboard sleeves that come with most coffee orders. Plus, these are quick and simple and make great party favors or gifts! If you're ready to take a plain cup and make it pretty, keep reading for the how-to.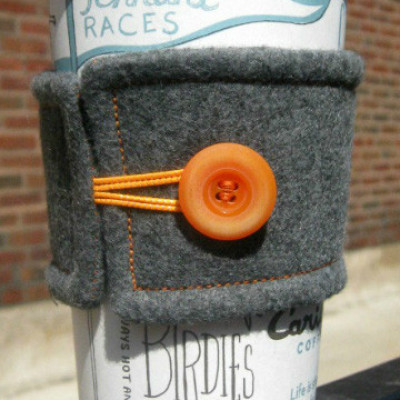 Photo by Jessi Wohlwend from Practically Functional.
You'll Need:
Sewing Machine
Buttons
Felt (or any other fabric)
Scissors
Elastic cording/hair tie
Thread
Pins
Coffee cup (to use as a model)
Printable template (available on Practically Functional).
How to Make It:
1. Print the cozy template on plain paper and cut the shape out along the solid lines. (Alternatively, you can grab a cardboard coffee sleeve like the ones offered at Starbucks, and take that apart and trace it.)
2. Lay the template over the fabric and trace it. Cut out two fabric pieces in that shape.
3. Make a small loop with your elastic cording and place it at the edge of one of the felt pieces. Pin it there, so that the loop is mostly on the felt and only slightly hangs over the edge.
4. Sew the elastic to the felt with less than a quarter inch of seam allowance.
5. Stack the other piece of felt on top of the piece with the elastic loop. Pin them together and then sew with a 1/4" seam allowance. Make sure to leave a 1-2" gap on the short side without the elastic.
6. Stitch the gap between the two pieces closed.
7. Sew the button on to the side without the elastic, making sure it will fit snug around a coffee cup. Now, enjoy your coffee in style!
And, be sure to check out our other great crafts in our Craft Of The Day slideshow below.