When their 4-year-old twin daughters requested a "Hulk Princess" cake for their birthday, a pair of creative parents rose to the challenge and gave them just that.
Elton told The Huffington Post that the cake took about six hours to make, spread over the course of a few days. Her daughters are currently big fans of all the Disney princesses and of the Avengers (though they haven't seen any of the movies yet).
"Like any 4-year-old, their interests typically last for about five minutes, so we try to capture those moments whenever we can," she said, noting that in addition to the cake, she and her husband Brian gave their girls Ironman and Captain America action figures for their birthday.
Though not a baker by trade, Elton considers herself a pretty crafty parent. When her daughters saw the completed cake, they said they absolutely loved it. "I hope I did justice to their idea," the mom told HuffPost.
Beyond her kids' reactions, the mom has been blown away by the viral response on Reddit. "I absolutely love the fact that the cake has sparked discussions about gender stereotypes," she said. "It feels pretty great that I can somehow contribute to that conversation in some way since I'm fully supportive of kids being able to make decisions about what they play with, what they wear, etc. with no regard to whether something is 'meant' for girls or boys."
"When I posted the pic to Reddit, I never considered it to be a statement about smashing (pun intended) social gender norms," she continued. "But in retrospect, I couldn't be happier about the dialogue it sparked. "
Elton's cake just goes to show that kids don't have to choose between their different interests, however diametrically opposed they may seem. And sometimes the best desserts come in the strangest forms.
Eat your heart out, Pinterest!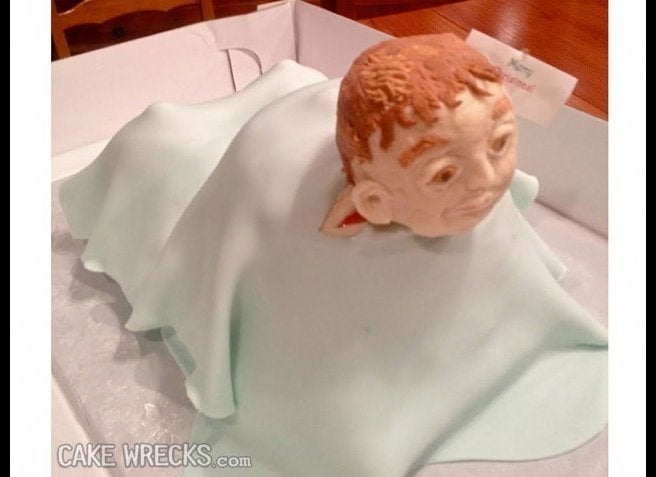 Deliciously Awkward Baby Shower Cakes