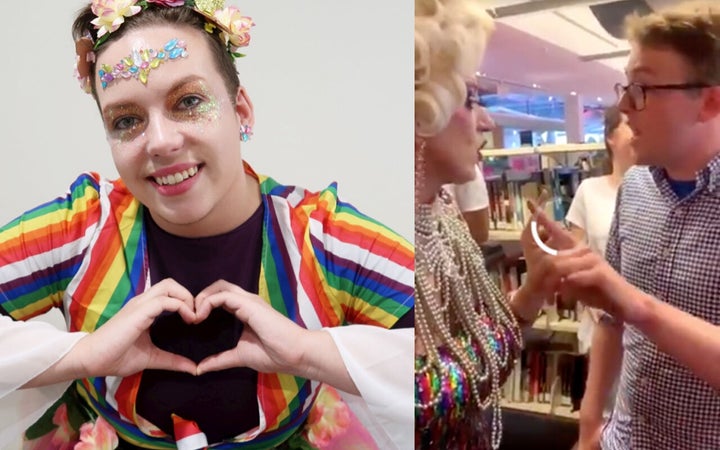 A drag queen who was heckled at a children's story time event at a public Brisbane library on Sunday will take legal action.
About 15-20 members of the University of Queensland's Liberal National Club stormed the public event and chanted "drag queens are not for kids" in the face of the hosts Diamond and Queeny, both Blue Card holding professional children's entertainers.
Leader Of QLD Liberal Party Deb Frecklington said on Monday her party recently resolved to dis-endorse the UQ club and as such it is not affiliated in any way with the LNP.
"The club is using the LNP's brand and logo without permission and the Opposition Leader has demanded the party take the strongest possible action against this club," an LNP Spokesperson told HuffPost Australia.
Police were called to Brisbane Square Library after complaints that the group was scaring the children.
"Myself, drag queen Diamond, the Brisbane Library staff, the families and their children were aggressively confronted by several individuals from the UQ Liberal National Club who burst into the event space, shouting and making vilifying comments against LGBTQIA+ people," Queeny, also known as Johnny Valkyrie, wrote in a Facebook post.
"There were children crying, families distressed and of course, Diamond & I were victim to vilification, harassment and nuisance.
"I was inside during the disruption, in protector mode, calming children and families, distracting them with stickers while we were finishing our craft session."
Queeny is a well known LGBTQIA+ activist in Brisbane and has been supported by LNP affiliated politicians Cr Vicki Howard, Andrew Laming MP and Trevor Evans MP. Since the incident public figures Lee Lin Chin, Joel Creasy, The Veronica's, RuPaul's Drag Race winner Jinkx Monsoon and Pauline Pantsdown have publicly supported Queeny.
"This was planned and targeted at me. It hurt and affected so many others. I am sorry," Queeny said.
"I have reported this to police and will take legal action.
"The comments on the defamatory posts made by the organisation prior to the event were slanderous, discriminatory and disgusting.
"UQ Liberal National Club. I hope you find peace, and learn from the consequences of your actions. I expect consequence, I expect apology and I expect changed behaviour. I expect safety, respect and inclusivity in my community."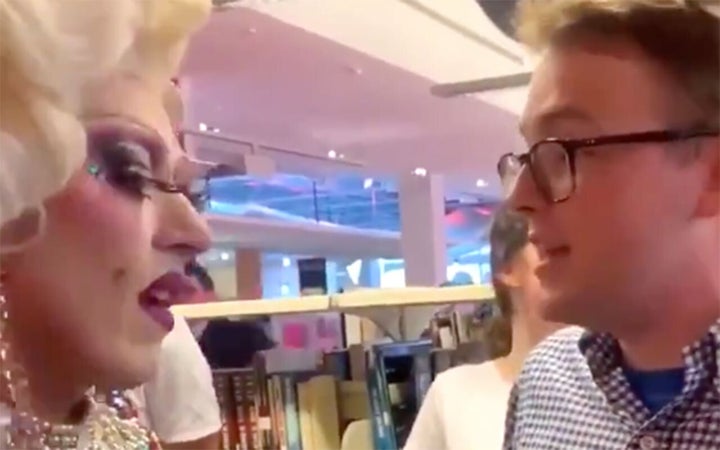 The Veronicas' Jess Origliasso, who happened to know one of the attendees at the family event, posted disturbing footage of the disruption to her Instagram on Sunday.
"This morning a good friend of mine took her daughter along to a children's story telling event in Brisbane by two gorgeous Drag Queens, when a screaming group calling themselves the UQ young Libs stormed the event in a public library, causing chaos and distress to children and everybody there," she said.
"I am absolutely furious. Our world is in need of love & healing, now more than ever. What they did today was add to the bigotry, division and trauma young children are left to face in today's society.
"Bless the two Queens who were there to bring joy to children and their families."
The event, organised by Rainbow Families Queensland, was meant to be a celebration of diverse families. Rainbow Families said in a statement on Sunday the drag queen hosts are "fully trained" and hold Blue Cards.
"Drag queen storytime is a highly successful event that has been held four times in Brisbane over the past two years, inspired by similar events currently being held in public libraries across the world," the organisation said.
UQ's Liberal National Club said on its Facebook Page it was making "a stand to defend LNP values against a corrosive gender ideology" and that the Brisbane City Council should feel "shame" for putting on this event.
Read Queeny's full statement here:
If you or someone you know needs help: