When it comes to leveraging the amazing beauty benefits of food, we're often instructed to wear them instead of eat them. Smearing avocado on our faces and coating our hair in yogurt, honey and olive oil have become routine. But we forget that actually ingesting these foods is also tremendously beneficial. Just consider the grocery store your new beauty counter.
There's no denying that a balanced diet is the key to good health, but some of those same foods are also beauty boosters. Sweet potatoes help prevent wrinkles, walnuts put the sparkle back in your eyes and spinach strengthens your hair. Even dark chocolate, which helps hydrates your skin, is on the list.
We've rounded up nine foods that will help you glow from the inside out. Check them out below and eat your way to fabulosity.
Why? The tasty treat helps skin stay hydrated and protects it from sun damage thanks to Flavonoids, a naturally occurring plant substance found in cocoa. Dark chocolate also helps to reduce the stress hormones that help preserve collagen in the skin, which reduces winkles. NOTE: The chocolate must be at least 70 percent cacao.
Wild Salmon (not farm-raised)
Why? Because the omega-3 fatty acids boost the moisture in your skin and hair -- making them both super smooth and supple. There's also an awesome mineral in salmon called selenium that protects the skin from the damage of sun exposure.
Greek Yogurt
Blueberries
Why? Because they are anti-aging powerhouses. The antioxidants in berries help minimize the damage of free radicals, which can accelerate wrinkle formation and cause disease. Blueberries can also fight acne since they are high in salicylates -- and salicylic acid is often used in topical acne treatment products.
Sweet Potatoes
Why? Because they are packed with vitamin C, which is essential to collagen production. Translation: Sweet potatoes help smooth out wrinkles.
Avocado
Why? Because the rich, creamy fruits contain monounsaturated fats, aka "good fats," that bring shine to your hair and nails. There are also important nutrients like lutein and zeaxanthin found in avocados that promote eye health. Time to get that twinkle back!
Walnuts
Spinach
Oysters
Why? Because they are an awesome source of zinc, which helps renew and repair in skin cells. Zinc also keeps your nails, hair, and eyes healthy.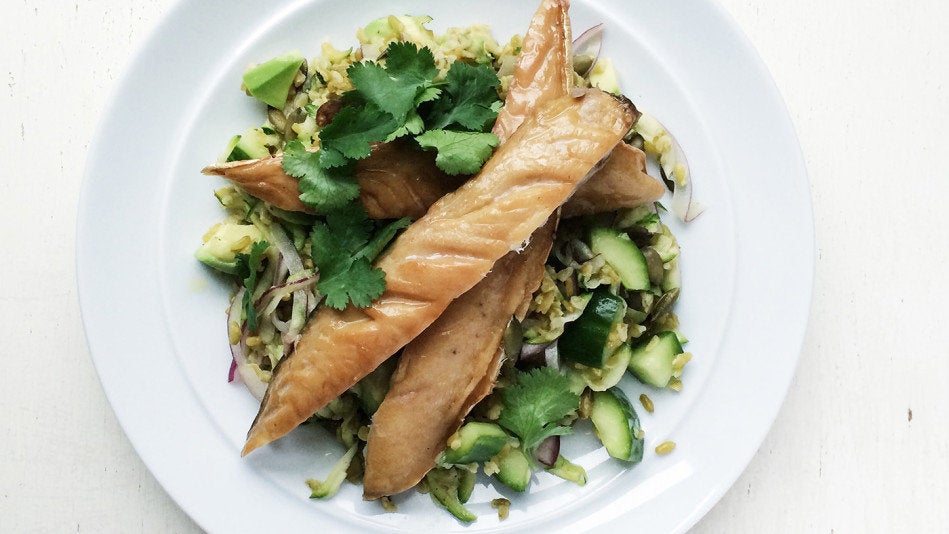 Healthy Foods to Keep In Your Fridge
Are you ready to start taking better care of yourself? Sign up for our newsletter and join our Look Good, Feel Good challenge to supercharge your beauty and grooming routine and develop healthy habits. We'll deliver tips, challenges and advice to your inbox every day.