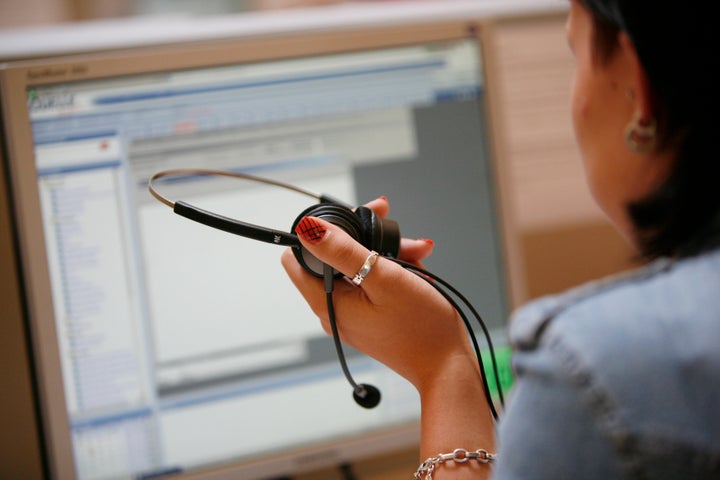 Even scam artists are outsourcing. On Tuesday in its first crackdown on fraudulent telemarketing in South Asia, the Federal Trade Commission announced that it was shutting down two California-based companies that used a call center in India to defraud Americans out of more than $5 million over the past two years.
Workers in India made threatening calls to Americans getting them to pay money on debts that they didn't owe, the FTC charges. At an FTC press conference in Chicago on Tuesday, fraud victim JanLaree DeJulius explained that she had received a call from someone claiming to be an enforcement officer from the (phony) "Federal Department of Crime and Prevention," who threatened to have her arrested and have her wages garnished if she didn't pay a bill of more than $730. The scam artists had gotten her name and information from a payday loan her ex-husband had taken out in her name.
"It was very embarrassing," Dejulius said. "He knew everything about me so I agreed to set up an installment." She is not alone. According to the FTC, more than 8 million calls were made since 2010 and at least 17,000 transactions processed across the United States related to the global scam.
On Tuesday under request from the FTC, a U.S. District Court in Chicago stopped the international operation, charging Varang K. Thaker and two companies he owned, American Credit Crunchers, LLC, and an affiliate Ebeeze, LLC, with violating the FTC Act and the Fair Debt Collection Practices Act.
"This is a brazen operation based on pure fraud, and the FTC is committed to shutting it down," said David Vladeck, director of the FTC's consumer protection bureau. "Consumers should not be pressured into paying debt they don't remember owing. Legitimate debt collectors must provide consumers with both written information about the debt, and instructions for protecting themselves if they don't think they owe the debt."
According to the FTC's charges, Thaker used Social Security numbers and bank account numbers obtained from payday lenders to identify the victims for his scam. He outsourced the work to an Indian call center, where workers made threatening calls to American consumers to pay fake debt or collect on bills for which they were not authorized.
Thaker was not available when contacted by telephone on Tuesday. A woman who claimed to be Thaker's older sister and asked not to be named for privacy reasons said he is working with the FTC to help the Indian government pursue the fraudster call center operators. She also said he was innocent in the scam. "He was being used by somebody. He didn't even know where they got the information," she told The Huffington Post by phone. She said that her brother got 10 percent of the earnings from the scam operation.
The FTC charges against Thaker are the latest in a series of police actions by the government agency to put an end to rogue debt collection operations that have become more frequent in the aftermath of the Great Recession. In January, the FTC struck a $2.5-million settlement with debt-buying company Asset Acceptance, LLC, charging that the company had falsely represented itself to customers, including making up phantom debts that customers no longer owed. Last October, the FTC filed a complaint against seven other fraudulent debt collectors, alleging that they had engaged in the same techniques -- demanding money from customers who owed nothing at all.
The growing number of Americans who are unable to pay their bills has meant there are more companies looking to profit from their economic difficulties.
Debt collectors have been taking more aggressive tactics as fewer people are able to make ends meet or are in a cycle of debt. More than 30 million Americans are in debt collection, according to the Consumer Financial Protection Bureau. Since 2010, more than 4,000 complaints have been filed with the FTC and state attorneys general about fraudulent debt collection calls, the FTC said.
Charles Junitkka, a personal bankruptcy attorney who represents clients in the New York City area, said, "In the last few years, the desperation of the collectors and their efforts have intensified because of the economy."
This story has been updated to reflect comment from a woman who says she is the sister of Varang Thaker. Thaker himself was unavailable for comment.