George Martin, the music industry legend who worked on nearly every Beatles recording, died on Tuesday night. He was 90.
Martin was born in 1926 in London. Before meeting the Beatles, he was best known for producing novelty records in the 1950s and early 1960s, including works by Peter Sellers and Spike Milligan, and 1961's "My Boomerang Won't Come Back" by Charlie Drake.
Martin also recorded two songs -- "Time Beat" and "Waltz In Orbit" -- under the pseudonym Ray Cathode with special effects artist and TV producer Maddalena Fagandini.
The Beatles had been rejected nearly everywhere when manager Brian Epstein asked Martin for an audition in early 1962. At the time, the band consisted of John Lennon, Paul McCartney, George Harrison and Pete Best.
Martin understood why the band hadn't found a foothold.
"When I heard what Brian had to offer on tape, it wasn't very good," Martin recalled in a 1987 interview. "In fact, it was awful."
But after meeting with the band, Martin "fell in love with them" and recognized that they had "star quality" even if at first "they showed no signs of being great song writers."
Martin told Epstein the band needed a better drummer, at least for the recordings, which led to Best being replaced by Starr.
Thus began a collaboration that produced some of music's most beloved songs. With Martin's distinctive fingerprints all over the arrangements, he was often referred to as "The Fifth Beatle."
As Martin guided the band from its early Merseybeat sound to more complex and layered recordings, he also helped to change the sound of rock music.
"In many ways, Martin's most important contributions to the Beatles' music were his lavish arrangements, which included strings, brass and other instruments, like harpsichord, that were not common in rock and roll," the Rock and Roll Hall of Fame said.
Martin was inducted in 1999.
One such uncommon arrangement was the string part on the 1965 song "Yesterday."
Paul McCartney didn't love the idea at first. According to Beatles Music History, McCartney said:
"George Martin had the idea to put the string quartet on it and I said, 'No, I don't think so.' He said, 'I've really got a feeling for it. I can hear it working.' I said, 'Are you kidding? This is a rock group!' I hated the idea…But he cleverly said, 'Let's try it,' and I thought, that's fair enough."
The result was not only another Beatles classic, but one of the most covered songs of all time. Amazingly, the band didn't even release "Yesterday" as a single in the U.K.
In addition to producing the Beatles, Martin performed on several songs, most notably playing the memorable piano part on "In My Life."
In a 2012 interview with The Wall Street Journal's Marc Myers, Martin explained the unusual technique that gave the piano its distinct sound:
I found that on In My Life, I couldn't play the piano at the speed it needed to be played, the way I'd written the part. I wasn't that good a pianist, but if you had had a really good pianist, he could do it. I couldn't get all the notes in. One night I was by myself and played the notes at half speed but an octave lower on the piano, recording at 15 inches per second. When I ran the tape back at 30 inches per second, the notes were at the right speed and in the correct octave.
The result doesn't quite sound like a piano.
"As you're doubling up the speed, you're also shortening the decay of each note," Martin said. "The piano's sound has a resonance. By doubling the speed, you are cutting that resonance in half. That's why it sounds like a harpsichord."
Martin and the group briefly parted ways during the recording of "Let It Be," which was produced by the now infamous Phil Spector.
Yet the Beatles called him back to work on their final studio album, "Abbey Road." Although recorded last, "Abbey Road" was ultimately released before "Let It Be."
Along with producing the Beatles, Martin worked with some of the biggest names in music. He produced Elton John's "Candle In The Wind 1997," a reworking of John's 1973 song about Marilyn Monroe that become a tribute to the late Princess Diana. The revised version sold 33 million copies, making it the number two single of all time after "White Christmas," according to Guinness World Records.
In addition to the Beatles and Elton John, Martin worked with Celine Dion, Cheap Trick, Jeff Beck, Dire Straits, Meat Loaf, Ella Fitzgerald, Gerry and the Pacemakers and Kenny Rogers, just to name a few. He produced solo efforts by Paul McCartney and Ringo Starr, and worked on "In My Life," a 1997 compilation of Beatles covers. In 2006, he and his son, Giles Martin, produced "Love," a soundtrack to a Beatles-themed Cirque du Soleil production featuring remixes of the group's music.
All told, Martin produced 30 number one singles in the U.K. and 23 chart-topping singles in the U.S.
Martin said that at times he felt he didn't get enough recognition for his work outside of the Beatles.
"There was a time when I really got fed up with being the Beatles' producer, it seemed as though I'd never done anything else in my life," he said in a 1998 documentary. "But time eases a lot of things and it certainly eases that, because I realize that it was something to be really proud of."
Martin's death prompted an outpouring of tributes on social media from friends, fans and musicians alike: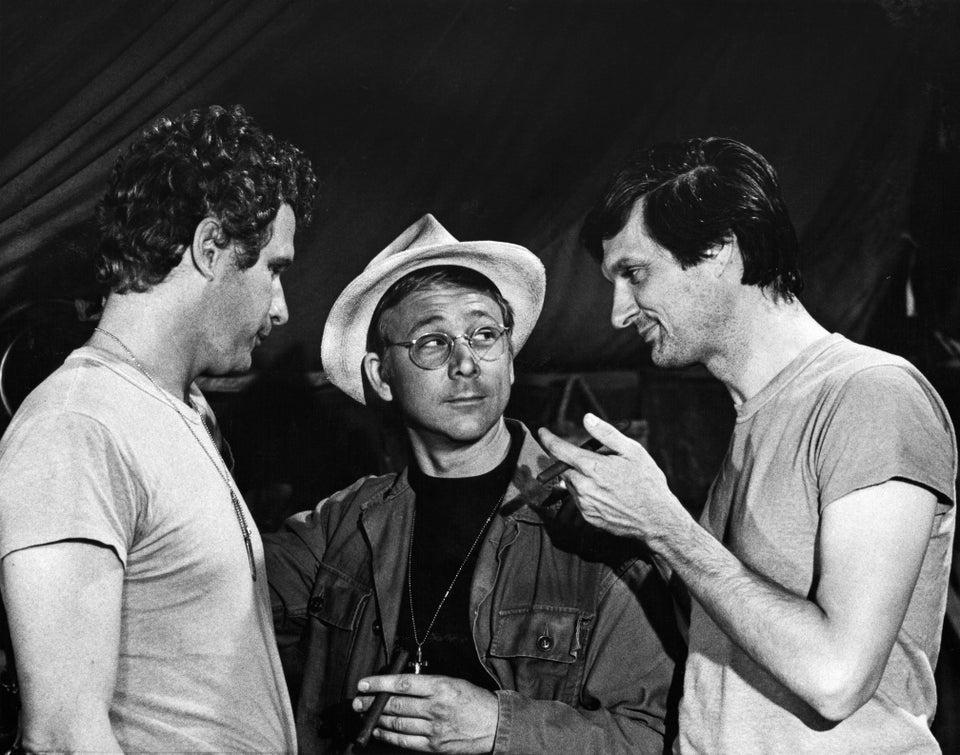 Entertainers We've Lost In 2016