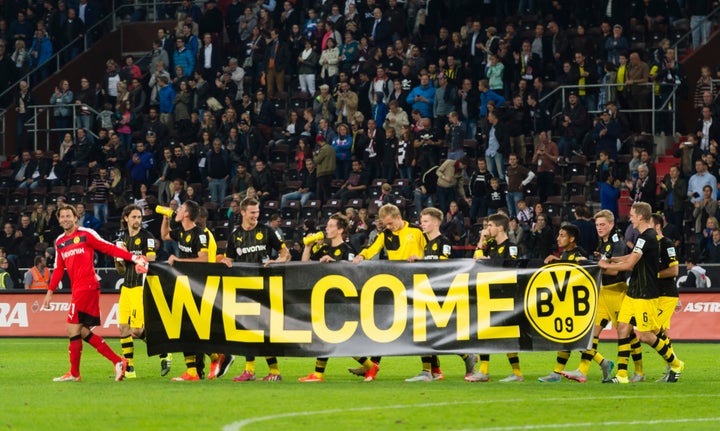 As Europe faces the challenge of a wave of migration across its borders, with people fleeing violent conflict and terrorism looking for a better life, German soccer fans have welcomed refugees with open arms.
Germany is struggling to deal with the ongoing and overwhelming refugee crisis, and Chancellor Angela Merkel has called the influx the biggest issue the European Union faces. An estimated 800,0000 migrants are expected to cross the German border this year, a more than four-fold increase from last year, according to Reuters.
A tear-jerking interaction between Merkel and a young Palestinian went viral in early July after the country's leader told the girl Germany "can't cope" with all of the refugees.
But there is hope. Following a string of violent anti-migrant protests, German soccer team Borussia Dortmund invited some 220 refugees to a Europa League game last Thursday. In a surprising moment of acceptance, thousands of German soccer fans showed their support for the refugees by holding up banners that urged their fellow citizens to stop racism and welcome those in need.
Thousands also gathered in Dresden last weekend and carried banners in support of the refugees. Marchers held a large banner that read "prevent the pogroms of tomorrow today."
Germany has seen a sharp spike in xenophobic attacks in recent weeks against migrants, many of whom are escaping war and political persecution in the Middle East and Africa and face a harsh and often deadly journey across the Mediterranean Sea. More than 2,500 have died this year.
Merkel last week announced a "no tolerance" policy in response to xenophobic violence, after she visited asylum shelters in the eastern German town of Heidenau. Anti-immigration protesters waved signs at the chancellor that read "Volksverraeter," or "traitor" in English.