There are many ways to dress up for Halloween, yet every year there are people who choose to wear a racist costume.
Blackface, Native American headdresses and geisha costumes are amongst the offensive outfits where cultures are appropriated, but it's actually not that hard to bring the scare factor to your trick or treat look without offending ethnic groups.
Professor Yin Paradies, who specialises in race relations at Deakin University, said reinforcing negative stereotypes about other cultures can be minimised through considerate costume choices.
"Cultural appropriation is the adoption of elements of one culture by members of another culture in a way that is offensive, discriminatory or harmful," Paradies told HuffPost Australia.
"Halloween is a time to dress up in fantastical and grotesque ways that are about anything but everyday people. If you wear blackface or Native American headdress on Halloween, this is reinforcing stereotypes about African or Native Americans as less than or other than human by making fun of members of these societal groups."
Paradies suggested "sticking to costumes based on fantasy or animal themes means that there is little danger of being racist".
He also said that having one ethnic friend telling you they're not offended if you adopt their cultural dress is not enough to excuse it from being offensive to the community at large.
"It is only ok if an average or reasonable person from the culture in question is not offended. One ethnic friend is not enough evidence of this," said Paradies.
"If in doubt, err on the side of caution. There are so many options for dressing up on Halloween that aren't potentially derogatory to people from specific ethnic or cultural groups."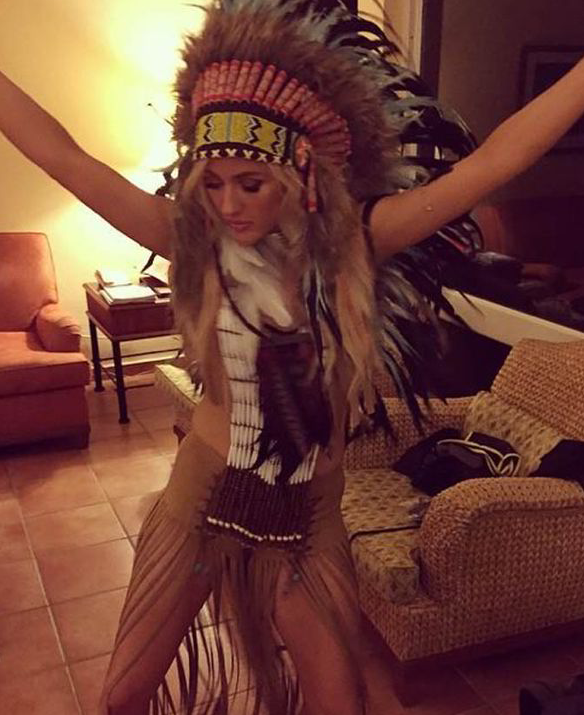 In 2017 The Real Housewives of New York City star Luann de Lesseps was accused of wearing blackface after dressing up as Dianna Ross for Halloween.
Meanwhile Ellie Goulding landed in hot water in 2014 when she wore a Native American headdress over the Halloween weekend and captioned her Instagram photo with the word "Chief". She later deleted the image.
"Famous people are a strong influence on the general public in the media-saturated pop culture that is so prominent in our society," said Paradies, warning that just because a celebrity wears a particular costume doesn't mean it's not culturally insensitive.
"Such people are considered role models and what they do is a strong driver of what is considered appropriate. As such, cultural appropriation by famous people certainly encourages people to do the same, and to consider this acceptable behaviour."