An investigation is underway into the death of a man last week who appeared to raise his hands just before two Texas sheriff's deputies fatally shot him.
A bystander's video, released exclusively to the San Antonio station KSAT, shows Gilbert Flores, 41, appearing to raise his hands in the air before two officers fire rounds into the suspect, killing him. The Bexar County Police Department is now criticizing the station for airing the video.
"Let the local media know this sort of sensational behavior doesn't fly in Bexar County," the department said on its Facebook page Monday evening.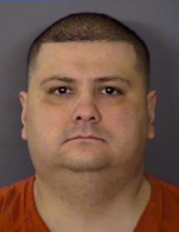 Deputies responded to a domestic disturbance call outside a San Antonio home on Friday morning, according to The New York Times. The full four-minute video, shot by Michael Thomas, a student at the University of the Incarnate Word, captures the shooting and the immediate aftermath.
"They just shot that [expletive] bro," Thomas can be heard saying in the video as Flores collapses.
An ambulance arrives on the scene moments later. Officials told KSAT that Flores was shot twice and killed by Officers Greg Vasquez and Robert Sanchez. Both men are on paid administrative leave while the investigation continues.
"He kind of just put his hands in the air," Thomas told the station. "After he put his hands in the air, they shot him."
"It's very shocking and looks very bad," Nelson Wolff, the county judge, told The New York Times. "I've been in this position for 14 years, and I've never seen anything like it."
Thomas signed the video over to KSAT exclusively, preventing him from selling the footage to other outlets, according to Dillon Collier, a reporter for the San Antonio station KENS 5.
Officials said the video is one of two that authorities are reviewing. Bexar County Sheriff Susan Pamerleau said at a press conference Friday that the officers had attempted to use nonlethal weapons to detain Flores.
The sheriff's office blasted KSAT on Facebook for releasing the video, saying that deputies have received threats as a result and urging citizens to call the station and complain.
"Would you want your loved ones to see your death?" an administrator for the police department's Facebook account said in a comment further down on the page.
Last year, Anthony Thomas, a deputy with the department, was indicted on a murder charge for killing unarmed 29-year-old Mathew Jackson, KENS reported.