For four seasons, Disney's "Hannah Montana" followed the adventures of a teen girl who lived a secret double life as a famous pop star. Hannah existed to shield Cyrus' character -- also named Miley -- from the harsh glare of the spotlight and allowed her to live life as a normal kid.
But if there's anyone who could have used a secret identity in those formative years, it was Cyrus herself. Being a Disney star essentially required actors to live their lives in the same wholesome manner as the character they portrayed, but Cyrus was never interested in being anyone's Disney princess.
In retrospect, the so-called scandals that marred Cyrus' teen years -- suggestive photos, salvia smoking -- seem laughable today, but it's hard to think of anyone who courted quite as much controversy before their 18th birthday. In many ways, Cyrus was punished whenever she tried to do the one thing the public never wants to see a child star do -- grow up.
So, today, when everyone is getting nostalgic over the 10th anniversary of the premiere of "Hannah Montana," take a minute to remember that Cyrus probably isn't looking back on the show quite as fondly as you.
Playing Hannah Montana was only fun for so long.
"What I am sure about is I'm going to rejoice and be happy to finally not have to be ... well, to not be somebody I'm not exactly. As I've grown into it, I've grown out of it. When I was 12, I thought, 'I want to be famous all the time! I want everybody to recognize me!'" Cyrus told Parade in March 2010, later adding, "When they're putting me in sparkles and in pink this final season, I have to grit my teeth. I can't breathe looking like that anymore. A friend came by the set one day and said, 'You don't look very happy.' I said, 'I'm feeling claustrophobic in all these frills.'"
Unlike Hannah, Miley didn't have the best of both worlds.
"I was an adult when I was supposed to be a kid. So now I'm an adult and I'm acting like a kid. There are times when I'm sitting in my big ole house and I'm like, 'I can't believe I'm allowed to be here alone,'" she told Harper's Bazaar in September 2013.
Portraying the character gave her body image issues.
"From the time I was 11, it was, 'You're a pop star! That means you have to be blonde, and you have to have long hair, and you have to put on some glittery tight thing.' Meanwhile, I'm this fragile little girl playing a 16-year-old in a wig and a ton of makeup. It was like 'Toddlers & Tiaras.' I had fucking flippers," she told Marie Claire in August 2015. "I was told for so long what a girl is supposed to be from being on that show. I was made to look like someone that I wasn't, which probably caused some body dysmorphia because I had been made pretty every day for so long, and then when I wasn't on that show, it was like, Who the fuck am I?"
Actually, Miley says being on the show really messed her up.
"I would have anxiety attacks. I'd get hot flashes, feel like I was about to pass out or throw up. It would happen a lot before shows, and I'd have to cancel. Then the anxiety started coming from anxiety. I would be with my friends, thinking, I should be having so much fun," she told Marie Claire in that same interview. "You get in this hole that seems like you're never going to be able to get out of."
Here's to you, Hannah Miley.
"Even though I feel disconnected to who I was at that time I will always feel eternally grateful for the opportunity and platform I was given .... None of it would have been possible with out every single person who ever contributed to the series," she wrote before going on to thank fans and everyone involved with the show.
Of course, she also reminded everyone that Hannah is so very dead.
"Even though [Hannah Montana] is chopped up into little tiny pieces and buried in my backyard she will always hold a very special place in my heart! Celebrate this day with us! Get real drunk and remember #HM4EVR 👸🏼 send pics gettinnnnn buck wild in honor of this special day! #letsplayadrinkinggamewatch HM and every time someone says her name take a shot! Yiew hew!"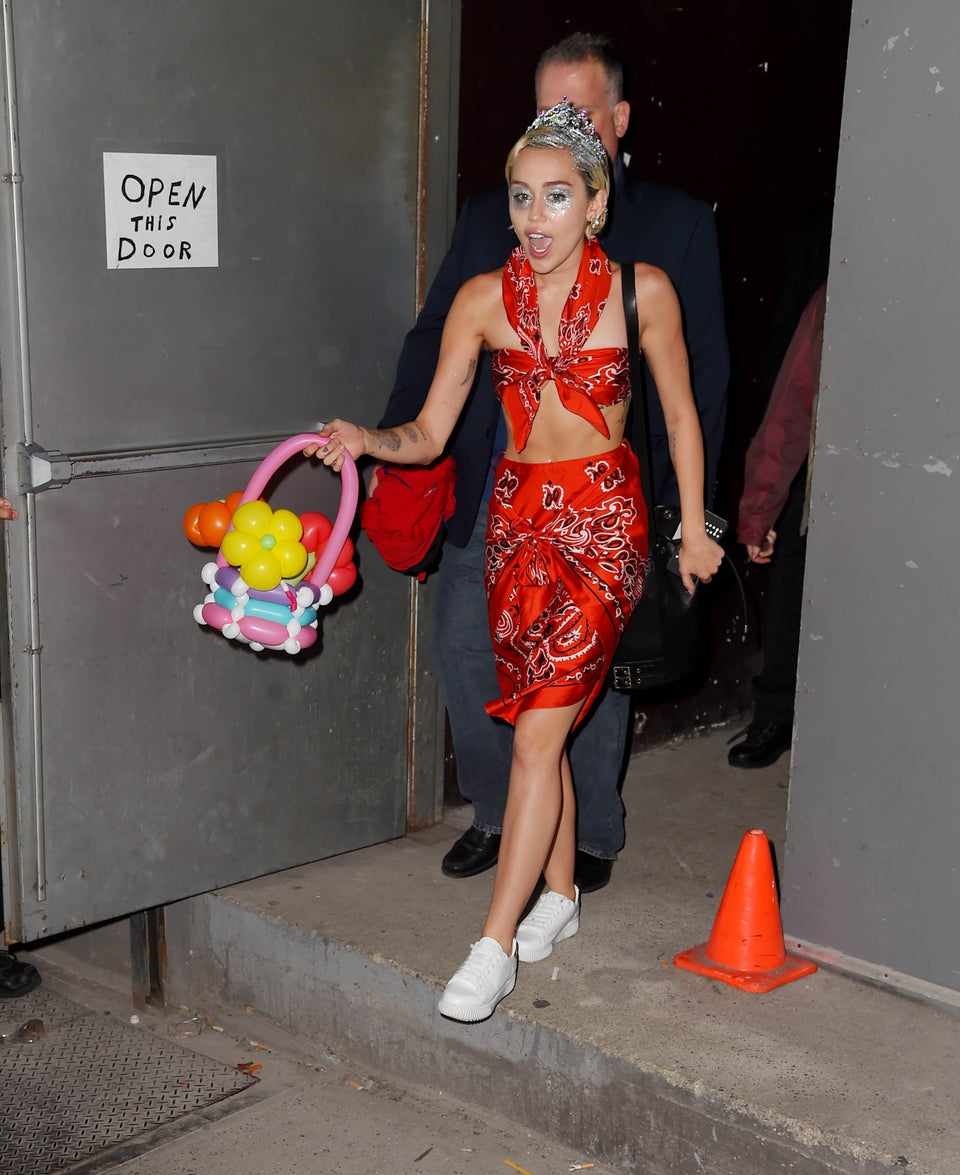 Miley Cyrus' Most Outrageous Looks