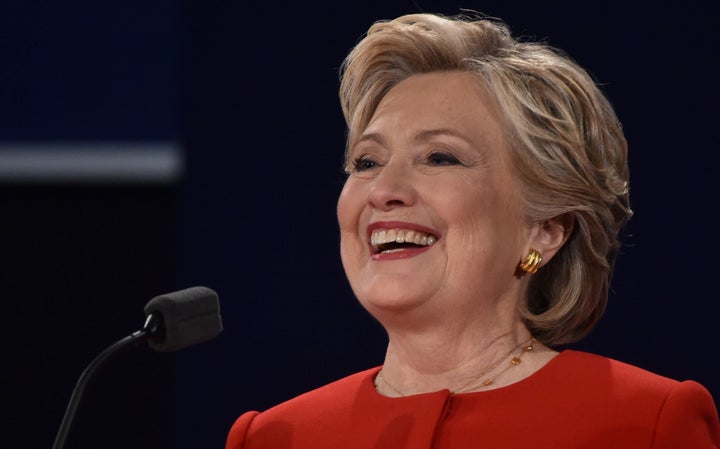 HEMPSTEAD, N.Y. ― Democratic presidential nominee Hillary Clinton easily made it through Monday night's presidential debate ― perhaps to the amazement and chagrin of her detractors, many of whom doubted she was healthy enough to do so.
Her Republican rival, Donald Trump, has long questioned whether Clinton is healthy enough to be president, saying she is "low energy" and needs to take naps.
Trump again tried to insinuate on Monday that Clinton is too old to be president ― and defended a previous comment in which he questioned whether she "looks presidential."
"She doesn't have the look. She doesn't have the stamina," he said.
But Clinton had no problem getting through the debate. In many ways, she reprised her 2015 performance testifying before the House Benghazi Committee, when she calmly sat for 11 hours while Republicans unsuccessfully tried to provoke her. Clinton stayed equally calm during the first presidential debate of 2016, as Trump often appeared worked up and raised his voice.
Clinton was recently diagnosed with pneumonia, which her campaign acknowledged it should have disclosed to reporters earlier ― before the former secretary of state was seen stumbling leaving an event. The incident breathed some new life into numerous conspiracy theories about her health.
After the debate, Trump's female supporters seemingly didn't want to dwell on Clinton's stamina or whether she looks presidential ― a question that has been interpreted as sexist.
"I'm more concerned with what her actions would be, if her actions would be presidential. ... People are not concerned about how leadership appears, they're concerned about how it acts and what kind of product it delivers," Rep. Marsha Blackburn (R-Tenn.) said.
"Tonight was focused on policy," she insisted when asked if Trump should have focused so much on Clinton's stamina.
"It's not a women issue, it's whether or not she can be presidential, whether or not she can be an executive leader," said Sarah Huckabee Sanders, a Trump campaign spokesman. "I think she's proven that she doesn't because her time and her experience as secretary of state."