Vegetables: For the most part, I really just don't like them. But I've decided to try and change that, one simple, (hopefully) tasty recipe at a time. Follow along with my series of experiments -- in which I'll take on kale, cauliflower, spinach and more -- over the coming weeks!
For my first foray into More Intentional Vegetable Cooking this year, I chose to focus on broccoli.
Why? That's a question I definitely asked myself repeatedly over the past few weeks, as I procrastinated and put off making recipes with this, one of my least favorite ingredients. When I made a resolution to cook more vegetables, I probably should have realized that, in practice, getting excited about cooking things I really didn't like (yet!) would be tricky. But I figured I might as well start with one of the veggies that scared me most.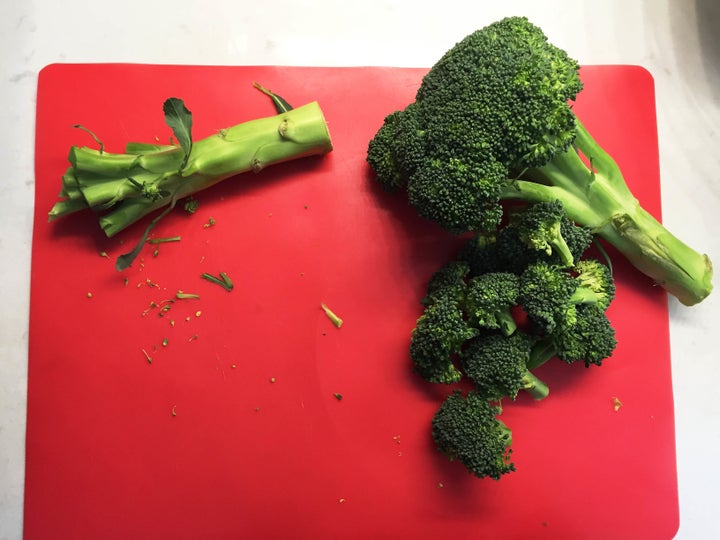 Treading gingerly, I selected a "gateway"-type recipe to begin with, rather than something more, er, full-frontal. I chose this Fusilli With Broccoli and Anchovies from The New York Times' Martha Rose Shulman, which I must have stumbled across on Facebook or through an e-mail newsletter. When I described it to my mom, she used the term "broccoli pesto" for the sauce, which is an appetizing way to think about it.
On the night I had chosen to cook this, I was feeling especially lazy, and flirted with the idea of ordering a pizza instead of motivating myself to boil, chop and stir the broccoli that waited patiently in my fridge. But I'm glad I stuck to it. The methodical preparation, relatively quick completion time and tame-ish level of broccoli exposure made this an excellent initial experiment.
In the comments under the Times recipe, some readers seem dissatisfied with this dish and suggest additions and alterations to pep it up, but I guess I was so busy psyching myself out about Broccoli Appreciation that I didn't find it to be particularly bland. In fact, I can honestly say I think it was the first time I'd eaten broccoli buds without considering their texture to be completely revolting, and even just handling and preparing the ingredient helped me familiarize myself with -- dare I say, "befriend" -- it.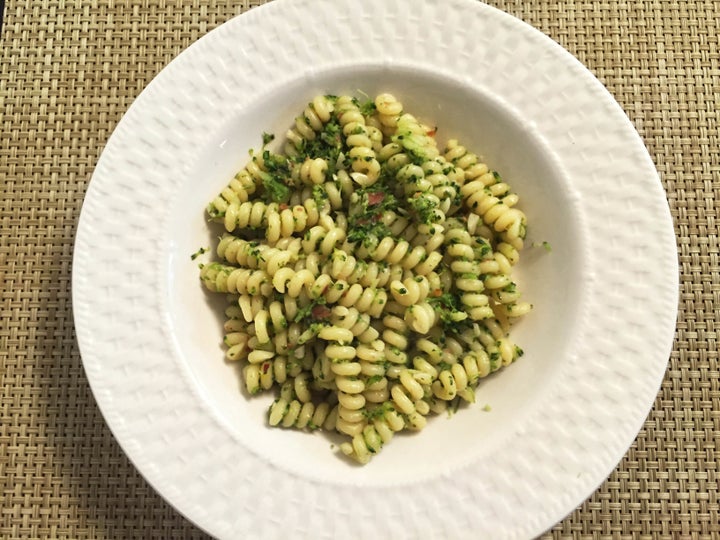 When I shared my initial confession about generally disliking vegetables, a number of people recommended just roasting them as a starting point. So, on another night, feeling confident -- and having a few extra heads of broccoli in my fridge to get rid of -- I decided to dive right into a less adulterated exposure, simply roasting a pan's worth.
For this recipe, I used my mom's instructions, preheating the oven to 400 degrees, tossing the broccoli with olive oil, salt and pepper, spreading it out on an aluminum foil-covered sheet pan with cut sides down and roasting until the bottoms had caramelized (around 15-20 minutes).
I know what you might be thinking, because I was definitely thinking it myself: If I loathe broccoli, why would I cook a pan of it by itself and expect suddenly to be converted?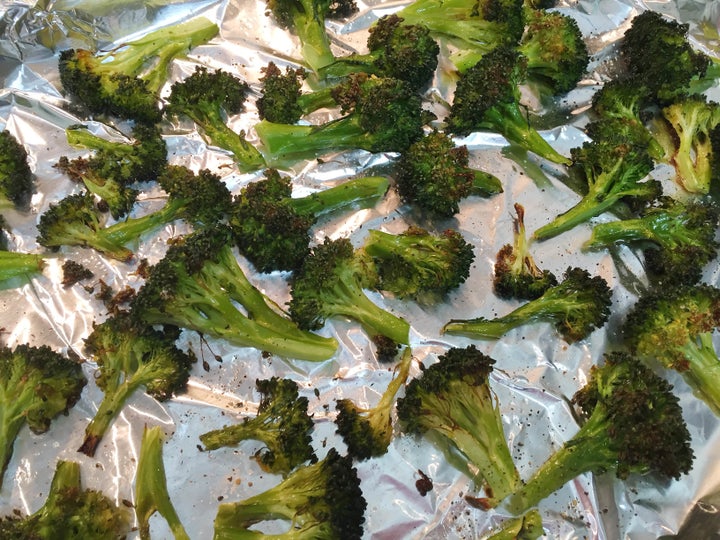 But ... much to my surprise, I genuinely liked this, too! The crunchiness and saltiness of the buds made the broccoli appealing enough to me that I could get over my longstanding aversion to its more basic flavor. I'd been avoiding broccoli for so long that I had no idea such a simple preparation could make me enjoy it.
Thumbs up. Preparing broccoli at home, rather than eating it in dishes cooked by other people, made me more openminded and less fundamentally weirded-out. Roasted broccoli, especially, seems so completely foolproof that I'm sure I'll be making it with dinner a lot more often. (Well, making it less often would be impossible. But you get my drift.)
I'm still not too excited about eating broccoli that's just been steamed or boiled. And I won't pretend to be a fan of the smell. The first thing I wanted to do when I was done cooking, on both nights, was open all the windows in my apartment and let the freezing winter air in to clear out any trace of the meal I'd just prepared. Baby steps.
Do you want to be more mindful about eating healthy foods that'll keep your mind and body at their best? Sign up for our newsletter and join our Eat Well, Feel Great challenge to learn how to fuel your body in the healthiest way possible. We'll deliver tips, challenges and advice to your inbox every day.