In the '90s, our Caboodles makeup cases were filled with mini body mists and lotions, butterfly hair clips and Lip Smackers lip glosses. Yet, we'd spend most of our allowances on the latter so we could show off all our strawberry, melon and grape-flavored lip oils during recess.
Our lips looked and felt super shiny, but that's pretty much all those drugstore lip oils were good for back then. Jane Park, the CEO and founder of Julep cosmetics, has modernized this classic beauty product into a skincare treatment with a bit of luxury.
Behold, Julep Lip Oil and Tinted Lip Oil Treatment.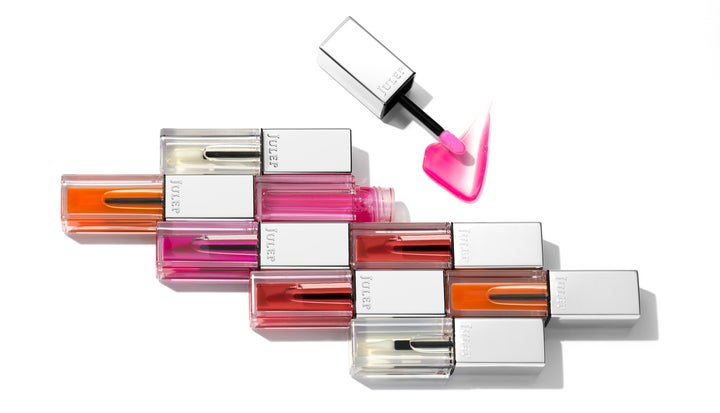 Growing up in Korea, Park's mother used to slather oil all over their lips. "People often only focus on protecting and taking care of their face and neck, and often forget about the lips," she says. "I've been using oils to cleanse my skin, nourish it and moisturize my whole life!"
According to Park, most lip treatments act as a barrier to protect skin from the outside elements. She adds, "What most people do not know are that these protecting formulas aren't able to sink into the skin to treat and heal."
Julep Lip Oil and Tinted Lip Oils use a combination of four pure oils (camellia, avocado, rosehip seed and grape seed) that are commonly found in Korean skincare products to deeply hydrate skin and enhance your natural lip color. Park explains, "Camellia oil, which smooths and plumps lips from the inside out, is sourced from Korea's Jeju Island (a hot vacation spot). Grape seed oil is another ingredient that is essential to this product. It's pulled directly from the actual grape skin making it so the oils are able to dive down deep and absorb easily."
Even though these lip oils have strong Korean roots, Park reveals she didn't want to confine them to that label because most of the time no one understands what that really means. "My goal is to give people the best ingredients to achieve the best results," she says.
To get the most out of the tinted lip oils, Park recommends prepping your lips with a scrub before swiping on. She also likes to keep the clear lip oil on her nightstand to apply before bed an an overnight treatment.
Look out for Julep Lip Oil and Tinted Lip Oil Treatments ($20) May 1 on julep.com. Shop our editors' picks for the best lip oils on the market right now below.