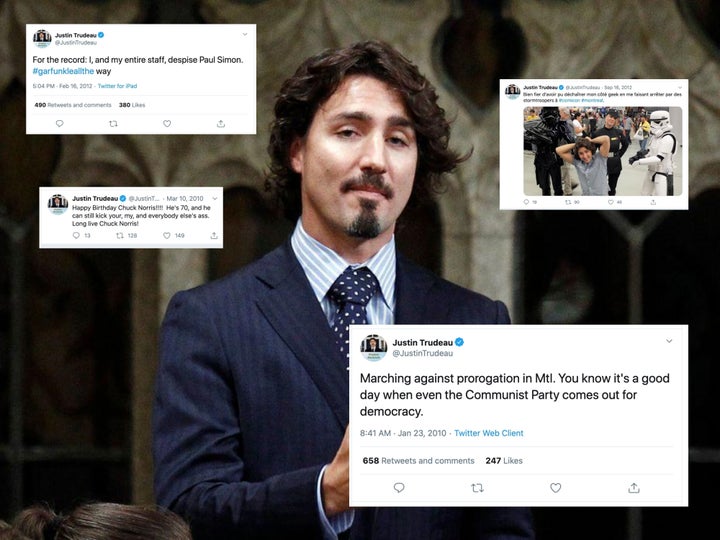 We all have tweets that didn't age particularly well. The same is true even for prime ministers.
In the wake of Canada's federal government's prorogation this week, Twitter sleuths unearthed a few tweets prime minister Justin Trudeau may be reconsidering right now. Most notably, his spicy take on prorogation.
Under then-prime minister Stephen Harper, opposition MP Trudeau was a strong critic of prorogation — a process where the prime minister asks the Governor General to pause parliament — even calling it a way for prime ministers like Harper to avoid "problematic situations".
Now, a decade later, Trudeau himself has prorogued Parliament in the midst of his own scandal involving WE Charity. And people — including the communists Trudeau initially praised — have brought back the old tweet and others to highlight his change in opinion.
And many people were quick not only to point out that it's not Trudeau's only social post that didn't age well in light of recent political developments.
There was that time he said Harper had to testify under oath for an ethics scandal — years before Trudeau himself would face not one, not two, but three separate ethics investigations.
And how he argued that ethics investigations had "shaken Canadians' faith" in Parliament.
Or referenced "prime minister's office goons" coming after dissenters.
There's also all of the times he Tweeted about how great WE Day was, which certainly doesn't look great in light of the current controversy.
But regrettable tweets extend beyond political shifts in opinion or links to WE. Like all of us, Trudeau's also had his fair share of classic corny jokes or cringey tweets. Back in the early 2010s, he spent a lot of time tweeting jokes about his campaign or using truly cringey hashtags including #MovesLikeVader.
He frankly was a lot more fun, if looser with how he used the platform. Trudeau tweeted about getting arrested by Stormtroopers …
… and singing Chumbawumba's iconic hit "Tubthumping" for karaoke.
He called now Alberta Premier Jason Kenney for calling someone an a**hole, saying he "aint' the Fonz."
And yes, he even took the time to prove that he was writing his own tweets.
Trudeau also was actively documenting his mustache growth for Movember during the truly iconic "pirate Trudeau" hair era, and even challenged possible future opposition leader Peter Mackay to grow a 'mo of his own.
Trudeau likely wishes he could take back some of the more politically relevant tweets in the wake of ethics investigations and WE Charity and prorogation. He may even wish to take back those truly regrettable facial hair documentations.
But as for many of his old posts, it's honestly fun to look back and remember the PM as a human being, rather than a machine churning out message track statements and posed photo ops.
This Paul Simon take is unforgivable, though.
That much we all can agree on.