Everyone wants to feel loved. A new web app aims to help you share the love (and receive some in return) by automatically liking every post on your Instagram. But Instagram doesn't seem happy about this.
Developer Rameet Chawla created the web-only Lovematically app to automate the process of satiating friends' desires for digital affection. On Valentines Day, he opened the service up to the first 5,000 users who wished to sign up. Instagram was quick to begin blocking the app.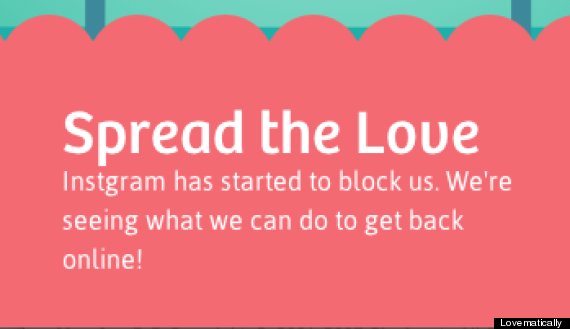 A note on the Lovematically's website informs users that Instagram is blocking the app for some. .
Ryan Matzner, the director of Chawla's development company, had this to say about Instagram's attempts to shut down Lovematically:
The service is running for the vast majority of users who've already signed up. I can't get into specifics, but we architected the tool to be robust and we don't believe it can be shutdown en mass, at least not without significant effort on Instagram's end. Instagram appears to have made a dent in shutting us down, but they still have a long way to go. And there are numerous countermeasures we are employing. It's a bit cat-and-mouse right now.
On Lovematically's website, Chawla explains his motivation for creating the app. He also describes the satisfaction of getting likes: "It's our generation's crack cocaine. People are addicted. We experience withdrawals. We are so driven by this drug, getting just one hit elicits truly peculiar reactions. ... They've inconspicuously emerged as the first digital drug to dominate our culture."
Researchers have found that human beings have a natural tendency toward reciprocation. Lovematically aims to tap directly into that tendency and game Instagram's system to help grow users' social media presence. (The more likes you give out, the more you're likely to receive in return.) Whether those likes are genuine or not seems to be irrelevant.
Chawla says he gained 30 new followers per day during the three months after he built the app and started using it. "I've also noticed the reciprocal love coming in," he adds on the app's site. "Pre-Lovematically, my posts would average 35 likes. Now, I routinely hit the triple-digits for likes."
But will users care if their followers find out about all this automatic liking? Chawla claims that the possibility doesn't seem to phase Lovematically users or their friends.
"The primary caveat is the disappointment people feel when the automation is revealed," he writes. "But, funnily enough, after a quick phase of disillusionment, that their adulation was automated, people quickly demand access to this magical tool."
Instagram did not immediately respond to requests for comment.