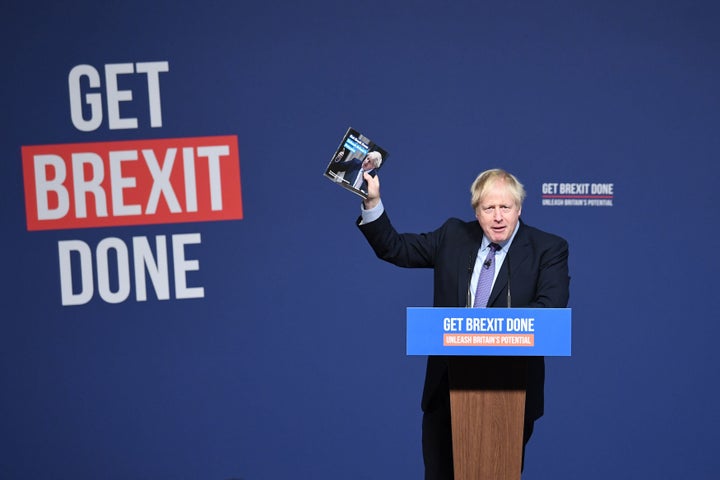 The UK could leave the EU without a deal in December 2020 if the Conservatives win power, the party's manifesto has confirmed.
Prime Minister Boris Johnson repeated his pledge to "get Brexit done" as he has launched his programme for government ahead of the December 12 poll.
The manifesto reads: "We will negotiate a trade agreement next year - one that will strengthen our union - and we will not extend the implementation period beyond December 2020."
It also comes despite Foreign Secretary Dominic Raab saying last week that a no-deal Brexit was not "remotely likely".
When asked about whether the UK could leave without a deal if talks over fishing rights failed Raab initially refused to get into "hypothetical negotiating stances.
But pressed later on whether the UK could leave without a deal, he later replied: "I don't think it's remotely likely."
The transition period allows the current terms between the UK and EU to continue while a trade deal is negotiated. This is different from the withdrawal terms.
It is currently expected to end in December 2020 but experts say negotiating the future relationship in less than 12 months is not realistic and that the UK government may have to extend the transition period.
Labour MP Alison McGovern, whose party backs a second referendum, told HuffPost UK: "The Conservative party are constantly toying with a brutal and destructive end to working relationships with our partners in Europe to keep their hardliners happy.
"They are playing chicken with Britain's future at stake. It is jobs in manufacturing towns on the line, and they show contempt for them everytime they play this game."
Speaking in Telford at the manifesto launch, Johnson said: "We're going to get Brexit done with a deal that is pre-cooked, ready to go, oven-ready, as I keep saying, approved not just by our friends in the EU but by every single one of the 635 Conservative candidates standing at this election."