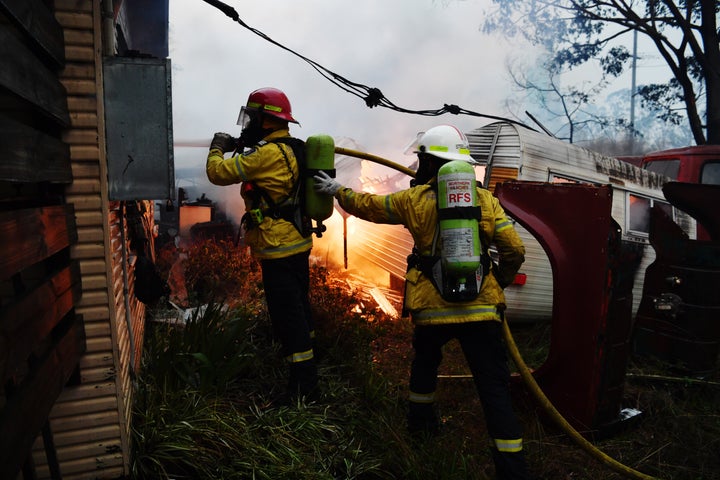 A volunteer Rural Fire Service (RFS) crew has been injured when a water tank rolled on Thursday night while fighting the Clyde Mountain bushfire in Eurobodalla on New South Wales' South Coast.
The tanker was travelling north on the Princes Highway at Mogo at 10:55pm, when it left the road and rolled down an embankment s Highway at Mogo, said NSW Police.
The crew of six firefighters removed themselves from the vehicle, and were teated at the scene by NSW Ambulance Paramedics. They were then taken to Batemans Bay hospital for treatment of non-life-threatening injuries, including neck pain, back pain and lacerations.
"There were six volunteer RFS members on the truck at the time of the accident. All were transported to hospital," an RFS spokesperson told HuffPost Australia.
A southern NSW Health spokesperson said on Friday "two members have already been discharged and it is anticipated the remaining four will be discharged today,"
"Fortunately none of the RFS members sustained serious injuries."
According to ABC, paramedics were called to the corner of Princes Highway and Tomakin Road, Mogo, just after 11pm.
"You can see clearly it's tough conditions and our volunteers are going beyond the norm to try to protect community and lives," NSW Deputy Premier John Barilaro told the ABC.
The accident comes after an air tanker crashed while waterbombing the Snowy Monaro region on Thursday, killing all three of its crew, authorities said.
The victims were American residents who were in NSW to assist with the ongoing bushfire crisis.
"Tragically, there appear to be no survivors as a result of the crash down in the Snowy Monaro area," RFS Commissioner Shane Fitzsimmons told reporters on Thursday afternoon.
″(The tanker) impacted heavily with the ground and initial reports are that there was a large fireball associated with the impact of the plane as it hit the ground. There is no indication at this stage of what's caused the accident."
Prime Minister Scott Morrison paid his respects on Twitter calling the crash a "terrible tragedy."
The crash takes the death toll from hundreds of fires in Australia to 32 since September. An estimated 1 billion animals have also perished, while the fires have incinerated 2,500 homes and a total area of bushland one-third the size of Germany.