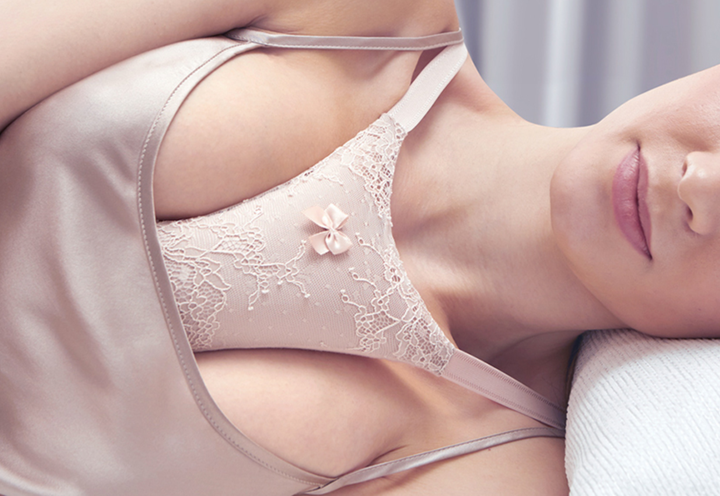 Forget thigh gaps or ab cracks – there's a new body part women are supposed to be hung up about: cleavages. Or more specifically, cleavage wrinkles.
Anti-ageing company Sleep & Glow is selling a "pillow bra" designed to "fight skin creases and cleavage wrinkles when sleeping on the side".
The product was spotted by journalist Olivia Messer, who says she saw it being advertised while scrolling through Instagram. "What – and I cannot stress this enough – the fuck is going on," Messer tweeted.
The company describes the product as "a must have for ladies with gorgeous forms", ignoring the fact that cleavages are, in their very nature, essentially one giant skin crease.
On Instagram, the company claims "the neckline is an essential part of the feminine figure".
"Wrinkles on your neck and chest appear during sleep. During the day, your bra supports your chest, reducing the effect of gravity," it claims. "But at night, many like to take a break from their bra. They forget that their breasts still need support, albeit from a different angle."
The pillow bra (including a tiny silk bowtie) will set you back $69 (£55).
Messer's post soon gained more than 8,000 likes, with Twitter users flocking to express their disbelief at the product.
Some people on Twitter did point out that the specialised pillow might aid a comfier night's sleep for women with larger boobs.
But, they stressed, this has absolutely nothing to do with cleavage wrinkles.
We'll say it louder for the people at the back: ageing is not shameful, women's bodies are not intrinsically ugly.
HuffPost UK has contacted Sleep & Glow for comment in response to the negative reaction on Twitter. We will update this piece when we receive a response.