38 adults and one teenage body found
25-year-old man from Northern Ireland arrested
Lorry container appears to be refrigerated unit
Temperatures in such units can be as low as -25C
Bodies not yet identified
Thought to have arrived in the country from Zeebrugge in Belgium
Police cordon in place at Waterglade Industrial Park
Police have begun the process of trying to identify 39 bodies found frozen to death in a truck container in Essex in the early hours of Wednesday morning.
A 25-year-old man from Northern Ireland has been arrested on suspicion of murder. He was named in reports as 25-year-old Mo Robinson from Portadown in Co Armagh.
Detectives now say the refrigerated trailer containing the victims arrived at Purfleet from Zeebrugge in Belgium at around 12.30am on Wednesday while the front section known as the tractor came from Northern Ireland.
Essex Police indicated that 38 of the deceased are adults and one is a teenager.
A cordon has been put in place and access to and from the Waterglade Industrial Park, Grays, where the lorry container was found, remains closed.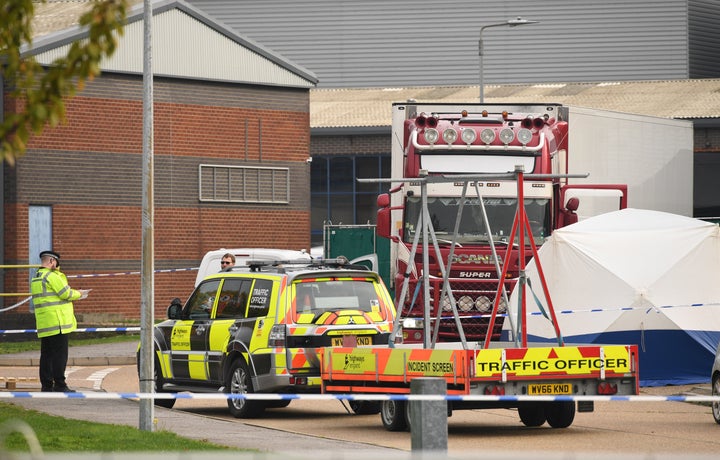 The discovery comes as the National Crime Agency said the number of migrants being smuggled into the UK in containers and lorries has risen in the last year.
The discovery is not the worst of its kind in the UK. The bodies of 58 Chinese people were found in a container at Dover, Kent, in 2000.
Seven men were jailed by a Dutch court for their role in the human-smuggling operation that led to the young people suffocating and the Dutch lorry driver was jailed for 14 years.
At a press conference at Grays police station, deputy chief constable Pippa Mills said: "In order to ensure we maintain the dignity of the people who sadly lost their lives, we will be moving the lorry and the trailer shortly."
She said they were being moved to nearby Tilbury Docks so the bodies can be recovered while preserving the dignity of the victims.
"We are yet to identify them and must manage this sensitively with their families," she added.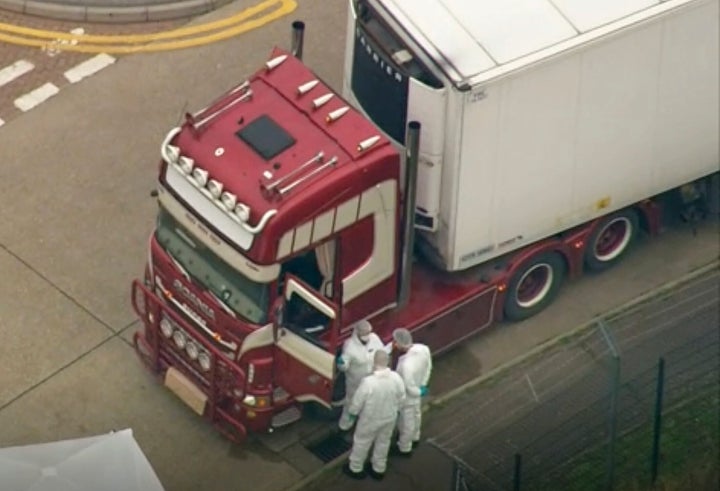 Road Haulage Association chief executive Richard Burnett said the container appeared to be a refrigerated unit and described conditions for anyone inside as "absolutely horrendous".
Temperatures in such units can be as low as -25C if frozen products are being transported, causing humans to "lose their lives pretty quickly", he said.
He went on: "It's going to be dark. If the fridge is running it's going to be incredibly cold.
"The only place to go to the toilet is on board the back of the trailer. You can imagine if they've been in there for days then there will be faeces, there will be urine."
The prime minister said the perpetrators of the crime "should be hunted down".
Prime Minister Boris Johnson tweeted: "I'm appalled by this tragic incident in Essex.
"I am receiving regular updates and the Home Office will work closely with Essex Police as we establish exactly what has happened.
"My thoughts are with all those who lost their lives & their loved ones."
Local MP Jackie Doyle-Price said the people smugglers responsible must be caught.
She told the House of Commons: "To put 39 people into a locked metal container shows a contempt for human life that is evil.
"The best thing we can do in memory of those victims is to find the perpetrators and bring them to justice."
A restaurant worker in the industrial estate, who did not want to be named, said the area was cordoned off by police on Wednesday morning.
"There's a lot of police and forensics," the Big Blue Food Bus employee said.
"We've just seen what has been said online. It's awful.
"We thought maybe someone had broken into a lorry, but it's just awful."
Glen Freeland, from GSF Car Parts which is close to where the bodies were found, said staff could not access the shop on Eastern Avenue on Wednesday morning.
"The manager went to get into work this morning and it was cordoned off and we've been moved to a different area," Freeland said.
"All we know is they found the bodies in the back of a lorry.
"It was a bit of a shock but we're not 100 per cent sure of what's happened."
The National Crime Agency (NCA) said: "We are aware of this tragic incident which is now the subject of a murder investigation being led by Essex Police and we have deployed NCA officers to assist.
"We are working with partners including Essex Police and Immigration Enforcement to provide specialist support to urgently identify and take action against any organised crime groups who might have played a role in causing these deaths."