The Duke of Sussex and singer Ed Sheeran have starred in a video together, encouraging others to look after themselves this World Mental Health Day.
In the clip shared on the Sussex Royal Instagram page, Ed can be seen having his beard trimmed and excitedly discussing the fact he's going to film a charity video with Prince Harry.
As Ed rings Harry's front doorbell (to the tune of God Saves The Queen), you know there's something afoot. Harry opens the door and invites him in, where they sit down to discuss the video.
"This is something I'm quite passionate about," says Ed, to Harry's agreement.
"This, for me, is a subject and a conversation that's just not talked about enough," says Harry, "and people all over the world are really suffering."
Ed then reveals he's been thinking about writing a song about the issue, which has not yet been revealed, for some time. "People just don't understand what it's like for people like us," he says, while Harry looks confused.
"Well you know the jokes and snide comments," Ed continues, "I just feel like it's time we stood up and said: 'We're not going to take this anymore.'
"We are ginger and we're going to fight."
"Um, ok," says Prince Harry with a look of disbelief. "Slightly awkward. There may have been a miscommunication but this is about World Mental Health Day."
At this point the camera pans to Ed Sheeran's laptop where he deletes the title 'Gingers Unite' from a Powerpoint presentation.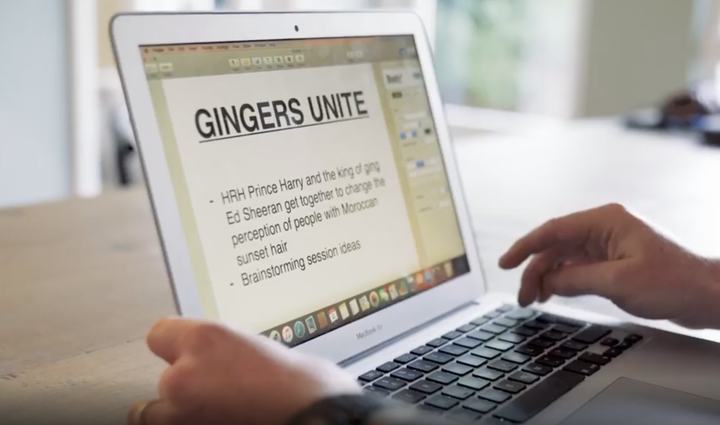 Underneath it reads: "HRH Prince Harry and the king of ging Ed Sheeran get together to change the perception of people with Moroccan sunset hair. Brainstorming session ideas."
While the video is clearly meant to amuse, there's a more serious message behind it. The sketch was shared on Instagram with the caption: "Both Prince Harry and Ed Sheeran want to ensure that not just today but every day, you look after yourself, your friends and those around you.
"There's no need to suffer in silence – share how you're feeling, ask how someone is doing and listen for the answer. Be willing to ask for help when you need it and know that we are all in this together."
The video ends with the pair sat side-by-side on the sofa, urging others to reach out for help if they're struggling. It had been viewed 500,000 times at the time of writing.
The Duke of Sussex is also set to re-visit two community initiatives in Nottingham for World Mental Health Day. Harry will return to Nottingham Academy – a place he has visited on several occasions – and Community Record Studio in St Ann's.
The duke, who spearheads mental health initiative Heads Together alongside the Duke and Duchess of Cambridge, will meet young people at both community projects which aim to improve mental wellbeing.
Useful websites and helplines:
Mind, open Monday to Friday, 9am-6pm on 0300 123 3393
Samaritans offers a listening service which is open 24 hours a day, on 116 123 (UK and ROI - this number is FREE to call and will not appear on your phone bill.)
The Mix is a free support service for people under 25. Call 0808 808 4994 or email: help@themix.org.uk
Rethink Mental Illness offers practical help through its advice line which can be reached on 0300 5000 927 (open Monday to Friday 10am-4pm). More info can be found on www.rethink.org.