Starting the morning sunny side up is infinitely easier with the assistance of a wholesome, protein-packed breakfast. (A piping hot latte also helps.) However, finding time in the a.m. to play chef is hard -- unless, of course, we're talking about super simple recipes.
In partnership with American Egg Board, we're whipping up a list of near-effortless breakfasts you need to start your day right. With only two ingredients each, these recipes will majorly upgrade your morning meals -- so let's get cracking.
Egg in bell pepper rings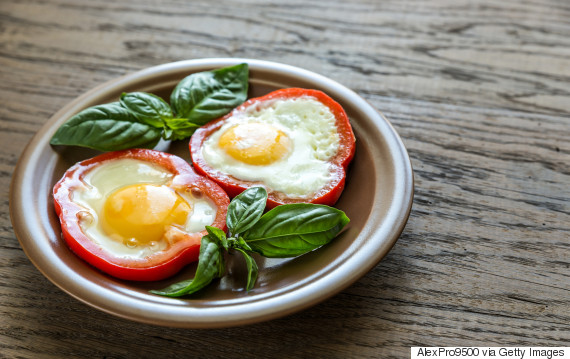 Image: AlexPro9500 via Getty Images
Give your breakfast a zesty kick by combining eggs with yet another diet-friendly ingredient: the antioxidant-rich bell pepper. To make flavorful eggs in a bell pepper ring, first set your burner to medium-low heat and lightly coat a nonstick pan in cooking spray. Next, slice a single bell pepper into 4 ½-inch equal pieces so that each forms a ring shape and transfer each piece onto the pan. Finally, crack one egg into each bell pepper ring and allow to cook for several minutes before plating.
Banana pancakes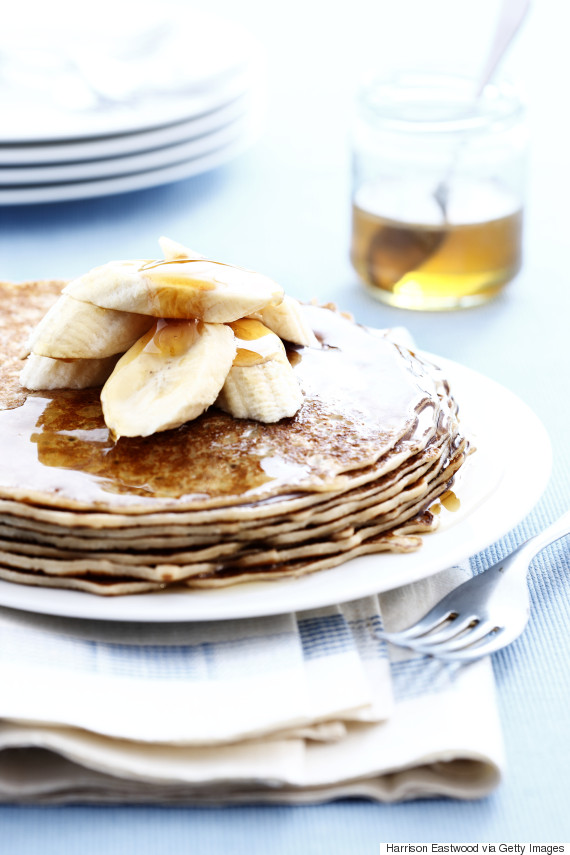 Image: Harrison Eastwood via Getty Images
You only need two primary ingredients for these mouthwatering hotcakes: two bananas and four eggs. Crush the bananas into a bowl, add in two eggs and mix them into a batter. Pour about one-quarter cup of the batter on a pre-greased griddle at medium-high heat. Once the flapjack begins to form air pockets, it's time to flip. Cook one to two minutes on the opposite side, remove from the heat and add some extra banana slices on top for that extra-fresh taste.
Egg in an avocado nest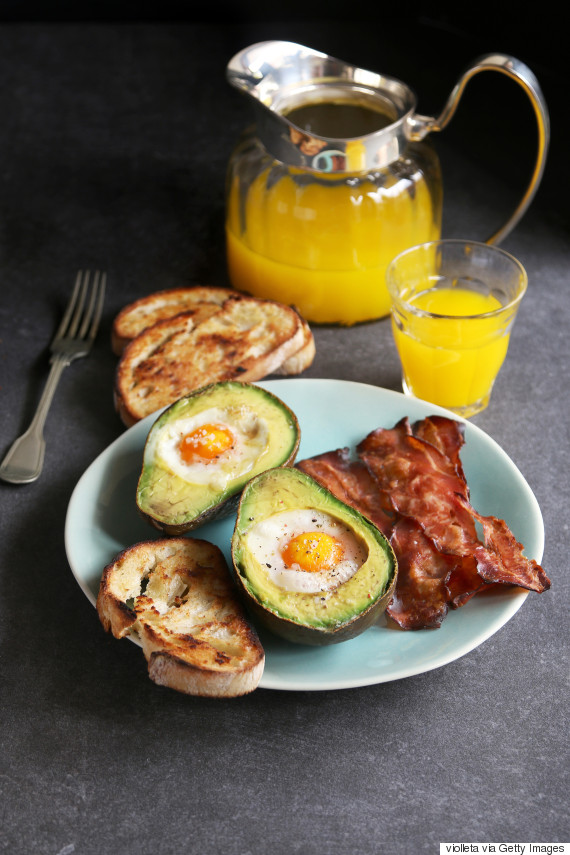 Image: Violleta Via Getty Images
You already want avocados all day, every day, so up your protein game by adding an egg to your favorite superfood. Get started by preheating your oven to 425 F. Cut one avocado in half and remove the pit, then crack an egg into each of the hollow spaces. Bake for approximately 15 minutes to achieve peak egg perfection.
Eggs in Tomato Sauce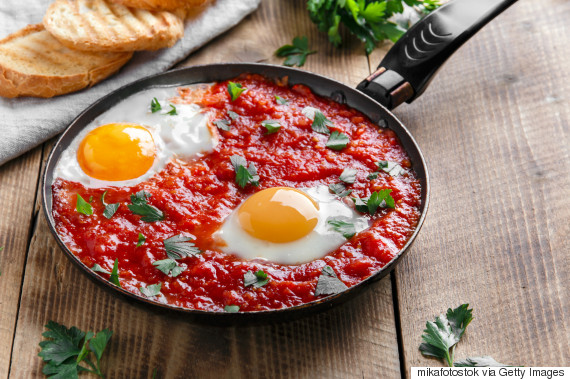 Image: Mikafotostok via Getty Images
While we're on the subject of our favorite vegetable-rich breakfasts, let's take a moment to pause and admire a game-changer in the field: eggs in tomato sauce, otherwise known as shakshuka. All you need are two eggs, a partial jar of tomato sauce and a few minutes. Heat the marinara in a sauce pan to the point of simmering. Meanwhile, crack eggs into a cup and carefully add to the sauce. Cover the pot and allow to cook for approximately 5 minutes, or until yolks have been sufficiently cooked through. Remove from the heat and serve immediately.
Eggs in clouds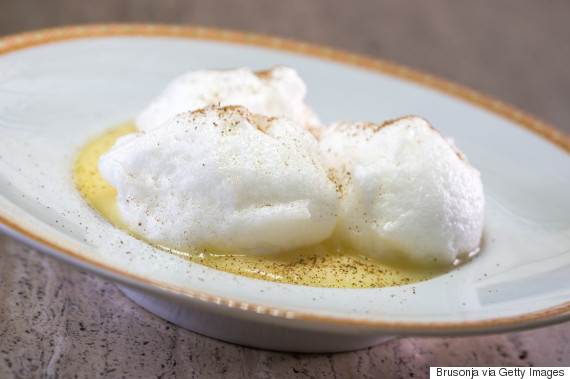 Image: Brusonja via Getty Images
Want something warm and filling in the a.m.? Look no further than the featherweight egg cloud, crafted from eggs and Parmesan cheese. Set your oven to approximately 450 F, and separate four eggs into egg whites and yolks. Whip egg whites with an electric mixer on a medium setting, to the point where thick peaks are created. Lightly fold 1/4 cup of Parmesan cheese into the egg whites. Separate the egg whites into four equivalent portions, and transfer onto a baking sheet prepared with parchment paper. Make a little indentation in each portion. Cook for roughly 3 minutes before depositing a yolk into the space, and place back in the oven for several more minutes. Voilà -- you've got light, fluffy goodness ready to go.
Morning maple souffle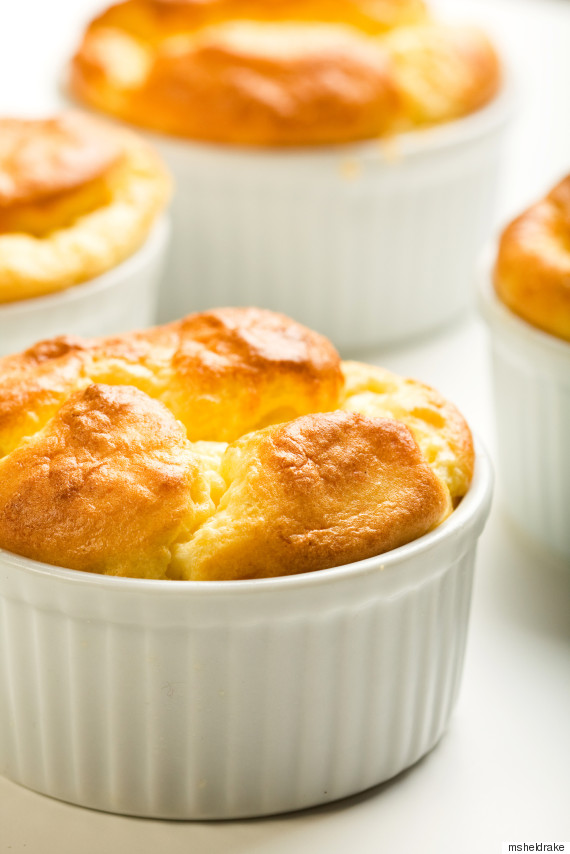 Image: msheldrake via Getty Images
This morning maple souffle may require more elbow grease than the other recipes, but the decadent two-ingredient dish is well worth the extra effort. You're going to need two eggs and one-third-cup of maple syrup. First, preheat your oven to 400 F. Separate egg whites from egg yolks and mix your egg yolks in a bowl with the maple syrup. In a separate bowl, beat the egg whites into a meringue-like consistency and then fold in the maple syrup and yolk mixture. Pour the mix into ramekins and turn your oven down to 375 F. Quickly place souffles into the oven and bake for 10 minutes for your fluffy, sweet treat.
Egg in a bacon cup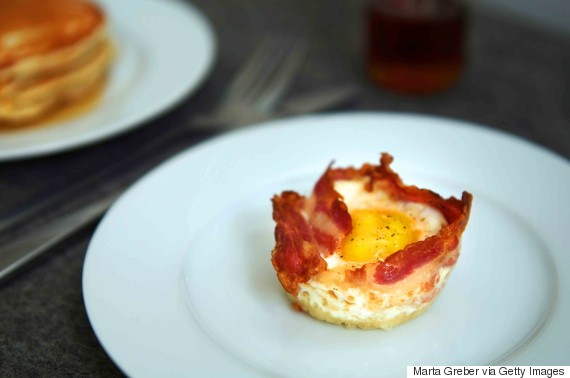 Image: Marta Greber via Getty Images
Bacon and eggs are a gustatory match made in heaven, so why not enjoy the perfect pair in one satisfying dish? To craft your very own egg in a bacon basket, first set your oven to 400 F. Precook the bacon strips you plan to use in the recipe until each is approximately halfway done. Next, thoroughly grease a muffin pan and loop bacon strips around the interior of each mold to create a makeshift cup. Finally, crack an egg into each bacon cup and place into the oven for roughly 8 minutes before serving.
Elevate breakfast by creating your own perfect pairings. As we celebrate the dynamic duos on the breakfast table, we're also toasting to partnerships outside the kitchen, like Kevin and Michael Bacon from The Bacon Brothers and the American Egg Board, who have teamed up to make breakfast the best meal of the day.