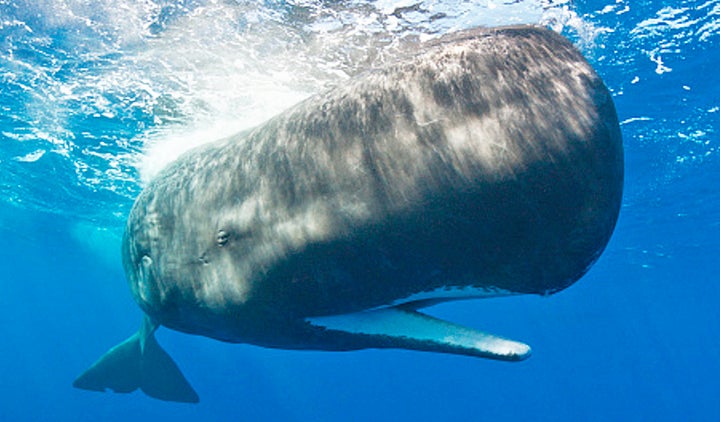 Debate has swirled for nearly 200 years around whether sperm whales rammed whaling ships with their foreheads to sink them.
Director Ron Howard's 2015 film, "In the Heart of the Sea," details the story of such an attack in 1820 involving the gentle giants, which can reach up to more than 60 feet in length. The sinking of that American whaling ship -- the Essex -- was also the inspiration for Herman Melville's 1851 novel, "Moby Dick."
Researchers used simulations to determine if the structure of the forehead significantly reduces stress in a sperm whale's skull during impacts.
The forehead of a sperm whale contains two large oil-filled compartments -- one called the "spermaceti organ" and the other known as "junk" -- that may play a role in these ocean creatures' ramming capabilities, the study found.
This oil was the main target of the 19th century whaling industry.
"The forehead of the sperm whale is one of the strangest structures in the animal kingdom," said study lead author Dr. Olga Panagiotopoulou, an expert in the anatomy, bone biology and mechanics of large animals in a statement. "Our findings show that connective tissue partitions within 'the junk' of the sperm whale forehead may function as a shock absorber."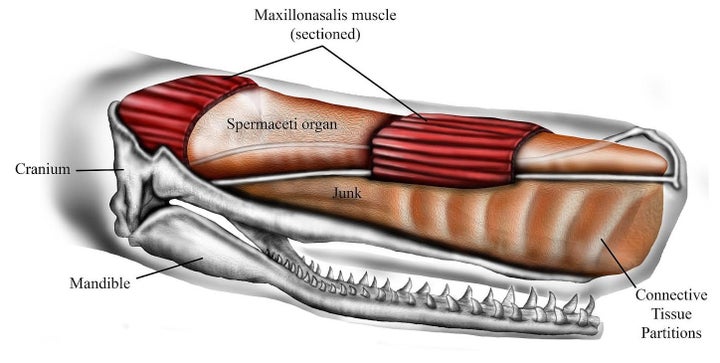 The controversial theory that a sperm whale's head has a battering ram function emerged in the 19th century following a specific incident.
"After a large male rammed and sank his ship in the Pacific in 1820, whaler Owen Chase described the whale's head as admirably designed for this mode of attack," said Panagiotopoulou.
"Until our research, its mechanical feasibility had never been addressed. The scientific community received the ramming hypothesis with reluctance," she added. "This was mainly because the front part of the sperm whale head houses sensitive anatomical structures that are essential for sonar communication between whales, and they would be in harm's way in a ramming event. Also, not many people had actually observed sperm whales ramming."
Conservation investigator Sandra Lanham sent the researchers a report last year detailing how she saw two sperm whales ramming while flying over the Gulf of California in 1997.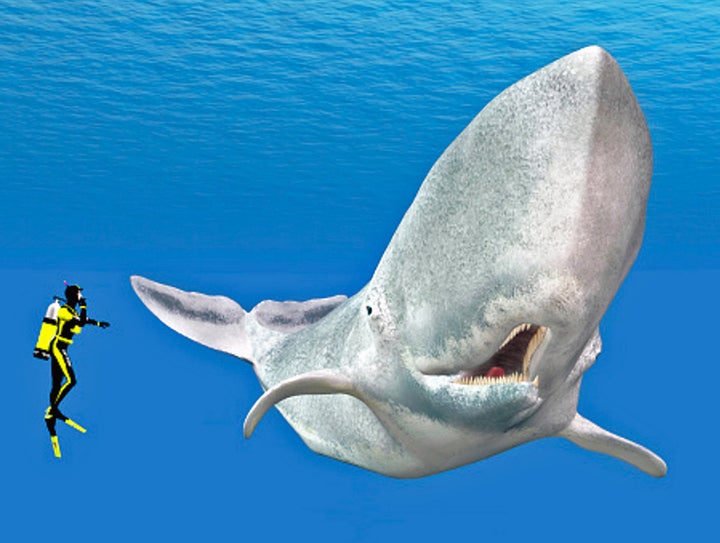 The scientists now want to learn more about how whales are able to continue this activity while avoiding fatal skull fractures.
"Our study has limitations, but we hope it might stimulate future research to unravel the mechanical function of the head during head-butting events in other species, where aggressive behavior has been observed but remains unmodeled," Panagiotopoulou said.