WASHINGTON ― Representatives of the White Helmets, the Syrian humanitarian organization that's estimated to have saved tens of thousands of lives, are used to visiting Washington. The group receives U.S. government assistance, and it's been featured in an Oscar-winning Netflix documentary. Its chief, Raed Saleh, has received scores of awards, most recently a spot on the Time 100 list.
But their latest trip brought something new: meetings with American power players who have never engaged with the volunteer rescue group before, including individuals highly skeptical of U.S. involvement in the Middle East.
Last Tuesday, two representatives of the group, officially known as Syria Civil Defense, met with Sen. Bernie Sanders (I-Vt.). Through the course of the trip, White Helmets members had their first encounters with Rep. Ro Khanna (D-Calif.), a progressive favorite, and a raft of other lawmakers who have not previously engaged with them, like moderate GOP Rep. Susan Brooks of Indiana.
"As we try to come up with a plan to end the devastating war in Syria, it's very important to hear from those who are experiencing it firsthand," Sanders told HuffPost. "The death and destruction taking place in Syria, and the brutality of the Assad regime is almost beyond belief. I was honored to meet with these incredibly brave volunteers, ordinary men and women, who risk their lives to help their fellow citizens."
Khanna praised the group of first responders, too, noting that it serves civilians targeted by both sides of the six-year conflict.
But Khanna's interactions with the group also highlighted the way conspiracy theories, misrepresentations and general wariness of the war have made serious talk about it in the U.S. increasingly difficult.
The congressman faced a social media backlash after tweeting and posting on Facebook about his meeting, with commenters accusing him of cheering American intervention and of supporting a group that Syrian President Bashar Assad, Russia and others falsely portray as a terrorist front.
Volunteers ― people who were previously accountants, firefighters and bakers ― founded the group in 2012 as civilian casualties began to increase in Syria. As the first responders began attracting international attention and support, from the U.S. and allied governments like the Netherlands and Japan, they told the world about the brutality of the war, particularly by Assad's forces. The regime's supporters soon launched an ongoing propaganda campaign to discredit them, highlighting their appeals for Western help.
The more leftist Sanders wing of the Democratic Party, which increasingly appears to be ascendant, is closely associated with activists who oppose Western involvement abroad. The senator spent much of his time on the campaign trail arguing for a reconsideration of U.S. foreign policy, following years of international instability, and attacking his rival for the Democratic presidential nomination, Hillary Clinton, as too hawkish.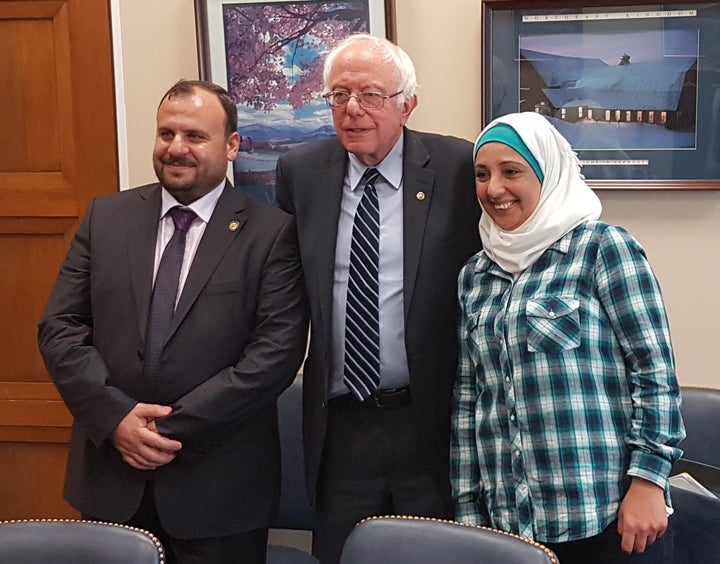 These arguments are not in themselves problematic. But some elements in this galaxy have courted controversy by adopting the kind of rhetoric Assad and his backers use, particularly in spreading misinformation about the White Helmets and others the U.S. supports in Syria.
Former Ohio Gov. Dennis Kucinich has loudly echoed the Assad government's narrative of the conflict, as has former Sanders adviser Jeffrey Sachs, an economist at Columbia University. This year, Rep. Tulsi Gabbard (D-Hawaii), a favorite of the Sanders movement, has both traveled to Damascus to meet with Assad and suggested that the dictator may be correct in saying he was not responsible for a chemical weapon attack in April that the international community has held him responsible for.
With the rise of President Donald Trump, a critic of traditional U.S. foreign policy, some on the right have boosted these views, too. Assad is beloved by figures like white nationalist Richard Spencer and former Ku Klux Klan leader David Duke.
Meeting with the White Helmets and acknowledging their description of what the regime has done to civilians is important for progressives who claim to be non-interventionist, Khanna argued.
It matters for the humanitarian workers too.
"It was important for us to meet Sen. Sanders and other American politicians so we could explain what is happening to civilians who are under attack from all sides inside Syria," Mounir Mustafa, the group's deputy head, told HuffPost. "Twenty-four hospitals have been bombed in the last month alone, and many areas are subject to daily airstrikes. In the last week, 12 White Helmets have been targeted and killed while rescuing others. We hope that Sen. Sanders stands with us in our humanitarian mission to save lives and uses his voice to call for an end to all attacks on civilians."
Watchers of the war say constant claims that the group's members are regime-change agents rather than rescue workers only adds to Syrian suffering.
And that view might be becoming more widespread. Last week, Gabbard's office confirmed to HuffPost that the congresswoman would be willing to meet with the group, too.