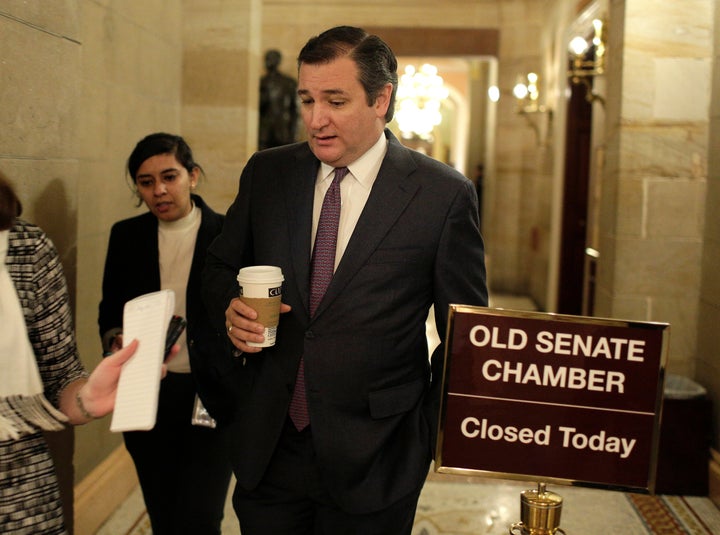 WASHINGTON ― Wanna make Republican senators squirm?
Just ask why their caucus isn't rallying behind fellow Sen. Ted Cruz (Texas) to defeat Donald Trump. You'll get a weak laugh, a stammer, maybe a suggestion that such a question has never occurred to them or the unreliable promise to get back to you.
"I don't know. That's something y'all write about," said Sen. Richard Shelby (R-Ala.), who then walked down a hallway in silence, surrounded by reporters waiting for more of an answer.
"That's tough to say. I'm just going to remain neutral," said Sen. Joni Ernst (R-Iowa).
"Uh, I'd guess I have to give that some more thought, so maybe I can catch you later," said Sen. John Hoeven (R-N.D.).
Sen. Pat Roberts (R-Kan.) didn't say anything for several seconds when asked why nobody likes Cruz. Finally, as the elevator doors started to close, he offered, "Well, that is the question, isn't it?"
As Republicans hem and haw over their lack of enthusiasm for Cruz, it doesn't take a close look at the Texan's brief Senate career to see what might be giving them pause. Cruz has been notoriously resistant to playing well with fellow lawmakers. He led a damaging shutdown of the federal government. He called Senate Majority Leader Mitch McConnell (R-Ky.) a liar. He was slow to endorse his own state's senior senator, John Cornyn (R-Texas), who is also No. 2 on the GOP leadership team, when Cornyn ran for re-election. Cruz also tried to spark another government shutdown over Planned Parenthood in a public feud with Cornyn and other leaders.
Yet Republicans find themselves in the position of looking to a man many of them dislike as their last best hope for derailing Trump, who they think would be a bigger disaster than Cruz at the top of the party's 2016 ticket. (Florida's Marco Rubio is also still in the race but fading fast as a possible Trump stopper.) So Republicans may have to find a better script to describe an unpalatable colleague.
Sen. John Thune (R-S.D.), the No. 3 member of GOP leadership, hunted valiantly for some positive words after he first emitted the uncomfortable chuckle that burbles forth from most Senate Republicans.
"Well, I mean, I, I, Ted's a smart guy," Thune said. "When his tenure in the Senate so far, I think, for the most part, has been being kind of a, trying to be a disrupter, look at what he can do to, kind of, I guess, change the way things work in the Senate."
Sen. John Barrasso (R-Wyo.), who chairs the Republican Policy Committee, tried to focus on all the enthusiasm from GOP voters in this election cycle. "The energy is there for all of the candidates around the country," he said. But when it was pointed out that nobody in the Senate has endorsed Cruz, he stared blankly before disappearing into an elevator.
Some senators sought to avoid the topic altogether.
"I'm not getting into the presidential election. Good try," said Sen. Richard Burr (R-N.C.), who has his own re-election to worry about.
"You know … thank you for asking," joked Sen. Bob Corker (R-Tenn.), when asked if Cruz would be better than Trump. He said he's been careful not to endorse anyone.
"I had my chance to vote," he said, apparently referring to Tennessee's Super Tuesday primary. "I haven't even told my wife how I voted."
For a fleeting moment, it had looked like Cruz finally made some friends. National Review reported earlier Tuesday that a handful of senators were about to endorse Cruz. But later in the day, the news site retracted its report.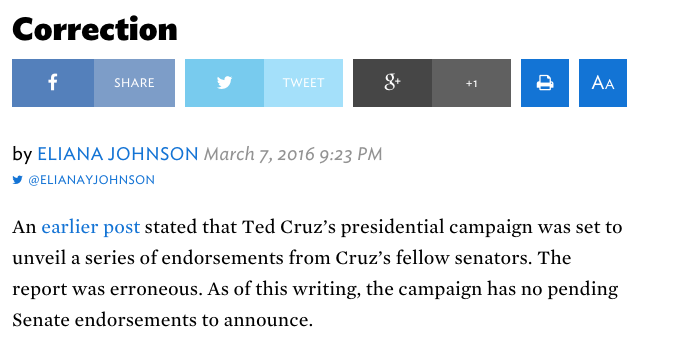 Even if Cruz manages to edge past Trump in the primaries, which will take a sea change in voting patterns, nonpartisan prognosticators are starting to predict that the top of the Republican ticket could be deadly for lawmakers down the ballot. Lower-tier candidates may be forced to focus on local issues in hopes of distancing themselves from a radioactive presidential nominee.
That seems to be the approach of Sen. Lamar Alexander (R-Tenn.), who isn't even up for re-election until 2020.
"I'm gonna let you speculate on that and look forward to having a nominee," Alexander said, with a weak laugh. As for Cruz still not having any Senate endorsements, he said, "Well, I'm, you know, I'm focused on local control for schools and bilingual education."
At least one senator sounded like Republicans could use the service of grief counselors to help them unite around Cruz.
"Just sometimes, in people's emotional experience, it takes a little bit longer for that to adjust," said Sen. Bill Cassidy (R-La.), who compared lawmakers' past problems with Cruz to marital difficulties.
"I think in any long-term relationship, there are times of stress," Cassidy said. "The overarching goal, though, hopefully dominates, and in this case it is taking care of the American people."
Democrats have their own theories on why Republicans are not flocking to Cruz.
"The answer is obvious: They know him," said Sen. Dick Durbin (D-Ill.).
Laura Barron-Lopez contributed reporting.