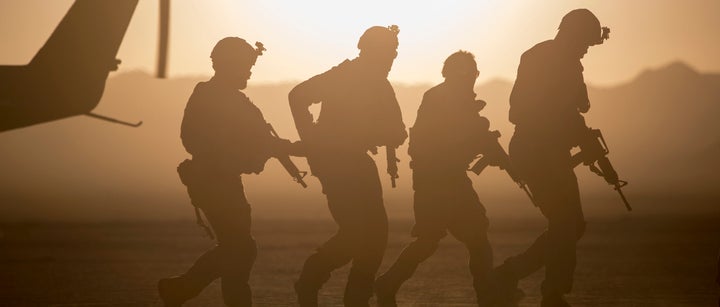 Apparently, some of America's best and brightest are super duper scared of that "time of the month," among other terrifying lady attributes.
The over 7,600 participants included troops from the U.S. Special Operations forces such as the Navy SEALs and the Air Force. The interviews were conducted in the summer of 2014, but as The Washington Post pointed out, it's unlikely that these views have changed considerably in the time since.
"It's a slap in the face telling us that chicks can do our job," one participant said. "It's not the physical aspect that bothers me. My issues are morale and retention. This wouldn't be special to anyone anymore."
One respondent added that "Special Forces will stop being looked at as elite" when women are eligible to participate in the higher ranks. "This is a brotherhood. There are places for them [women], but this isn't one of them," another trooper said in the survey. "They cause drama, especially on deployment."
The survey also includes some candid concerns from troops about integrating women into Special Operations roles. Below are concerns voiced by several survey participants about women's menstrual cycles specifically, and how PMS would affect women's performance in combat.
"Acting on emotions may be a problem. Judgment may be altered. The effects of combat may have a different impact during those times, I'm not sure." -- E-8, Air Force Special Operations Command

"W

hat about PMS and that time of the month? Do we just stock Midol and carry that around with us? There's nothing good about that." -- E-8, Special Forces
"I think PMS is terrible, possibly the worst. I cannot stand my wife for about a week out of the month for every month. I like that I can come to work and not have to deal with that." -- E-6, Special Warfare Combatant Craft Crewman
"I have a wife. She's very independent. But when that time of her month comes, she's weaker." -- E-5, Navy SEAL
Women's periods: Scaring off men since the beginning of time. Sounds like a pretty good war tactic...