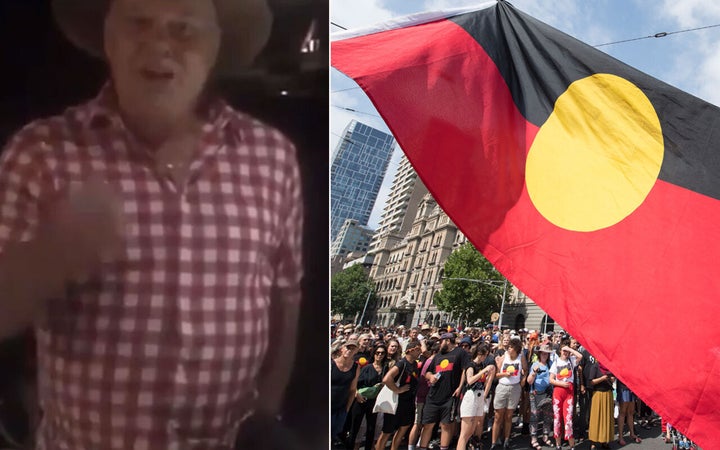 Indigenous and non-Indigenous Australians are commending McDonald's for dropping the manager of its Mildura franchise after a video of an alleged racist rant at his Aboriginal neighbour went viral at the weekend.
The video shows a man, identified as senior McDonald's franchisee Robert Vigors, entering the garage of Indigenous artist Robby Wirramanda in the Victorian town of Mildura.
Vigors abruptly questions Wirramanda's Aboriginality while a woman, known as Karen and believed to be Vigors' wife, tries to yank down an Aboriginal flag from Wirramanda's car in the driveway.
"Look at you trying to rip my flag off, you're a drunken bum," Wirramanda told Karen.
"It's a disgrace," she is heard saying in the video before Wirramanda replied with the now viral line it's "too strong for you, Karen". It is understood Vigors and Karen were arguing that Strata-type rules do not allow residents to hang flags on properties in that neighbourhood.
But it's the personal attack of the legitimacy of Wirramanda's Indigenous heritage that has sparked a particular conversation online.
"Which half of you is Aboriginal?" Karen said in the video.
"Which one per cent of you is Aboriginal?" Vigors added.
"There's nothing in you that is Aboriginal. Okay you can do nice paintings but you claim to be Aboriginal? You make me laugh."
Wirramanda asked if his Aboriginality was being challenged because of the colour of his skin but Vigors said he was making "a mockery of true Aboriginals" in the Northern Territory before Karen left the property with her parting words "go and live in your fucking humpy down the river."
McDonald's has since made an official statement regarding the status of Vigors' involvement with the fast food chain.
Why questioning Aboriginality is offensive
Not only is it racist to enter someone's property to demand they remove their "disgraceful" Aboriginal flag but it is racist to attack someone's claim to their Indigenous heritage.
Mildura Independent MP Ali Cupper explained she is worried about the "widespread" racism in Australia after these comments from "privileged, wealthy, educated business leaders" went viral.
"In relation to the 'fair skin' BS, over the past 230 or so years, Aboriginal and European people have produced children together," she said.
"This tends to happen in any multicultural human population which means some Aboriginal people will have fair skin. But Aboriginal identity is a matter of family connection and cultural identity, not skin colour."
"Aboriginal people have been subjected to 230 years of people trying to erase them and their culture from existence. In the early days, this was done using legislation. Now it is done by people like Rob Vigors and Karen Ridge who can tolerate Aboriginality if it's expressed in the form of art that can be bought by privileged wealthy people like them, but get VERY angry if it's expressed in the form of a flag – that represents Aboriginal pride and power - in their upper middle class neighbourhood."
Fair-skinned Indigenous people are constantly having to justify their identity and replies like "you can't be Aboriginal, you're not black enough," or "what per cent Indigenous are you?" have come to be expected by mixed race Australians.
"When you're saying 'you don't look Aboriginal', not only are you denying the very negative history of the white Australia policy," University of Technology Sydney Professor Gawaian Bodkin Andrews told SBS The Feed.
"You're denying our connection to our languages and denying our culture."
The government considers there to be three official definition points when it comes to proving Aboriginality.
"You must first self-identify, you must have evidence of your Aboriginal lineage, and you must also be accepted by the Aboriginal community," said Andrews.
The #toostrongforyouKaren movement is proof racism is rife in Australia no matter what colour your skin is.
"Perhaps the only good to come out of this shameful incident will be that it will serve as a catalyst for a conversation about the depth of racism in our community and the adequacy of current measures to address it," Cupper said in a Facebook post.
At least many on Twitter, including McDonald's, agrees there is no place for this sort of behaviour in Australia in 2019.