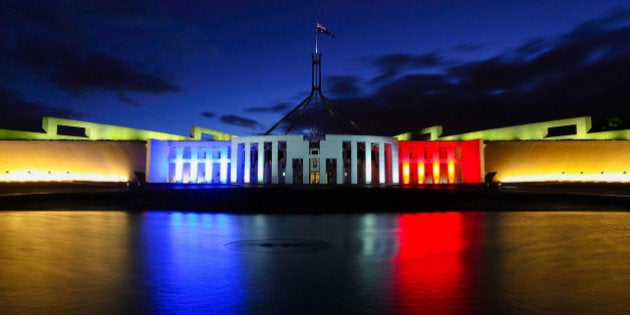 Let there be no doubt that the events of Paris have shocked us all. They fill us with dread and they make us angry that people who have done no wrong and just going about their lives can have that life taken for no reason other than the perpetrators were evil.
That said, to use Paris as an avenue to attack Australia's immigration policy, and the overwhelming number of law abiding, peace loving, Muslims in my city and country is wrong. Please remember that without immigration, and a strong immigration policy, none but first Australians be in this country.
The call from people on social media is that Muslims do not assimilate. They live together and don't speak the language. I seem to remember this levied at the Greek and Italians in the 1960's and the Vietnamese in the late 1970's.
For the record, if I had to leave Australia, for whatever reason, and live in another country, I doubt I would "become" Canadian, or Japanese, or French.
I would still eat Vegemite, stop on Australia Day as well as ANZAC and Remembrance Days, I would watch the Boxing Day Test. I would try to be as good a citizen as I could, but I would still be Australian in my heart. Isn't that what we are calling for others to do? Is that fair?
So, what do people want here? Why the overt anger? We restored control of our borders after Labor lost control. We have told those who arrived by boat that they will never settle in Australia. So, what is it people are after? To stop all immigration? The 12,000 people we are bringing are from the most exposed -- women, children, will be predominantly Christians -- they are the most at risk. Do we not take them?
Do we stop all trade with the Gulf states and Indonesia? That will surely show them, won't it? Do we drop Usman Khawaja from the Australian Cricket Team? What do people actually want?
We have some very real and serious problems in this country and they will not be cured or answered by people like Larry Pickering, Reclaim Australia, Pauline Hansen, or Facebook posts. They will be solved by supporting our Defence Force, our Police and Security Services which are doing a first rate job.
Prosecute those charged, strip citizenship of dual citizens, jail those who have fought overseas, keep our borders secure, and our security and police services engaged, we will win.
I stand with France and I stand with our country: Australia, the single most successful immigrant nation on the face of the Earth.
In times of tragedy, it is natural and easy to hate, but hate does not achieve anything. Strong considered responses by a strong committed Government and people do.