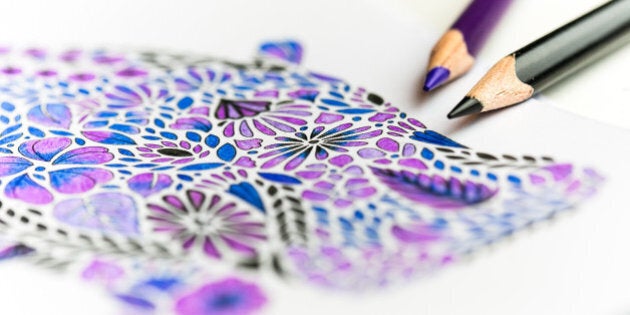 The humble colouring book is no longer so humble.
Instead, it has become a chart-topping, bestselling phenomenon. Formerly the domain of well-behaved children, complex, intricate artwork is attracting busy and stressed adults. After all, the prospect of quietening our minds by indulging in a familiar, non-threatening activity is hard to resist.
But I wonder if this new-found adult hobby is all it's cracked up to be -- an antidote to busyness and anxiety -- or just another distraction in our already over-stimulated world? Why do we feel the need to fill our time by colouring in little spaces? Are we so scared to be alone with our own buzzing, fizzing, frightening thoughts that we have fixated upon a new way to distract ourselves?
Adult colouring books have raced up the bestseller charts in Australia, America, France, Brazil and the UK. China's bestseller for 2015 was an adult colouring book titled Secret Garden.
Many are sold as a path to 'mindfulness', a way of clearing the mind and being in the 'here and now'. Paradoxically, this activity seems to be more representative of mindlessness. What could be more mindless than resorting to a childhood activity almost devoid of original thought or effort?
It doesn't seem dissimilar to lazing on the couch in front of a reality or English detective show. Which, I might add, I thoroughly enjoy doing.
Perhaps the appeal of adult colouring books lies in the way they allow us to avoid the terrible affliction of having nothing to do. The idea of time that is filled with nothing, which is unaccounted for, has become repellent and shameful to us. If the appropriate response to the question, "how was your day?" is "busy" completing a picture in a colouring book means you have not been entirely unproductive.
In reality, unfilled time can be of great intellectual benefit, and is when some of mankind's most impressive feats have been achieved.
One of the world's greatest thinkers, Albert Einstein had this to say about the benefits of time alone with his thoughts: "Although I have a regular work schedule, I take time to go for long walks on the beach so that I can listen to what is going on inside my head. If my work isn't going well, I lie down in the middle of a workday and gaze at the ceiling while I listen and visualize what goes on in my imagination."
He is not the only one who valued time alone, without distractions. Novelist Franz Kafka had the following advice on the benefits of taking time to think: "You need not leave your room. Remain sitting at your table and listen. You need not even listen, simply wait, just learn to become quiet, and still, and solitary. The world will freely offer itself to you to be unmasked."
I'm a sucker for a distraction. When I bought my first iPhone, I rejoiced in the fact that I would never be bored again -- entertainment was always at my fingertips. I would never have to sit and look out the window of the train, wait at a café table for my friend to arrive or even lie on the couch with nothing to do. I could always pick up my phone and surf any news site, blog or shop that I wanted.
Yet, sometimes I travel on the train and force myself to lift my gaze, look out the window and think. Other times I turn off my iPod when I am out for a walk and let myself think. Each time, I wonder why I don't allow myself this little luxury more often, as these are the times when ideas have the chance to burst through my consciousness. I feel free, inspired and motivated.
It seems to be a condition of our time that the temptation for constant distraction or entertainment is so strong that we forget to put our gadgets down. Or when we put them down, we pick up a pencil and start colouring.
Part of the appeal of colouring books is that they help reduce stress and anxiety, and that may well be very helpful for some people. But I wonder what would happen if, once in a while, we choose not to pick up the pencils. If we turn off our televisions and devices, and just sit. Or walk without turning on the iPod, radio or podcast.
Perhaps there will be silence that, instead of unnerving us, may soothe us.
Alternatively, we might strike upon thoughts and ideas that will inspire and energise us. We might even find that the racing thoughts will slow down once they are heard. Maybe it will mean that we can better sift through those thoughts, and answer questions we have of ourselves.
Is that really so frightening?